03 Lưu Ý Quan Trọng Khi Phun Môi Dành Cho Học Viên Online.
Để đôi môi lên màu chuẩn đẹp, dáng môi ưng ý, không xảy ra bất kỳ biến chứng nào… là những kết quả mà mỗi KTV đều mong muốn. Vậy để kỹ thuật phun môi trong khóa học Online diễn ra thuận lợi, các học viên không thể "làm lơ" những bí kíp mà Miss Tram Academy mách nước sau đây đó nha!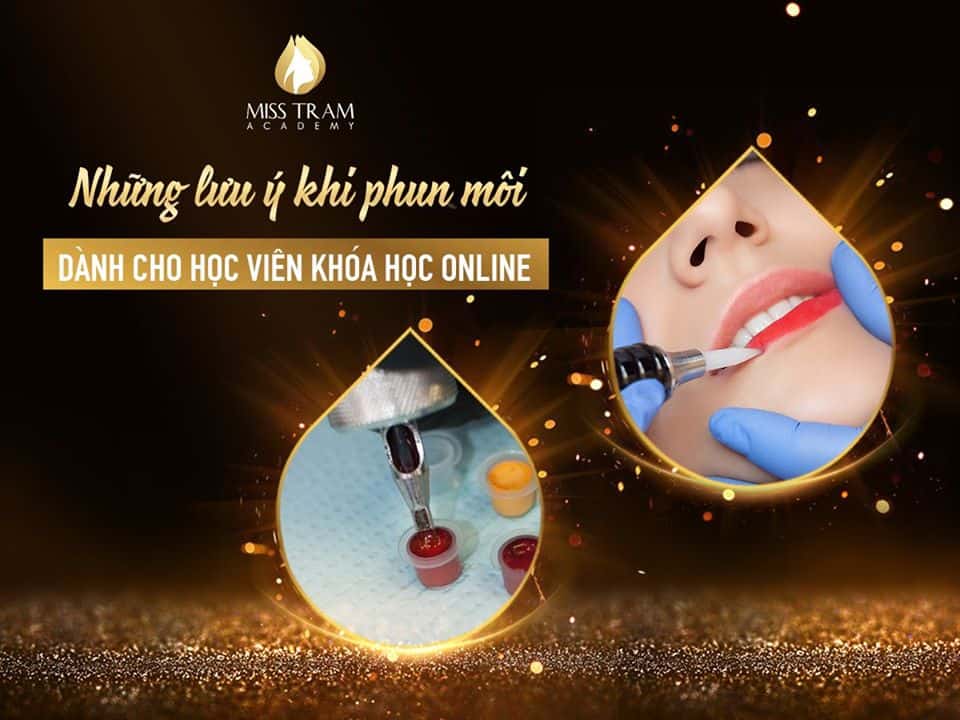 1. Vẽ viền môi trước khi phun xăm:
– Kẻ khung theo tỷ lệ 2cmx5cm, phác thảo khung viền môi
– Vẽ đường viền cong vòng theo đường cung
– Vẽ khóe chia môi trên – dưới
2. Lắp ráp máy phun môi chuẩn:
– Đọc kỹ bảng hướng dẫn sử dụng đi kèm với máy sẽ giúp bạn nắm rõ cách hoạt động, sử dụng và bảo quản tốt máy.
– Kiểm tra từng bộ máy đã thực sự ăn khớp với nhau chưa, tránh tình trạng chấu kim lỏng, khi phun văng ra khỏi máy.
– Đối với những tích điện, cần đảm bảo nguồn điện đủ cho quá trình phun xăm của mình.
– Khởi động trước khi học để kiểm tra máy chạy có mượt không.
3. Kỹ thuật phun môi
– Shaping lip border: Identify the cases to have appropriate treatment (2 lips are irregular lips, lips are thin, lips are thick, lips are too dark.)
– Nozzles angle: steady holding position, needle tip perpendicular to the skin surface
– The force of the injector: maintain steady hand, do not go too fast will result in pale or no color
– Độ sâu của kim:
Khi đi viền môi: Go needle 1 deep into the skin about 0.3-0.4mm
Khi đi phần trong môi: 1 needle deep into the skin 0.3mm from the center of the lips to the corners of the lips.
Nằm lòng những kiến thức này thì mỗi Học viên sẽ luôn hoàn thành tốt bài học Online của mình đấy ạ! Bạn nào còn có những câu hỏi, thắc mắc về vấn đề liên quan đến khóa học thì đừng ngần ngại nhắn ngay cho Miss Tram để được giải đáp nhé!
Refer: How To Spray The Lip Doesn't Swell