The demand for spa vocational training is increasing, followed by the introduction of a series of spa models, vocational beauty salons with heterogeneous service quality. This makes many young people bewildered in finding reputable and quality facilities to study. In order to avoid choosing the poor vocational training places, you can refer to more information about the list of teaching spas in Kien Giang that Miss Tram introduces below.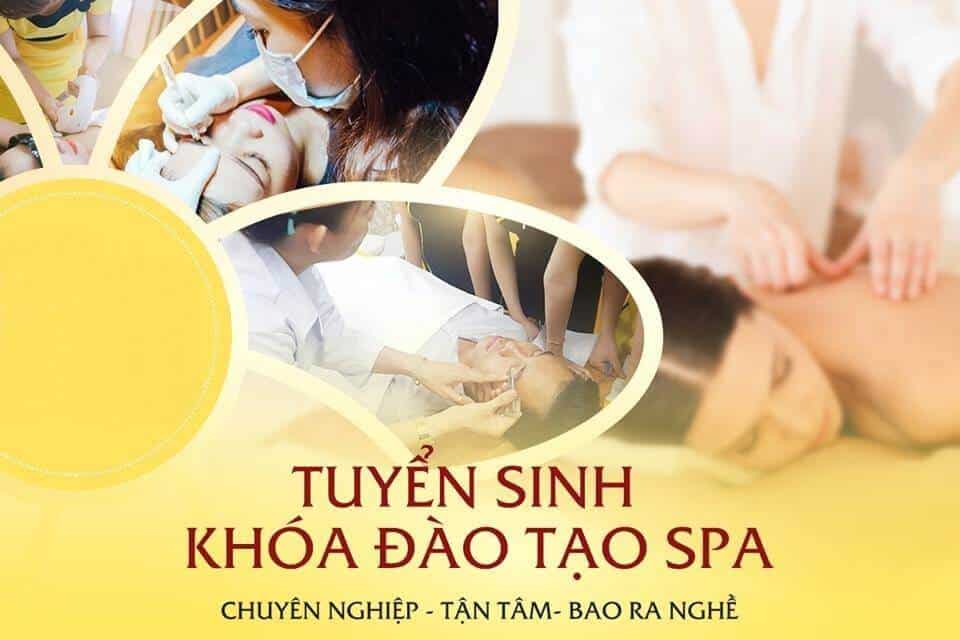 Top 09 Addresses Vocational Training Skin Care Spa, Cosmetic Tattooing In Kien Giang.
1. Lotus Beauty and Spa Rach Gia
Lotus Beauty and Spa Rach Gia is a place full of elements such as technology, curriculum, teachers, school environment, etc. to help young people who are passionate about beauty become a good professional.
Address: H1C - Nguyen Binh Khiem, Rach Gia, Kien Giang

Phone: 0987160555 - 0943438939
2. Beauty Salon Queen Spa-Kien Giang
Queen Spa is currently also known as "beauty care heaven". is rated as one of the 5-star Spas with prestigious vocational training quality in Kien Giang.
Address: 328 Nguyen Trung Truc, P. Vinh Lac, TP. Rach Gia, Kien Giang.

Phone: 098 477 90 77
3. Moc Spa
In Rach Gia, Kien Giang, Moc Spa is a prestigious vocational training address, professional, thanks to the application of the most modern technology machines in the field of beauty.
Address: 51D3 Đống Đa, P. Vĩnh Lạc, Tp. Rach Gia, Kien Giang

Phone: 0941.343.679
4. Seoul Korea - Rach Gia Medical Spa
Seoul Korea - Medical Spa is a famous spa vocational training specializing in high-tech skin treatment, with the latest beauty technology in the world.
Address: 140 Mac Cuu, Vinh Thanh, Rach Gia, Kien Giang 

Phone: 0931.99.39.68
5. AS NGOC SPA
NHU NGOC SPA is a place of quality, prestigious and low-cost spa training in Kien Giang, which is popular with many young people.
Address: 1318 Nguyen Trung Truc, Rach Gia, Kien Giang

G4-30 Pham Hung, Rach Gia, Kien Giang

Phone: 094 122 33 32
6. ShinnChi's House Spa - Beauty, Clinic & Academy
ShinnChi's House Spa - Beauty, Clinic & Academy is a well-known spa address for acne treatment. With the combination of high-class brand cosmetics used in the process with facilities, advanced technology.
Address: P8-09 Trần Bạch Đằng, Phú Cường Urban Area, An Bình Ward, Rạch Giá, Kiên Giang.

Phone: 0962.707.504 - 0949.707.433
7. Hue Pham beauty
Hue Pham beauty is a hot name in the beauty salon village of Rach Gia, always getting students' favorite thanks to good training quality, friendly and enthusiastic teachers.
Address: 190 Ngo Quyen, Vinh Bao, Rach Gia, Kien Giang

Phone: 0947000313-0916170155
8. Hoa Anh Beauty Salon
Hoa Anh Beauty Salon is a well-known spa training site with exclusive formulas used for a long time in the beauty industry, to bring the best experience for students.
Số 260 Nguyễn Trung Trực, Rạch Giá city, Kiên Giang 

Lot 5-c5 Mai Thi Hong Hanh, Rach Soi, Kien Giang

81/4/30/4 Duong Dong, Phu Quoc, Kien Giang

Phone: 02976579908 - 0948702288 - 0944232288
9. Houston Spa & Clinic
Houston Spa & Clinic owns a system of modern facilities and equipment, enthusiastic teachers, friendly learning environment will definitely be a good vocational training address that you should not miss.
Address: P13-11, Phan Thị apparently, P.An Hòa, Phú Cường Urban Area, TP. Rach Gia, Kien Giang.

Phone: 02973 900219
Following that, so that you can more easily choose the most prestigious and quality vocational training institution. Miss Tram would suggest the following helpful notes:
Need to find out if this industry is right for you?

Please advise on tuition fees and expenses incurred.

Know the information about study time.

Information about study locations - exam locations - location of the degree.

The value of a degree granted after graduation.

Specific curriculum

Post-course support policies

A written commitment is required.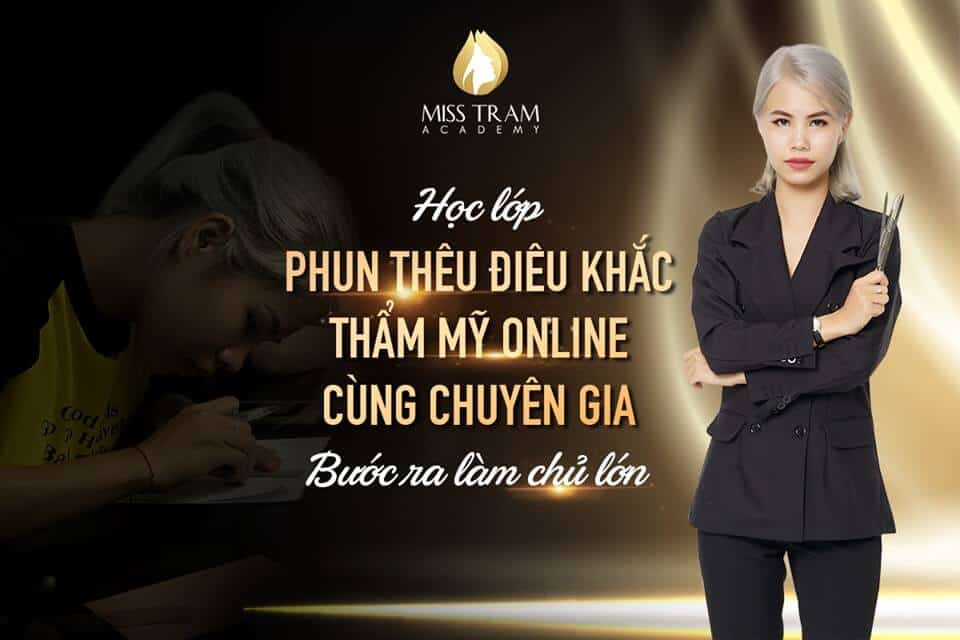 An extremely "scoop" information for you passionate about embroidery sculpting aesthetic. Miss Tram has just launched an online course for embroidery embroidery sculpting aesthetic quality, such as direct learning, at a very economical cost.

This course is for: 
People who love and want to stick with the job of Cosmetic Tattoo Eyebrow - Eyelid - Lip.

People who want to become a professional tattooist.

People planning to open a spa at home / a beauty salon offer Eyebrow tattoo - Eyelid - Lip service.

Spa managers want to cultivate in-depth knowledge about cosmetic tattoo spray.

There is no specific direction when self-taught cosmetic spraying on the internet.

There is no time to study directly at the academy / center classes.

Want flexibility in location and study time.

Those who are cosmetic tattooist, but not knowledgeable:
Hand control.

Identify tinting formula for each situation of guests.

Handling cases where you need to fix the eyebrow - eyelid - lips style because the customer has not satisfied.

Inks, types of numbness, ...

Other crisis issues, ...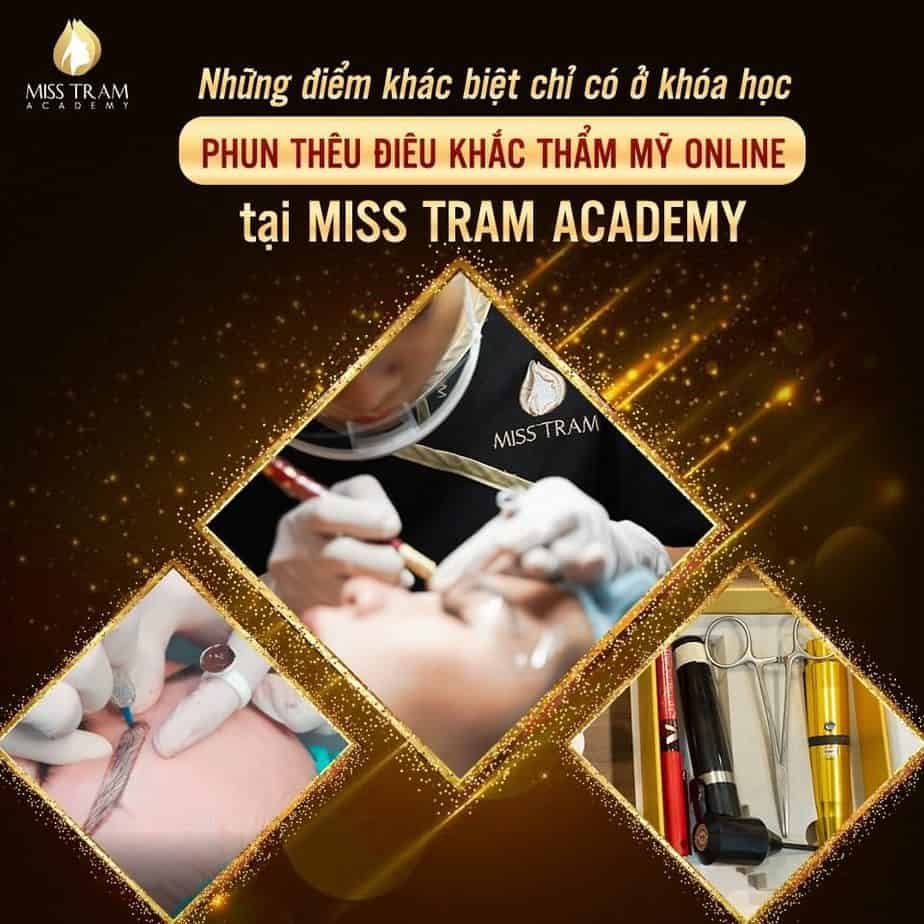 Certainly, when choosing an Online course, many students will give themselves a doubt and constantly question the results. But coming to Miss Tram's Online Embroidery Beauty Salon course, you will have to have a different look. By:
Miss Tram Academy's Online Aesthetic Embroidery Sculpting Course helps you solve all obstacles in terms of tuition, time, and effective skills training ...

Intensive compilation curriculum, ensuring students apply practical knowledge, safely and effectively only in SHORT TIME

Workmanship "SURE", not inferior to studying at establishments.

Opportunities to work open with income "CRISIS", limiting many risks.

Equip skills, knowledge, experience sharing to open a Beauty Salon.

Join EXCHANGE, SHARE experience, confide your job.

Constantly updated, WELCOMING beauty trends continuously in the field of cosmetic tattoo spray.
Besides students also get:
Granting VIP account, you have the right to online study all the courses (skincare, cosmetic tattoo, makeup, nail, ...) of Miss Tram.

Followed by lecturers / CSKH staff to support, share, motivate you to be more motivated to complete the lesson well.

 Each student has a direct review time at the academy from 4 to 10 days, on the application form prepared by the Center under the 1-on-1 support of the Teachers team.
Recently, a list of vocational spas in Kien Giang with useful information about the note about choosing a location and online cosmetic embroidery course at Miss Tram. Please refer to and choose for yourself the most appropriate address offline. Besides, if you have any questions or concerns, contact Misstram immediately for more advice on the study path and see if you are suitable for spa courses.