Beauty, beauty salon, spa ... is the "money-making" job that many young people choose to develop in the future. However, on the market today there are many "virtual" training facilities sprouting up like mushrooms. So choosing a reputable and quality vocational training unit is not easy. Therefore, the following article Miss Tram will introduce you to the list of cosmetology vocational training institutions, especially the prestigious cosmetic skin care and tattooing industry in Bac Lieu. Stay tuned!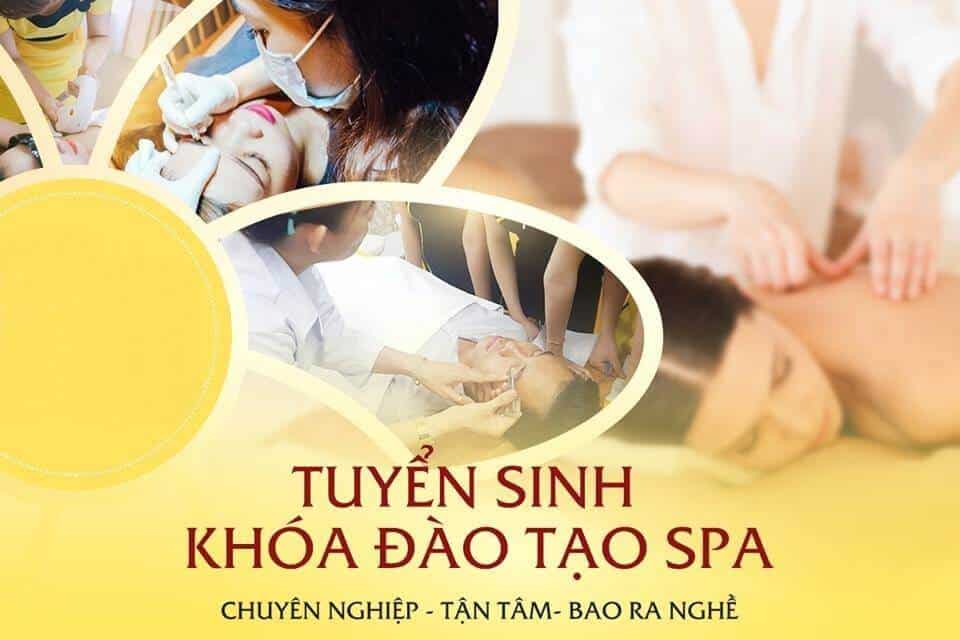 Summary of Top 8 Spas Vocational Training Skin Care, Cosmetic Tattoo Spraying In Bac Lieu.
Ngoc Huong Beauty Salon
Ngoc Huong Beauty Salon has more than 7 years of professional experience, along with a team of dedicated and confident teachers this will be a great choice for you.
Address: 370 Tran Phu, Ward 7, Bac Lieu

Phone: (029) .1398.9919
Viavi Spa
Viavi Spa is a quality spa training site with cheap tuition, suitable for many students in Bac Lieu.
Address: 415 Tran Phu, Ward 7, Bac Lieu

Phone: 0888.337.868
My Uyen Spa
My Uyen Spa will be a great address for you. This place owns a team of highly qualified, experienced and experienced trainers abroad.
Address: 199 Tran Phu, Ward 7, Bac Lieu

Phone: 0918.381.777
Beauty salon DIVA
Coming to the class at DIVA Beauty Salon, you will be exposed to a system of advanced and modern equipment imported directly from abroad.
Address: 185 Tran Phu, Ward 7, Bac Lieu

Phone: 1900.6689
Perfect Spa
Perfect Spa has good training quality, friendly learning environment, and a team of experienced trainers, so this is always chosen by many young people.
Address: 162 Vo Thi Sau, Ward 8, Bac Lieu

Phone: 0902.396.986
Thanh Cong Beauty Salon
Having many years in the field of beauty, Thanh Cong Beauty Salon will definitely be the perfect choice for you. Not only do you gain specialized knowledge, you also receive additional practical training.
Address: 357 Vo Thi Sau, Ward 3, Bac Lieu

Phone: 0977.779.645
Thanh Thu Beauty Salon
With a system of modern machines, good, enthusiastic and friendly teachers at Thanh Thu Beauty Salon will help young people to conquer passion for beauty salon.
Address: 78 Hoa Binh Street, Ward 3, Bac Lieu

Phone: 0917.858.788
Minh Anh Spa
Minh Anh Spa is a prestigious spa teaching address in Bac Lieu which is chosen by many people because of its good quality training and low cost.
Address: 43 Tran Huynh, Ward 7, Bac Lieu

Phone: 0888.388.999
Cosmetic tattooing is a fairly hot profession and promises to grow even more in the future. However, when time is limited, your financial ability is not allowed, it will be difficult for you to go directly to cosmetic tattoo training centers. So, this is also the reason for Miss Tram's online cosmetic spray course.  
This course not only helps to shorten the geographical distance between students and training centers, but also brings knowledge to those who are passionate about the profession but do not have time to go to class. When choosing the online cosmetic tattooing course at Miss Tram, you will be sure of knowledge such as:
A comprehensive knowledge base from basic to advanced professional of an esthetician.

Firmly about the types of numb, ink brands, tools, .. on the market with beautiful standard color mixing formula, handling cases where customers have done damaged, not satisfied.

How to choose the method that colors suitable for each eyebrow shape, lip color, eyelids for customers.
In particular, students are also granted VIP accounts, have the right to online learning all courses (skin care, cosmetic tattoo, makeup, nail, ...) of Miss Tram internal. 
Besides, when coming to the course of cosmetic tattoo spray at Miss Tram you will be main Master Dong Bao Tram with a large number of experienced lecturers and direct teaching skills.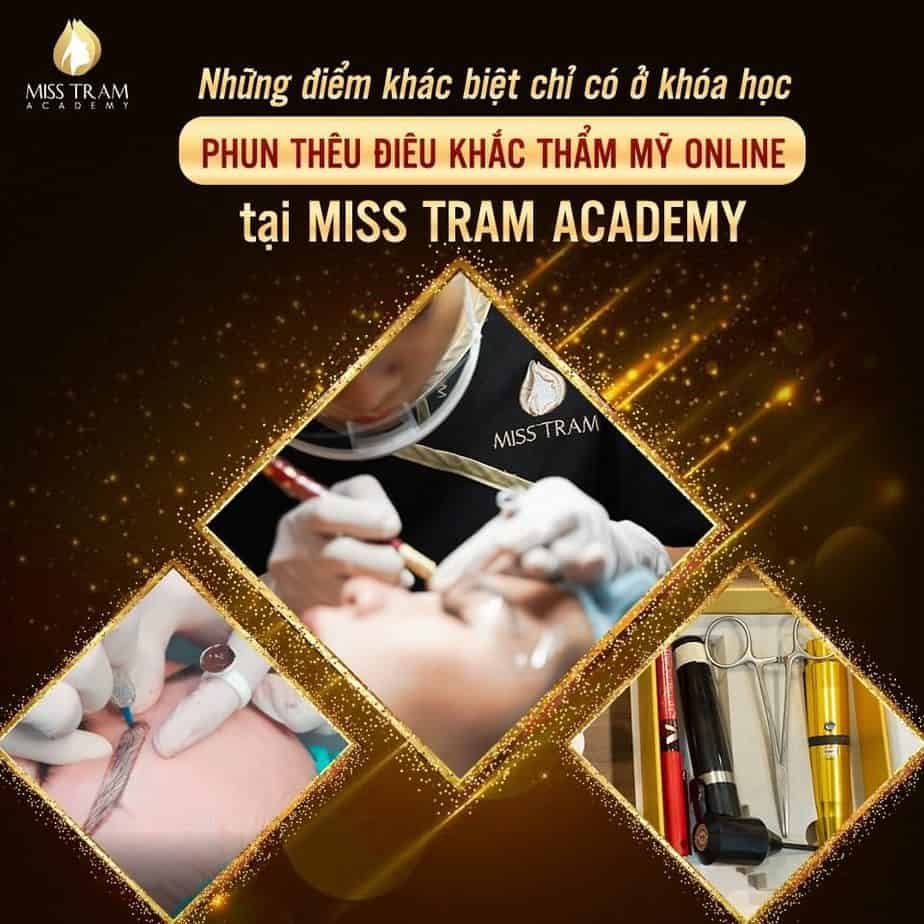 Miss Tram's online cosmetic tattooing course offers super-great benefits such as:
There is flexible learning time so students can choose their schedule according to their time.

For those of you who do not have enough tuition fees, Miss Tram's online tattooing course will help solve this dilemma.

The learning curriculum at Miss Tram is compiled with international standards in 3 languages: English, Chinese and Vietnamese. Meticulous compilation, clear, easy to learn, easy to understand, easy to remember and important is easy to practice.

After completing the vocational training course, 100% students are guaranteed a stable job with a "terrible" income.

In particular, when students have entered the job, the center will regularly update the latest knowledge to improve their skills without any extra fee. 
Only with an online course, but it gives you many advantages, many outstanding results, right?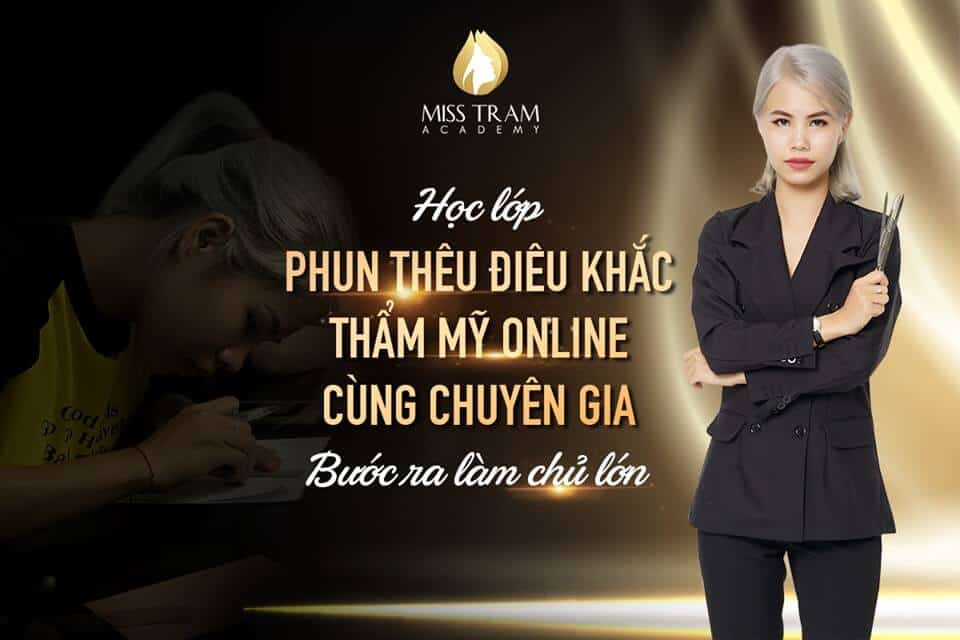 When you study any profession including spa, it is very important and extremely necessary to learn and access information. Therefore, you should be wise in choosing a vocational training institution. 
This selection is not too difficult but it is not easy either. Because if you choose the wrong training address, there is "money loss disability" is not it? If you still have questions and are not sure what factors to choose based on, you can refer to the following article: 
Spa Apprenticeship - How To Choose A Good Beauty Training Site
Hopefully, with the information Miss Tram shared above, you will have the opportunity to choose for yourself the best quality training address. Thank you for following the article.