You have a passion for skin care and cosmetic embroidery. You want to realize your dream and are looking for a place for vocational training in Vinh Phuc. The list of locations where training in skincare and cosmetic spray training in Vinh Phuc that Miss Tram introduces below will surely be the perfect choice for you.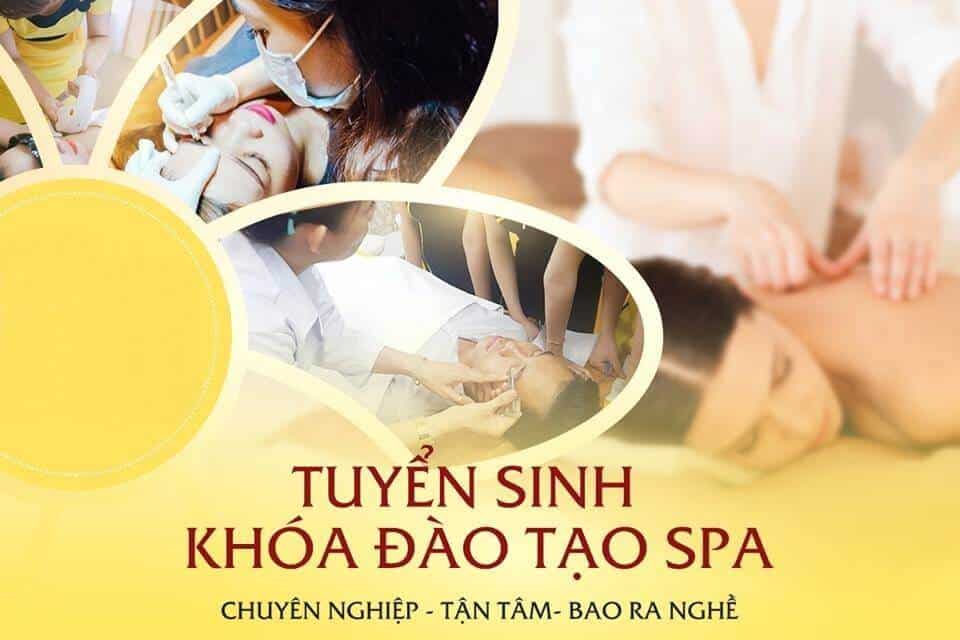 Spa Teaching Skin Care, Cosmetic Tattoo Spraying In Vinh Phuc
1. Mi Xinh Spa
Mi Xinh Spa possesses a large number of highly qualified, experienced and extremely qualified lecturers.
Address: Kiot 3 Nguyễn Viết Xuân, Đống Đa, Vĩnh Yên, Vĩnh Phúc

Phone: 021.1629.7777
2. Hai Yen Spa
At Hai Yen Spa, you will have access to a lot of advanced and modern techniques. Moreover, the dedicated advice from theory to practice of a team of experienced and skilled teachers.
Address: Lot 16, block S8 Nguyễn Tuân, KĐT Hà Tiên, Vĩnh Yên, Vĩnh Phúc

Phone: 0985.746.656
3. Bao Ha Spa
Bao Ha Spa owns a team of teachers with many years of experience, highly skilled and regularly updated with the most advanced and modern techniques.
Address: B13 Apartment, Social Housing Area, Alley 3A Mê Linh, Liên Bảo, Vĩnh Yên, Vĩnh Phúc

Phone: 0866.202.189
4. Era Spa
Era Spa always innovates and applies the most advanced technology in the teaching process, in order to bring the best results to students. So you not only master the knowledge but also learn many skills needed at work.
Address: Nguyen Van Linh Street, Xuan Hoa Ward, Phuc Yen, Vinh Phuc

Phone: 0844.999.222
5. Hanh Spa
Hanh Spa has a team of experienced instructors teaching abroad, so be sure to choose this address and you will learn a lot of great knowledge.
Address: QL2B, km10 + 500, Tam Đảo, Vĩnh Phúc

Phone: 0978.700.577
6. Haneul Spa
In addition to applying the technology of the new generation to the teaching process, Haneul Spa also always upgrades and improves the teaching method so that students can give the most useful lessons.
Address: 42 Le Duan, Lien Bao, Vinh Yen, Vinh Phuc

Phone: 0988.678.976
7. Thuy Vi Spa
Here, you will have access to a lot of advanced and modern techniques. Along with that, is the thorough instruction and thorough guidance from theory to practice of a team of experienced and skilled teachers.
Address: 01 Phạm Văn Đồng, Xóm regret, Vĩnh Yên, Vĩnh Phúc

Phone: 021.1361.6333
8. La Bella International Beauty Salon
When studying at La Bella International Beauty Salon, you will be taught and guided by the teachers in the most dedicated way. At the same time, you will be answered all questions, and absolutely will not miss any of the smallest details.
Phone: 77 Hai Bà Trưng, Phường Hùng Vương, Phúc Yên, Vĩnh Phúc

Phone: 0983.986.060
9. Ha Anh Spa
Ha Anh Spa's courses are designed to bring students the most scientific and quality beauty methods. The curriculum here often adheres to international standards in beauty and aesthetics.
Address: 226 Me Linh, Lien Bao, Vinh Yen and Vinh Phuc

Phone: 0982.386.888
10. Nhat Linh Beauty Salon
Nhat Linh Beauty Salon will give you the most in-depth knowledge of skincare and tattoo spray, so you can confidently work as an esthetician at major spas and salons.
Address: 147 Ba Trieu, Lien Bao, Vinh Yen and Vinh Phuc

Phone: 021.1371.0160
Cosmetic tattooing has been and will be one of the professions that bring "terrible" income for young people. Therefore, it is not too difficult to understand when today in almost every part of the country, including young people in Vinh Phuc, follow this path.
However, to become a true esthetician is not within 1 day 2, but it is a process that you have to undergo the training and training of experts.
In addition, there are many young people who are passionate about this profession, but are limited in time, cost or other issues, so they cannot go to centers to attend the course. Therefore, Miss Tram's online cosmetic tattooing course has appeared. This course aims to bring an open future to all young people across the country.
With the criteria "LEARNED IS A JOB - JOB IS JOB", Miss Tram's online cosmetic tattooing course helped many students change their lives in just a few months:
Proficient, become a good worker.

Earn high income in just a short time.

Mastering spa business / Beauty center.

Become a manager, an excellent consultant.
The program of Miss Tram's online cosmetic tattooing course is carefully invested and selected, bringing high efficiency to help students solve issues such as:
Tuition - Time - Transportation.

Disorientation when self-study at home through group meetings, youtube, facebook, ... and much mixed information on the internet.

Handling situations arising in the profession, customer care, building personal brand development.

Improve knowledge for technicians, consultants, spa managers, ... to apply practically to each job position.

Having a stable job with a good income.
Besides, Miss Tram's online cosmetic tattooing course also offers some differences such as:
Each lesson is a clear HD quality video, from 15 - 30 minutes with the detailed technical guidance of the Professional Teacher, clear sound, easy to understand and communicate.

Instructors complete on both the eyebrows and eyelids, not just on one hand like other training institutions.

Students registering for the course will be fully equipped with the standard curriculum.

The course is only suitable when you are serious because you need to complete your lesson on a per-level basis, where you will submit it to your account.

You will not have the opportunity to neglect because you will be connected directly with the Academy Manager to Design your own home study Timetable, Instructors will always monitor online to ensure the quality of learning.

Students who join the course will be able to join the closed zalo / facebook group, where you can easily send questions, share experiences and learn knowledge.

After completing the course submission, Students will be Reviewed directly at Miss Tram Academy for 4 - 10 days and prepare an application template prepared by the Center under the 1-on-1 support of the teaching staff tablets.
All information as well as content related to Miss Tram's online cosmetic tattoo course is extremely numerous. So, you can refer to the following article to better understand the course: ONLINE EMBROIDERY SPRAY COURSE COURSE - WHY NOT?
While choosing a vocational training location - you need to choose carefully and seriously. Because if you do not find clear and accurate information, the end result you will receive will not be as satisfactory.
However, if you master the experiences that Miss Tram shares below, choosing a prestigious and quality training place will become simpler and easier: 8 Notes About Beauty Profession & Experience Choosing Beauty Salon - Beauty Spa Training Is Right For You. These selection experiences will be a "springboard" to help you get closer to your path of success.
With information about the location of training in skin care and cosmetic tattooing that Miss Tram introduced above. Hope it will be useful information to you guys. Thank you for following up on our article.