Spa is currently one of the industries with strong growth environment, especially skin care and cosmetic tattoo spray. So if you are interested in this industry looking for a reputable, quality training address in Can Tho, please refer to the article below. The list of spa training locations that Miss Tram introduces will help you choose more easily.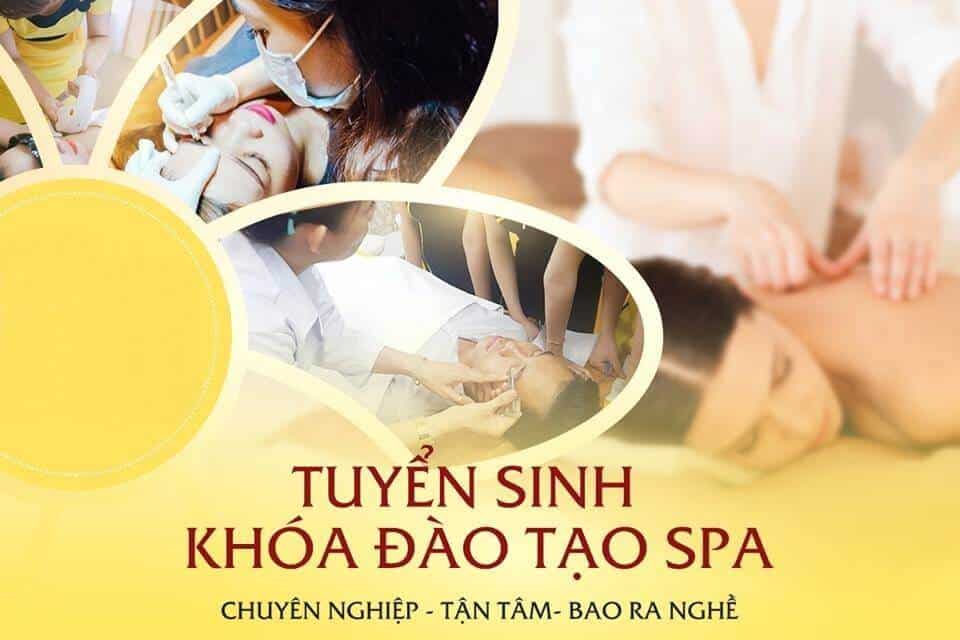 Top Spa Vocational Skincare, Cosmetic Tattoo Spray In Can Tho
1. Life Spa
Faculty members at Life Spa are the leading experts in beauty care industry will participate in face-to-face teaching.
Address: 94 Xô Viết Nghệ Tĩnh, An Cư, Ninh Kiều, Cần Thơ

Phone: 029.2381.9936
2. Seoul Spa
When studying at Seoul Spa, you not only master the expertise from basic to advanced. Besides, you are also trained to develop the necessary skills in the beauty industry.
Address: 108 Ung Van Thu, An Hoi, Ninh Kieu, Can Tho

Phone: 1900.6947
3. Cat Tien Spa
Cat Tien Spa is a training address in Can Tho which is highly appreciated by the trainees because of its very effective training quality, along with affordable fees.
Address: 105 Tran Van Kheo, Cai Khe, Ninh Kieu, Can Tho

Phone: 0983.161.798
4. Ly House Center Spa
With a team of experienced trainers and modern equipment, Ly House Center Spa will help you fully grasp the knowledge from basic to advanced and solid skills.
Address: 310 Đường 30/4, Xuân Khánh, Ninh Kiều, Cần Thơ

Phone: 0919,624,627
5. Lona Home Spa
Modern, spacious facilities and comprehensive, scientific and professional training programs are the commitments that Lona Home Spa brings to students.
Address: T2 Dinh Cong Trang, Xuan Khanh, Ninh Kieu, Can Tho

Phone: 1900.779.902
6. Ngoc Huong beauty salon
Ngoc Huong Beauty Salon is a great choice that you should not ignore. Here, you will receive in-depth training from knowledge to career skills.
Address: 186 Ly Tu Trong, An Phu, Ninh Kieu, Can Tho

Phone: 029.2373.3840
7. Chicken Spa
Chicken Spa owns a team of teachers with years of teaching experience, highly skilled and has worked in the field of beauty care. So this place is definitely the perfect choice for you in Can Tho.
Address: 26 Hùng Vương, An Cư, Ninh Kiều, Cần Thơ

Phone: 0379.773.517
8. Lavio Spa and Clinic
Participating in the course at Lavio Spa and Clinic, students will practice on modern standard equipment, under the guidance of a dedicated teacher.
Address: 255 Street April 30, Xuan Khanh, Ninh Kieu, Can Tho

Phone: 0899.698.968
9. Eva Spa
The lecturers at Eva Spa are doctors, masters and doctors who have been trained at home and abroad. So have high professional qualifications and many years of experience in the profession.
Address: 9B Ly Tu Trong, An Cu, Ninh Kieu, Can Tho

Phone: 029.2376.0088
10. Thu Hieu Spa
Thu Hieu Spa will bring you the most in-depth knowledge of skin care and tattooing, so that you can confidently work as an esthetician at major spas and salons.
Address: 475 Tran Hung Dao, Le Binh, Cai Rang, Can Tho

Phone: 0907.718.117
11. Sunsuhan Spa
Coming to Sunsuhan Spa, you will be learning with the latest technology, the latest and is constantly updated. Therefore, during the course of study here you will be trained with the best conditions.
Address: 44A2 Nguyễn Đức Cảnh, An Hội, Ninh Kiều, Cần Thơ

Address: 029.2388.4555
12. Ami Spa
With outstanding advantages, as well as the ability to train students extremely well, Ami Spa is a place worth paying attention to when having a passion in the field of beauty.
Address: 89 Ly Hong Thanh, Cai Khe, Ninh Kieu, Can Tho

Phone: 029.2625.2533
13. Dong A Beauty Salon
Dong A Beauty Salon offers top-notch training programs in the field of cosmetology with a professionally and meticulously designed curriculum.
Address: 28 Ly Tu Trong, An Cu, Ninh Kieu, Can Tho

Phone: 029.2730.0888
14. DiVa Beauty Salon
DiVa Beauty Salon has a team of lecturers with an attractive, attractive, inspiring and easy-to-understand teaching style that will surely help you easily grasp all the necessary knowledge to serve the job. after that.
Address: 164 Ly Tu Trong, An Cu, Ninh Kieu, Can Tho

Phone: 0901.698.868
15. Ngoc Dung Beauty Salon
The courses at Ngoc Dung always bring students the latest, most modern beauty methods by experts with years of experience.
Address: 234B Tran Hung Dao, An Phu, Ninh Kieu, Can Tho

Phone: 1800.6377
16. Aura International Beauty Salon
During the course of their studies at Aura, students will learn and practice the latest technologies. The lecturers here are all experienced, highly skilled and have studied abroad.
Address: 172A Ba Thang Hai, Hung Loi, Ninh Kieu, Can Tho

Phone: 0931.869.666
Actually, it is not easy to find a prestigious and quality vocational training address among hundreds of thousands of centers right now, right? To be able to choose a prestigious and quality training site, you must learn the information very carefully and clearly, rather than just choosing because of the feeling. Therefore, in order to avoid the risks of choosing a training place, you must understand the following issues:
Ask clearly about the requirements - the nature of the job.

Ask for money (fees, expenses incurred).

Study time

Location (place of study, examination location, degree).

The real value of a diploma upon graduation.

What is the specific curriculum?

Post-course support.

Must commit in writing.
To be able to better understand the information of the above issues, you can refer to the following article: 8 Notes About Beauty Profession & Experience Choosing Beauty Salon - Beauty Spa Training Is Right For You
If you have a great passion and want to pursue a career in cosmetic tattooing, but you cannot go directly to the center because of difficulties such as geographical distance, costs, accommodation, etc. Don't worry too much. By Miss Tram's online cosmetic tattooing course, you will be able to solve these concerns.
This online cosmetic spray course Miss Tram wishes to bring opportunities for all students from all over the region, to have the dream of spreading beauty to everyone. Subjects who can participate in Miss Tram's cosmetic tattooing course include:
Those who have a passion for beauty and more specifically the Cosmetic Spray Eyebrow - Lip - Eye.

Those who wish to be able to become a Professional esthetician Embroidery Sculpture Shop.

Those who manage at the spa and want to learn, learn more advanced knowledge about the profession to bring more efficiency at work.

Those who want to open a small spa to a professional Beauty Center which has beauty services Eyebrows - Eyelids - Lips.

Those who are a professional tattoo artist but blind of knowledge.

Those who often have crisis problems with customers but do not know how to resolve.

Those who are disoriented with the process of self-study at home through group meetings, youtube, facebook, ... and much mixed information on the internet.

Those who cannot afford to take direct courses at Beauty Academy or Vocational Training Center.

Those who want more flexibility in terms of time and place of study.
With Miss Tram's online cosmetic tattooing course, you can completely solve all concerns and difficulties in the content by: Accompanying you during the online course not only Master Dong Bao Tram has 17 years of experience in the profession. Besides, there are also a large number of teachers with professional experience and pedagogical skills.
Moreover, when you take the online cosmetic tattooing course, you will receive a lot BENEFIT precious:
You will master a comprehensive knowledge base from basic to advanced as a cosmetologist.

Firmly about the types of numb, ink brands, tools, ... on the market with beautiful standard color mixing formula, handling cases where customers have done damaged, not satisfied.

Know which eyebrow shape, lip color, eyelid spray method is suitable for you in particular and your customers in general.

Absolutely can become a Professional Spray Embroidery Beauty Salon Eyebrows - Eyelids - Lips professional.
Especially, if you register for Miss Tram's online cosmetic tattooing course, you will be granted a VIP account. You have the right to learn all the online courses (skin care, cosmetic tattoo spray, makeup, nail, ..) of Miss Tram.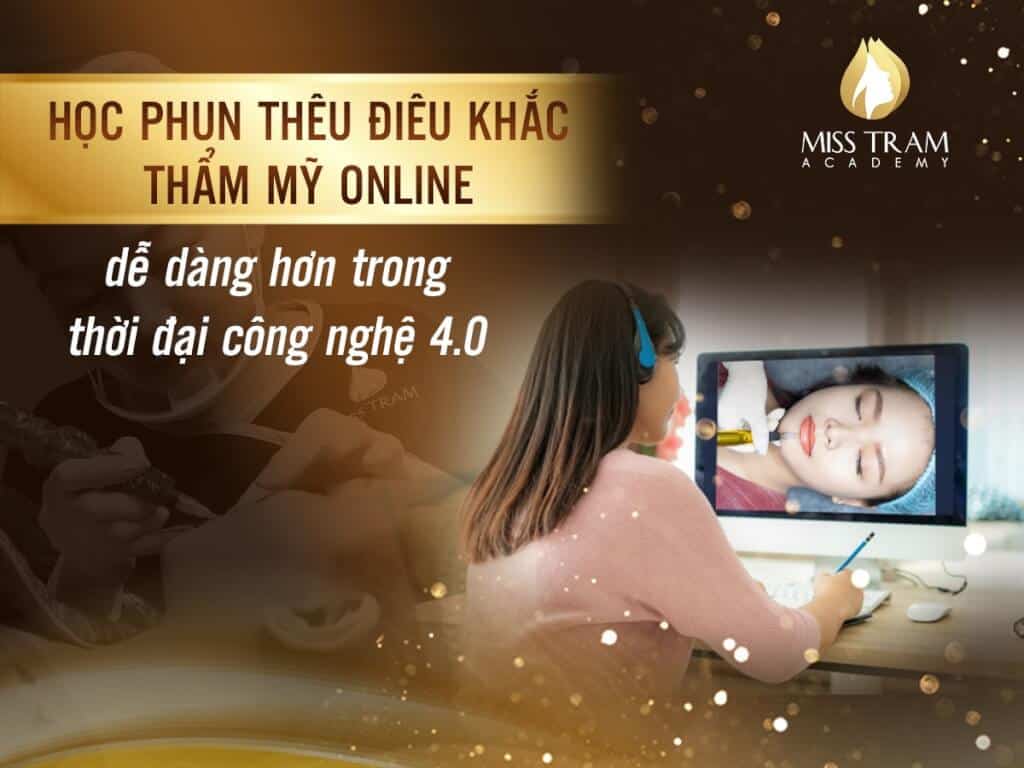 Really Miss Tram's online cosmetic tattooing course is so impressive, so special right? So what are you waiting for without registering this course now to quickly become a professional cosmetologist. If you have any questions about the course, do not hesitate to contact us immediately.
You can refer to the information about Miss Tram's online cosmetic tattooing course through the following article: Course Of Embroidery Embroidery Beauty Sculpture Online - Why Not?
Hopefully, with the information of the spa training addresses in Can Tho that Miss Tram introduced above will help you find a reputable address. Thank you for following the article.