You are about to graduate and are hesitant in choosing a career for your future? Or you want to challenge and discover yourself with a new career but not sure how to choose? This is also one of the problems that many people encounter today.
Understanding that, Miss Tram boldly introduces you to the spa profession. This is a very popular profession with fast learning time, low cost but high income. Studying is not so difficult, but you need to find a reputable and quality teaching address to help you develop.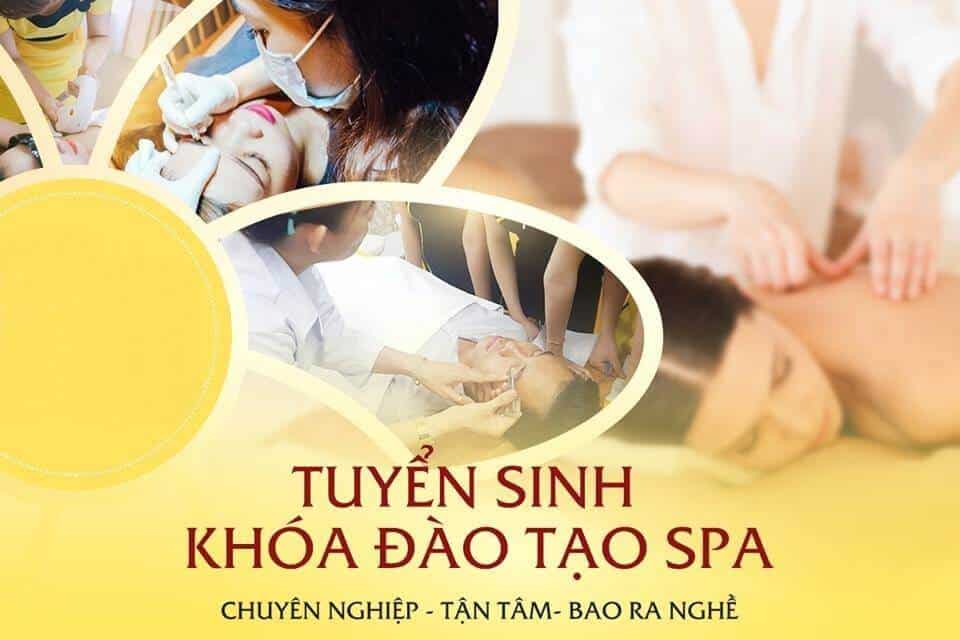 With the article below, Miss Tram will introduce to you top teaching spas in Dong Thap Good, please read it.
Top Spa Teaching In Dong Thap: Skincare, Cosmetic Tattooing
1. Vuong Phi Spa
Vuong Phi Spa is a professional spa teaching address in Dong Thap which is trusted by many people for its good teaching quality, the system has modern facilities, many attractive incentives.
Address: Số 100 - 102 Lê Quý Đôn, Phường 2, Cao Lanh City, Đồng Tháp

No. 84-86 Street CMT8, Ward 2, Cao Lanh City, Đồng Tháp

Phone: 0949.99.0949
2. Spa Le Oanh
The curriculum is well-written, taught by good teachers, specializing in the beauty field, Le Oanh Spa is a prestigious spa address in Dong Thap that you should not miss.
Address: 76 Tran Phu, Ward 1, Sa Dec City, Dong Thap

Phone: 0915.117.272
3. Fairy Spa
Fairy Spa is a spa teaching address in Dong Thap which is loved and trusted by many young people thanks to its good training quality, and the tuition is also very affordable.
Address: Số 36 Tỉnh lộ 848 extend, TP. Sa Dec, Dong Thap

Phone: 0915.988.449
4. Kay Spa
One of the leading prestigious and quality spa training units in Dong Thap is Kay spa. With good teaching quality, friendly learning environment, and excellent professional teachers, Kay Spa is always highly appreciated.
Address: Số 11 Hùng Vương, Phường 2, Tp. Cao Lanh, Dong Thap

Phone: 1900.3055
5. Hong Nhung Spa
Hong Nhung Spa is a teaching site in Dong Thap which is trusted by many students because of its good teaching quality and cheap cost.
Address: Phạm Hữu Lầu, Phường 6, TP. Cao Lanh, Dong Thap

Phone: 0939.894.514
6. Kieu Hanh Spa
Spa Kieu Hanh is also a good place to teach spa, low cost, enthusiastic teachers that young people who are passionate about beauty should not be missed in Dong Thap.
Address: 18 Lý Tự Trọng, Phường 2, TP. Cao Lanh, Dong Thap

Phone: 0919.201.844
7. Swan Spa
Possessing modern machinery system, good teachers, friendly learning environment Thien Nga Spa is also a worthy address that you can send.
Address: Số 58 Trần Thị Nhượng, Phường 4, TP. Cao Lanh, Dong Thap

Phone: 093.999.5785
Surely for the young people who are planning to choose a career in the spa, they bring a disturbing thought when choosing for themselves a training address that is really quality, suitable for the economy and their abilities. To do that you need to memorize the note as:
Find out if your job is suitable for you.

Ask clearly about the costs, incurred during the study or not?

Ask questions about the schedule.

Information about study locations - exam locations - location of the degree.

What is the value of the degree upon graduation, or for a limited period of time?

What will be learned?

Is there any support after the course?

There are clear, contractual commitments on the course.
In addition, Miss Tram also has an online cosmetic tattoo spraying course to create conditions for young people who are passionate about their profession but do not have the opportunity to study directly at the center.
By choosing Miss Tram's online cosmetic tattooing course, you will experience the best quality of learning with a comprehensive curriculum, which is directly connected with the Academy Management to design a separate study schedule at home. The staff of teachers / CSKH always accompanies during the learning process so there is no need to bother or worry.
Is Miss Tram's online cosmetic tattooing course available to everyone? Are there any strict regulatory requirements? The answer is here:
Training is reserved for:
The person who has a passion for beauty and more specifically is the Eyebrow Tattoo Spray - Eyelid - Lip.

Those who wish can become a Beauty Salon.

Those who manage at the Spa and want to learn, learn more advanced knowledge about the profession to bring more efficiency at work.

Those who want to open a small Spa to a professional Beauty Center which has beauty services Eyebrows - Eyelids - Lips.
In addition, Miss Tram's online eyebrow - eye - lip cosmetic spray course is also suitable for cases such as:
The person who is not knowledgeable about the basic and intensive beauty knowledge

Those who do not know how to handle cases that have been damaged are not satisfied with their wishes, or crisis issues with guests, etc.

People are disoriented due to self-study at home, unable to identify necessary information because of being affected by many informal sources on the internet.

Those who are not able to attend the Direct Courses at Beauty Academy or Vocational Training Center, or want to have flexible learning time.
Students will benefit from participating in Miss Tram's online cosmetic tattooing course:
Help you master a comprehensive knowledge from basic to advanced professional of a cosmetologist.

Know about the types of numbness, brand ink, tools, ... on the market with beautiful standard color mixing formula, handling cases where customers have done damaged, not satisfied.

How to choose a beauty method for each type of eyebrow, lip, or eyelid.

Students are granted VIP account, have the right to study all online courses (skin care, cosmetic tattoo, makeup, nail, ...) of Miss Tram internal.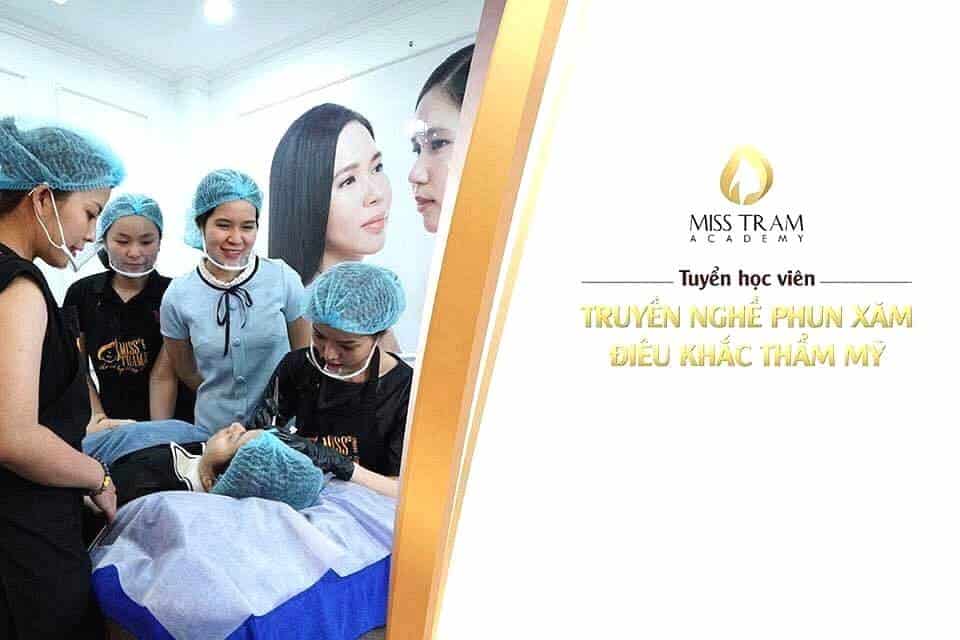 What are you waiting, young people, the spa profession is very hot and expected to be even more explosive in the future. Quickly choose for themselves a unit of quality to follow. The future is within your reach, let's take action.