The problem of finding an address to learn skincare, cosmetic tattoo spray in Long An, prestige quality is what makes many young people worried. To make it easier for you to choose a good apprenticeship, this article Miss Tram would like to introduce a list of prestigious teaching spas in Long An. Please read it.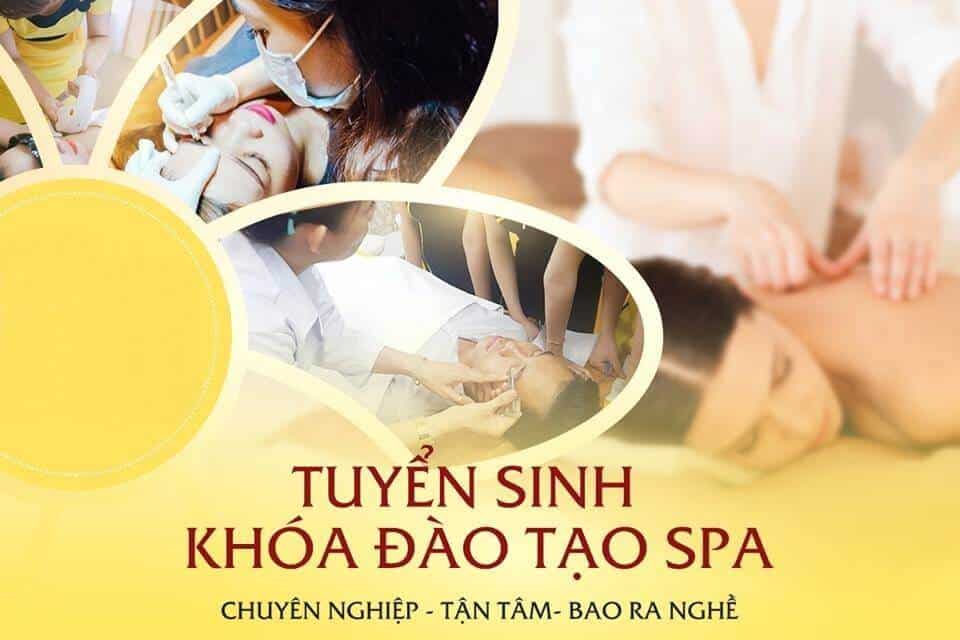 Top Spa Teaching Skincare, Cosmetic Tattoo In Long An
1. Seoul Spa Long An
Seoul Spa Long An is a vocational training address with adequate facilities, advanced and modern equipment.
Address: 07 Truong Van Bang, Ward 2, Tan An, Long An

Phone: 0938.453.123
2. Beauty Spa Queen Spa
Beauty Salon Queen Spa with good quality of vocational training, friendly learning environment, professional learning roadmap should always be trusted by many people to choose their vocational training here.
Address: 76 Hung Vuong, Ward 2, Tan An, Long An

Phone: 0984.779.077
3. Diva Beauty Salon
Next is a prestigious vocational spa address in Long An that many people appreciate is the Diva Beauty Institute. With modern facilities, good and enthusiastic teachers and the most affordable tuition.
Address: Apartment PG 10, Nhà Phố Vincom, Phường 2, Tân An, Long An

Phone: 0901.698.168 - 1900.633.496
4. My Lien Beauty & Spa
My Lien Beauty & Spa is a good vocational training site in Long An, which always focuses on improving the skills for students through practical exercises.
Address: 21 Truong Van Bang, Ward 2, Tan An, Long An

Phone: 090.2520.998
5. Spa Queen
You will have great experiences and lessons when choosing Queen Spa to learn a trade. Known as the facility with spacious facilities, many machines and modern technology.
Address: 105 Huynh Van Tao, Ward 3, Tan An, Long An

Phone: 027.2355.0506
6. An Spa
An Spa is a high-quality, low-cost spa training center committed to professional training after graduation, highly appreciated in Long An.
Address: 77 Lot 1, QL62, Phường 2, Tân An, Long An

Phone: 0859.769.668
7. YaYa Beauty
YaYa Beauty is not inferior, this is also one of the prestigious vocational schools with many young people passionate about beauty careers in Long An.
Address:

31 Truong Dinh, Tan An, Long An

96 Nguyen Trung Truc, Ward 2, Tan An, Long An

120 Nguyen Huu Tho, TT Ben Luc, Long An

Phone: 0968.623.855 - 0967.604.738
8. Trang Huynh
With a modern system of machines, enthusiastic teachers, clearly mapping the learning path for students, Trang Huynh is always the vocational training address transmitted by many young people.
Address: 08 Huynh Van Nhut, Ward 3, Tan An, Long An

Phone: 085.690.3939
Finding a reputable and quality spa apprenticeship market among hundreds of such establishments is not easy. With many years of experience in beauty and training, Miss Tram would like to share with you the necessary and extremely useful notes when choosing the best apprenticeship:
Ask about the requirements - the quality of the job, is it really right for you?

Inquire about money (Tuition, Fees incurred).

Ideas to know about study time

About the location (place of study - exam - degree).

About the real value of a diploma when graduating.

What is the specific curriculum?

Any support after the course.

Must commit in writing.
To fully understand the above notes you can visit here to see more offline: 8 Notes About Beauty Profession & Experience Choosing Beauty Salon - Beauty Spa Training Is Right For You
In order to create conditions for those who are passionate about embroidery sculpting but cannot afford to come directly to the center. Miss Tram would like to introduce to you the online course of embroidering and sculpture of eyebrow - eyelid - lip surgery
With this course, you can be assured of the cost and quality that is not inferior to the offline course when providing a full range of knowledge such as:
Learn more about the job of Embroidery embroidery sculpting aesthetics Eyebrows - Eyelids - Lips.

Have a comprehensive knowledge base from basic to advanced professional of a cosmetologist.
Mastering about:
+ Types of numbness, brand of ink, tools, ...
+ The standard color-mixing formula, dealing with cases of broken embroidery spray, not satisfied.
Know how to recognize eyebrow shape, lip color, eyelid spray method suitable for each customer.

Become an Expert in Embroidery, Embroidery, Beauty & Beauty for Eyebrows, Eyelids and Lips.

Absolutely Can Consult Eyebrows - Eyelids - Lips for everyone and open a beauty salon.

The opportunity to become a Lecturer, A job transferer for other young people with the same passion for beauty as you.
Not only that with this course, students are also fully equipped with the standard curriculum. Supported, accompanied throughout the learning process by Master Dong Bao Tram with a team of experienced experts at Miss Tram.
Next you have the flexibility to study and time EVERYWHERE Only internet-connected devices. Join zalo / facebook group, you can easily send questions, share experiences and learn knowledge.
Your learning process will be directly connected with the Academy Manager to design your own Study Schedule at home. After completing the course submission, Students will be Reviewed directly at Miss Tram Academy for 4 - 10 days and prepare an application template prepared by the Center under the 1-on-1 support of the teaching staff tablets.
More specifically, students who participate in this online course after completing the course will be granted a nationally recognized certificate valid nationwide.
If you need or read about the course, you can refer to the full information here: Course Of Embroidery Embroidery Beauty Sculpture Online - Why Not?
Now the dream of becoming an aesthetic embroidery spraying artist is not far away right? Through the information that Miss Tram provided above will certainly help readers easier for themselves in choosing a prestigious vocational training address. If you know more addresses of quality vocational training in Long An, please share to let everyone know by commenting below.