Beauty industry in general and skin care, cosmetic tattoo spray in particular is now a "gold mine" full of openness. It creates employment opportunities for many workers across the country, especially young women.
However, to be a professional cosmetologist is a process. If you are looking for a reputable and quality tattoo training job in Ninh Thuan, do not miss this article. Miss Tram believes that with this list you will choose the right training institution.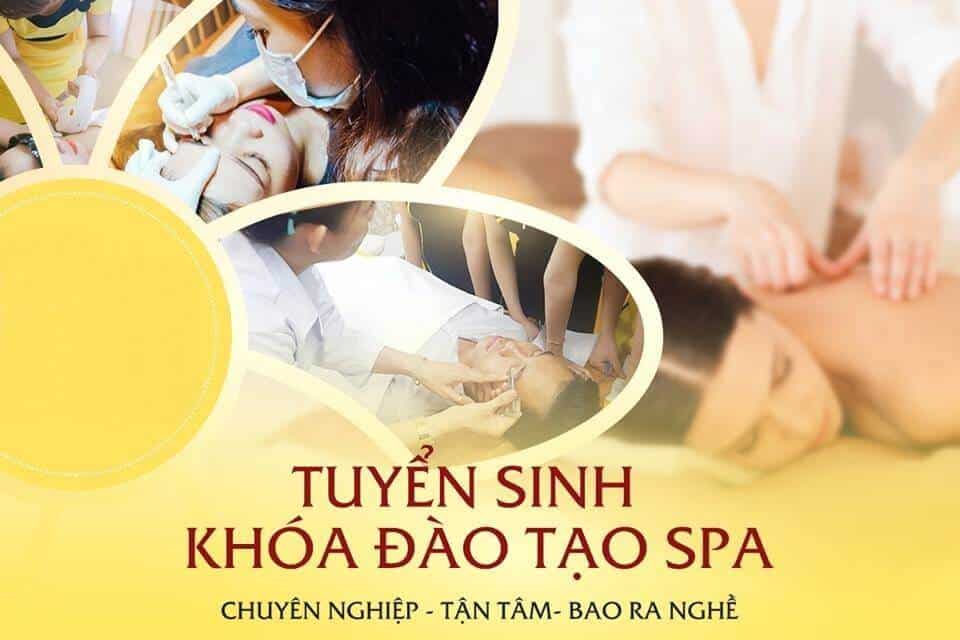 Spa Teaching Skin Care, Cosmetic Tattooing In Ninh Thuan
1. Hana House Spa
Hana House Spa has good training quality, friendly learning environment, and a team of experienced trainers, so this is always chosen by many young people.
Address: C1 Le Quy Don, Phuoc My, Phan Rang - Thap Cham, Ninh Thuan

Phone: 0899.338.335
2. Diva Spa
Having many years in the field of beauty, Diva Spa is sure to be the perfect choice for you. Not only do you gain specialized knowledge, you also receive additional practical training.
Address: 111 Quang Trung, Thanh Son, Phan Rang - Thap Cham, Ninh Thuan

Phone: 0946.700.809
3. Venice Spa & Beauty
With modern machinery system, good, enthusiastic, friendly teachers at Venice Spa & Beauty will help young people conquer passion for beauty.
Address: 77/4 Tran Quang Dieu, Thanh Son, Phan Rang - Thap Cham, Ninh Thuan

Phone: 025.9355.3688
4. Seoul Spa
Seoul Spa will be a great address for you. This place owns a team of highly qualified, experienced and experienced trainers abroad.
Address: 27 June 6, Kinh Dinh, Phan Rang - Thap Cham, Ninh Thuan

Phone: 1900.6947
5. Tuyetvi Spa
Tuyetvi Spa is a prestigious spa teaching address in Ninh Thuan which is chosen by many people because of its good training quality and low cost.
Address: 287 Yet Kieu, Phu Ha, Phan Rang - Thap Cham, Ninh Thuan

Phone: 0941.688.818
6. Nice Spa
Come to the class at Nice Spa, you will be exposed to a system of advanced and modern equipment imported directly from abroad.
Address: 51 Tran Nhan Tong, Thanh Son, Phan Rang - Thap Cham, Ninh Thuan

Phone: 025.9382.1181
7. Phuong Loan Spa
Phuong Loan Spa owns a team of experienced instructors teaching abroad, so make sure you choose this address you will learn a lot of great knowledge.
Address: 49 August 21 Street, Phu Ha, Phan Rang - Thap Cham, Ninh Thuan

Phone: 025.9383.5046
8. Le Na Spa
The lecturers at Le Na Spa are the leading experts in beauty care industry who will teach face to face.
Address: 67 Quang Trung, Thanh Son, Phan Rang - Thap Cham, Ninh Thuan

Phone: 0933.144.041
9. Tram Le Spa
Tram Le Spa is considered a professional spa when applying advanced technologies to teaching. In addition, the curriculum here is methodically compiled and trained directly by experts from major esthetics.
Address: 52 Le Loi, Kinh Dinh, Phan Rang - Thap Cham, Ninh Thuan

Phone: 0906.692.728
10. A Linh Beauty Salon
A Linh Beauty Salon will give you the most in-depth knowledge of skin care and tattooing, so you can confidently work as an esthetician at major spas and salons.
Address: 12 Vo Thi Sau, Kinh Dinh, Phan Rang - Thap Cham, Ninh Thuan

Phone: 0977.421.425
It is not too difficult, but it is not easy to choose a quality tattoo training training location among hundreds, thousands of names today. However, if you master the following 8 "gold experience" then Miss Tram believes that you will own the "key" to open this door easier:
Ask clearly about the requirements - the nature of the job.

Ask for money (fees, expenses incurred).

Ideas to know about study time

About the location (place of study - exam - degree).

About the real value of a diploma when graduating.

What is the specific curriculum?

What support is available after the course?

Must commit in writing.
To be able to go deeper, learn more each experience that Miss Tram mentioned above, then you can refer to this article: Spa Learning Experience - How to Choose a Good Beauty Training Site?
Although cosmetic tattoo spray is one of the jobs that many young people are passionate about and want to pursue. But because of conditions that do not allow such as restrictions on time, inadequate accommodation costs, long distances, ... not all students can study directly at the center.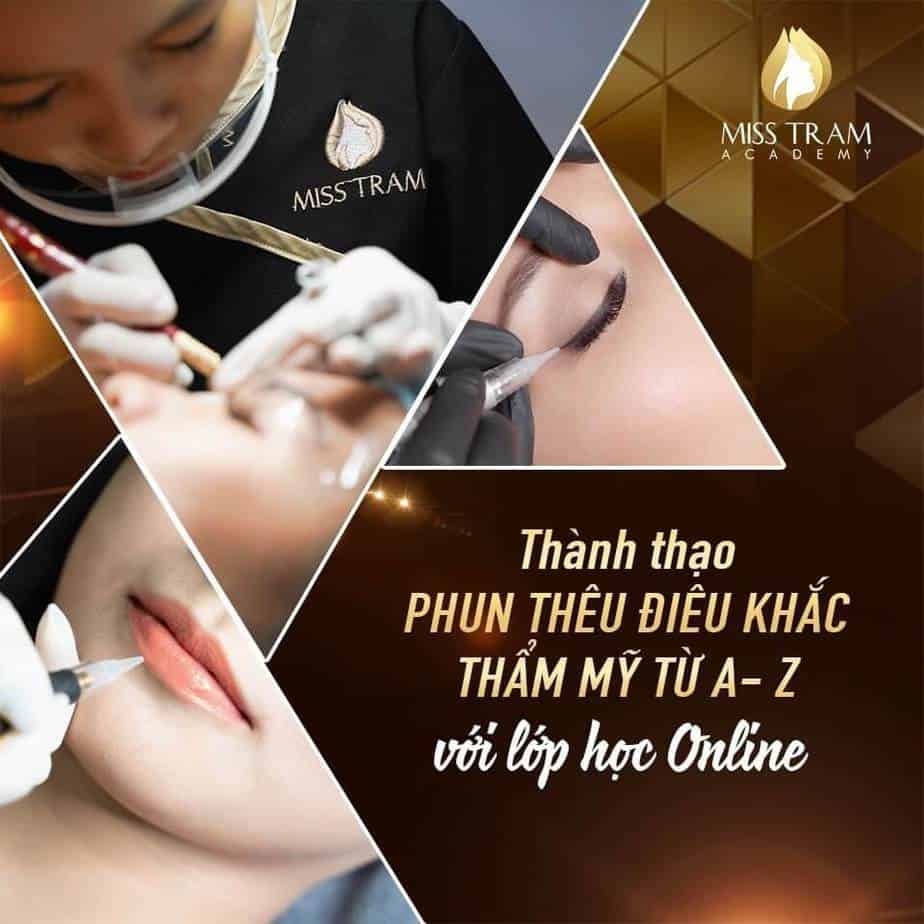 So how can all those who love cosmetic tattooing can also pursue their passion?
Miss Tram's online cosmetic tattooing course is the answer to this question. With the criterion "SHORT study time - BIG effect, HIGH job opportunity", it will definitely help you to get to work easily and at a reasonable cost.

The Miss Tram Academy's online cosmetic tattooing course helps you solve all obstacles on tuition, time, and fostering effective skills.

BEEP - TIPS - MAGIC, ... in the profession of a team of experts with over 17 years of experience will be communicated ALL.

The curriculum is devoted to ensuring students apply practical knowledge safely and effectively in a short time.

SKILLS MASTER, not inferior to studying at institutions.

Expanding working opportunities with "TERROR" income, limiting many risks.

Equip skills, knowledge, experience sharing to open a Beauty Salon.

Join EXCHANGE, SHARE experience, confide your job.

Always updated, keep up with the trend of continuous beauty in the field of cosmetic tattoo spray.

Helping many of you find the ideal LOVE in this beautiful and passionate beauty career.
Although Miss Tram's online cosmetic tattooing course has been available for a short time recently. But this course has created a "big storm" for many young people in the country.
When you register to participate in Miss Tram's online cosmetic tattooing course, after the course is over, you will master the knowledge and skills such as:
Understand more about the job of Embroidery embroidery Cosmetic sculpture Eyebrow - Eyelid - Lip.

Have a comprehensive knowledge base from basic to advanced of a professional cosmetologist.

Mastering c

types of numbness, brand of ink, tools, etc.

Standard color mixing formula, dealing with cases of broken embroidery or not like.

Know which eyebrow shape, lip color, eyelid spray method is suitable for you in particular and your customers in general.

Become an Expert in Embroidery, Embroidery Beauty Sculpture of Eyebrows - Eyelids - Lips with a stable income.

It is perfectly possible to consult Eyebrows - Eyelids - Lips for everyone and from there open a beauty salon.

The opportunity to become a Lecturer, A job transferer for other young people with the same passion for beauty as you.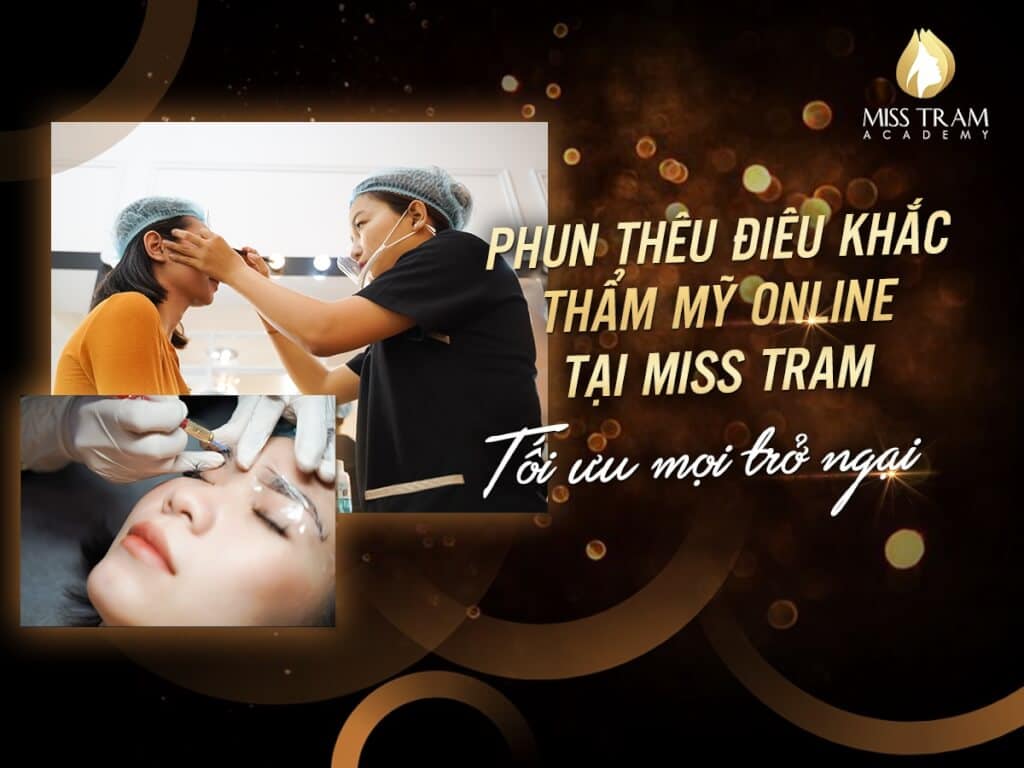 Miss Tram's online cosmetic tattooing course has trained and led many young people who are passionate about the profession to follow their path. For more details about Miss Tram's online cosmetic tattooing course, you can refer to the following article: Miss Tram Academy's Online Cosmetic Tattooing Course.
Through the above article, you have partly realized the importance of choosing the right place for vocational training, right? Therefore, before making any decision, you should consider carefully. Above is a list of well-known cosmetic skin care and tattoo spray training establishments in Ninh Thuan that Miss Tram sends to you. Hopefully this will be useful information to you. Thank you for watching the article!