In recent years, beauty is one of the areas that young people pay special attention and choose, including skin care and cosmetic tattoo spray. Because it not only gives you a long-term, stable job, but also helps you earn a "terrible" income to cover your life.
If you are wondering where to choose spa training, do not skip this article. Here is a list of the most famous beauty salon and tattoo spray training establishments in Phu Tho that Miss Tram introduces below.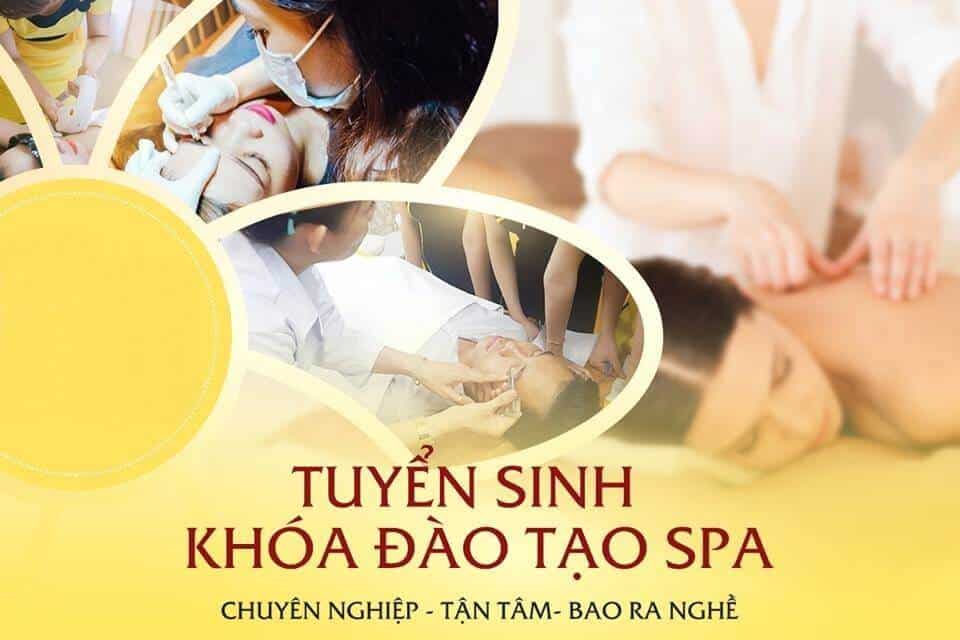 Spa Teaching Skincare, Cosmetic Tattoo Spraying In Phu Tho
1. Thu Cuc Clinic
Faculty at Thu Cuc Clinic are the leading experts in beauty care industry who will teach face to face.
Address: 2181 Hùng Vương Boulevard, Vân Cơ Ward, TP. Viet Tri and Phu Tho

Phone: 0901.729.855
2. Spa Salt
When studying at Muoi Spa, you not only master the professional knowledge from basic to advanced level. Besides, you are also trained to develop the necessary skills in the beauty industry.
Address: 458 Châu Phong, Phường Gia Cẩm, TP. Viet Tri and Phu Tho

Phone: 0947.197.333
3. Na Na Spa
Na Na Spa is a training address in Phu Tho which is highly appreciated by the trainees because of its very effective training quality, along with affordable fees.
Address: Nông Trang, TP. Viet Tri and Phu Tho

Phone: 0987.901.663
4. Thanh Nga Spa
With a team of experienced trainers and modern equipment, Thanh Nga Spa will help you fully grasp the knowledge from basic to advanced and solid skills.
Address: 3-4A Hà Liễu, Gia Cẩm Ward, TP. Viet Tri and Phu Tho

Phone: 0913.077.168
5. KJM Beauty Salon
Modern, spacious facilities and comprehensive, scientific and professional training programs are the commitments that KJM Beauty Institute brings to students.
Address: Dike Lo Lo, TT. Doan Hung, Doan Hung and Phu Tho

Phone: 021.0356.5566
6. Zero Spa
Zero Spa is a great choice that you should not ignore. Here, you will receive in-depth training from knowledge to career skills.
Address: 1996 Hùng Vương, Phường Gia Cẩm, TP. Viet Tri and Phu Tho

Phone: 0769.993.999
7. MyLa Spa
MyLa Spa owns a team of teachers with years of teaching experience, highly skilled and has worked in the field of beauty care. So this place is definitely the perfect choice for you in Phu Tho.
Address: 16 Nguyễn Du, Nông Trang, TP. Viet Tri and Phu Tho

Phone: 0911.429.129
8. BeU Spa
Attending the course at BeU Spa, students will practice on modern standard equipment, under the guidance of a dedicated teacher.
Address: Unnamed Road, Gia Cam Ward, TP. Viet Tri and Phu Tho

Phone: 0968.316.468
9. Hanoi High-tech beauty salon
The lecturers at Hanoi Hi-Tech Beauty Salon are doctors, masters and doctors who have been trained at home and abroad. So have high professional qualifications and many years of experience in the profession.
Address: 501 Châu Phong, Phường Gia Cẩm, TP. Viet Tri and Phu Tho

Phone: 021.0650.2502
10. Tien Dung Spa
Tien Dung Spa will give you the most in-depth knowledge of skincare and tattooing, so you can confidently work as an esthetician at major spas and salons.
Address: 441 Tiên Dung, Tiên Cát Ward, TP. Viet Tri and Phu Tho

Phone: 021.0362.3666
11. Hansoha Beauty Salon
Coming to Hansoha Beauty Salon, you will be learning with the latest, latest and constantly updated technology. Therefore, during the course of study here you will be trained with the best conditions.
Address: 475 Châu Phong, Phường Gia Cẩm, TP. Viet Tri and Phu Tho

Phone: 0856.559.998
12. Rose Spa
With outstanding advantages, as well as the ability to train students extremely well, Hoa Hong Spa is a place worth paying attention to when having a passion in the field of beauty.
Address: 250 Le Quy Don, Gia Cam Ward, City. Viet Tri and Phu Tho

Phone: 0963.093.358
13. Hana Spa
Hana Spa brings the leading training programs in the field of cosmetology with a professional curriculum that is methodically and meticulously prepared.
Address: 439 Châu Phong, Phường Gia Cẩm, TP. Viet Tri and Phu Tho

Phone: 021.0628.6789
14. Kim Phuong Spa
The courses at Kim Phuong Spa always bring students the latest, most modern beauty methods by experts with years of experience.
Address: 42 Hùng Quốc Vương, Phường Gia Cẩm, TP. Viet Tri and Phu Tho

Phone: 0946.999.928
The choice of cosmetic tattooing apprenticeship place plays an important and prerequisite for the success of your apprenticeship. Currently, it is not too difficult to find a place to learn cosmetic tattooing. However, it is not possible to assert that all training centers guarantee the quality of teaching and reputation. Therefore, to be able to choose a truly quality and prestigious training venue and can help you create a bright future from the beginning, you should know the following 8 experiences:
Ask clearly about the requirements - the nature of the job.

Inquire about money (Tuition - Costs incurred).

Ideas to know about study time

About the location (place of study - exam - degree).

About the real value of a diploma.

What is the specific curriculum?

What support is available after the course?

Must commit in writing.
To be able to understand more about these 8 experiences, you can refer to this article. Spa Learning Experience - How to Choose a Good Beauty Training Site?
Cosmetic tattooing is a fairly hot profession and promises to grow even more in the future. However, when time is limited, your financial ability is not allowed, it will be difficult for you to go directly to cosmetic tattoo training centers. So, this is also the reason for Miss Tram's online cosmetic spray course.
This course not only brings knowledge about cosmetic tattoo spray for those who are passionate but do not have enough conditions to study at the centers. It also helps shorten the distance between students and teachers. No matter who you are, where you are, how many miles away, you can take the Miss Tram online cosmetic tattoo course.
Benefits that Miss Tram's online cosmetic tattooing course offers:
Save time:
Online Esthetician course helps to flexibly fund time, do not take time to move, not confined or influenced by anyone.

Arrange a schedule with the Course Management at the Morning - Afternoon - Evening hours. or any time of the day.

What you need is an internet-enabled technology device, which can be learned at home or taken with you anywhere.
Cost savings:
Online courses are considered a cost-effective solution compared to studying at the Centers (simply because there is no travel costs, ground costs, teacher costs, ..)
Interactivity - high connectivity:
You have the opportunity to meet and interact with other students / lecturers / KTV via the internet, group chat, fanpage, forum ... of Miss Tram Academy.

From there, increase interactivity, help you exchange knowledge about Cosmetic tattooing with teachers, siblings, friends to increase progress.
Proficient not inferior to offline courses:
Studying online but not so that the quality is inferior, guys, the faculty will accompany you throughout the learning process to help students reach their full potential.

Not knowing where to ask questions, you will be answered by the lecturer as soon as possible.

There are practical exercises to assess the skills of each student through each course.

More time from 4 -10 days of practical practice at the center, helping to strengthen skills and effective skills.
To be able to understand more details about the SUPER BENEFITS of the Miss Tram online cosmetic tattoo course, you can refer to this article: 4 Benefits Of Attending Anesthetic Embroidery Spray Course Online.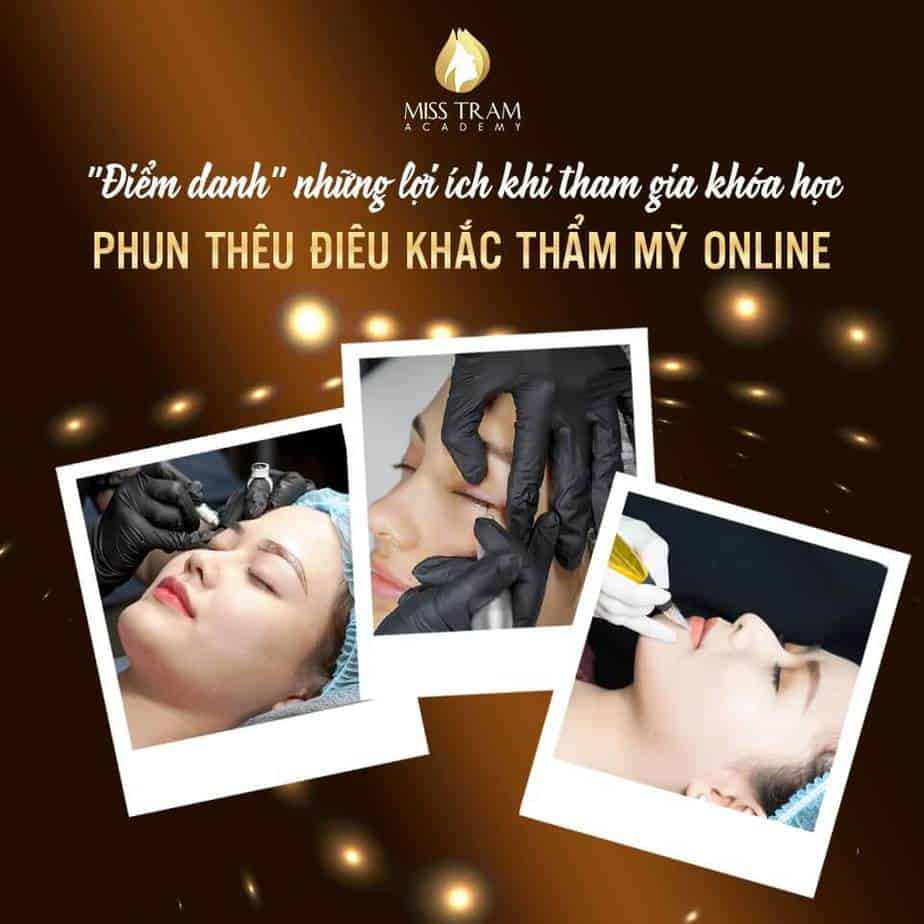 Apprenticeship is a "shortcut" option to success, so don't let poor quality training sites slow down your progress. With the information about the locations of training in skin care and cosmetic tattoo training in Phu Tho, Miss Tram introduced above hopes to be useful to you.
Wish you choose the best quality training place. If you have any questions about Miss Tram's online cosmetic tattoo course, do not hesitate to contact us for answers!