Questions and Answers | Spray Micro Ombre Eyebrow Touching What Need To Note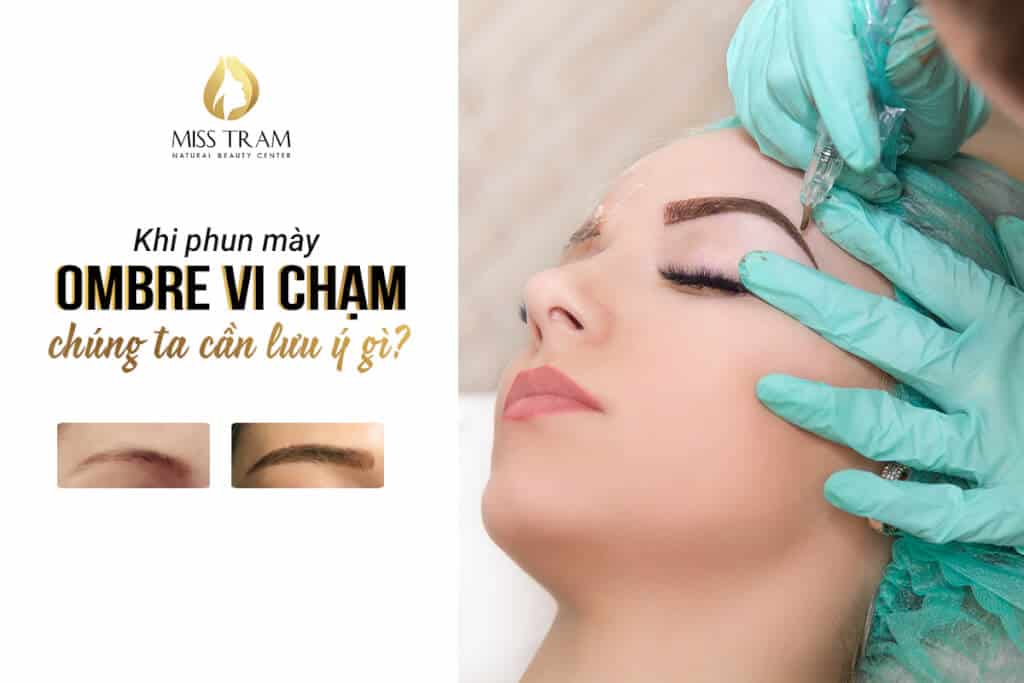 The technique of spraying Ombre eyebrow micro-touch particles is one of the modern beauty trends that many women love. Spraying Ombre eyebrows will ensure to bring to customers Eyebrows with slender lines but so harmonious and natural.
So what to note when doing to produce the most perfect results? Find out with Miss Tram Academy!
✨ Spray ombre micro-touch eyebrows using a specialized embroidery machine, proceed to apply Ombre technique on the eyebrows, and contour the eyebrow frame and the eyebrow in a microscopic way (1 point), so I want to achieve For best results, KTV should pay special attention to the following:
- Appraisal of eyebrows and face ratio of Customers:
+ Eyebrows decided to 80% contours on the face so just "one inch wrong" you can lead to the consequences "go a mile".
+ Therefore, if receiving eyebrow spray request from customers, please first sit down, analyze the features on the face of the customer and advise them the most appropriate eyebrow shape.
- Consulting ink color accordingly:
+ Depending on the age, skin color, hair color of each person, we will choose it appropriately.
+ DO NOT let guests follow the trend but decide the color ink is not right for me. Instead, please consult wholeheartedly, helping customers know the color tone for them.
- Handling anesthesia before spraying
You need to master the technique of anesthesia to help customers more comfortable during the procedure.
- Eyebrow spraying technique
+ Like other eyebrow spray techniques, Micro-touch Ombre eyebrow spray requires meticulousness, firmness and reasonable alignment in KTV.
+ You must not go out of the area of the eyebrows have been defined, at the same time we will apply straight spray, spray in the direction of the eyebrows, spray in a spiral according to the technical steps.
Above are some basic notes when performing Ombre micro eyebrow spray technique. During the course of learning at Miss Tram Academy, experts will carefully guide the manipulation steps, as well as share experiences to limit the generation of errors and overcome the situations you encounter well.
————————————————–
✨ More information about:
- The program of recruiting trainees for Aesthetic Embroidery Beauty Salon at: https://bit.ly/2JA5bSa
- Details of the courses at Miss Tram Academy at: https://bit.ly/2L99UzV
➡️ Please contact Miss Tram immediately for more advice about the learning path and see if you are suitable for this job or not!
————————-
✨ MISS TRAM ACADEMY
🏣 126/6 Phan Xich Long, Ward 3, Bình Thạnh District, TP. HCM
📱 Mobile: 0909 783 289 - 093 718 6060
☎ Hotline: 1900 7018
⏱ Working time: 9:00 am - 6:00 pm
✨ Website Miss Tram Academy: https://misstram.edu.vn/
✨ Website Miss Tram Natural Beauty Center: http://thammymisstram.vn/