Technical instructions for lip correction, lip contour
The shape of lips not only determines the sexiness and harmony of the face, but it also has a close relationship with the physique and temperament of each person. Therefore, changing the shape of lips has become a common trend of the times, and is an urgent need of many people. One of the quick and simple ways to fix lips is by spraying lips, helping people dream their lips with bright colors, and effectively treating dark lips. The technique of lip spray is applied to both men and women, it is painless, does not affect the health and the time of rapid spraying so this method is very popular today.
Lip spray - a prominent beauty trend today
Lip spray is considered a very popular beauty trend today, not only women but men also love this method of beauty. Spraying lips gives everyone a desired lips, while overcoming the condition of dark lips, helping people more beautiful and confident.
Today, the number of people wishing to spray lips is increasing, making them invisible, making lips-spraying a "hot" job, and skilled technicians are increasingly being "hunted". Demand for apprenticeship tattoo also so that increasingly blooming.
Many people come to lip spray not only because they want to have a lips that are always fresh, but also to shape their lips according to their wishes. If you accidentally have lips that are too thin or too thick, lips that are out of shape, or lip shape that is not as desired, you can spray lips to adjust lip shape effectively, not necessarily thanks to the intervention of the Expensive cosmetic technology.
Lip correction, lip contour is no longer a complicated issue
Miss Tram Academy guides you on some of the best lip and lip correction techniques, you can refer to for more useful experiences for you.
If the lips are not regular, you should choose one side as standard and adjust the other lips to have a perfect lips. Cases that need lip correction include the following:
For thin lips, use a red pen to draw the lip border slightly wider outside about 1mm from the actual lip contour to make the lips thicker. For this case, you should spray light lips and apply Collagen gloss to thicken lips effectively.
Course: Sculpting lips with European technology points (Aquarell Technique)
For thick lips, narrow your lips in about 0.8-1mm to narrow your lips, not too much will make lips less natural. Similar to thin lips, you should spray lips with a light color and apply Collagen gloss to lips.
Where the lips on both sides are not equal
If the lips are thick on the thin side, you can draw a broad line to "cheat" the thickness of the thin lips so that it is balanced against the thick lips, then shape according to the true lip shape.
For this case, you can create a pretty heart-shaped lip by emphasizing the center of the upper lip to create a heart-shaped joint, while carefully drawing the outer edges to create thickness for the lower lip.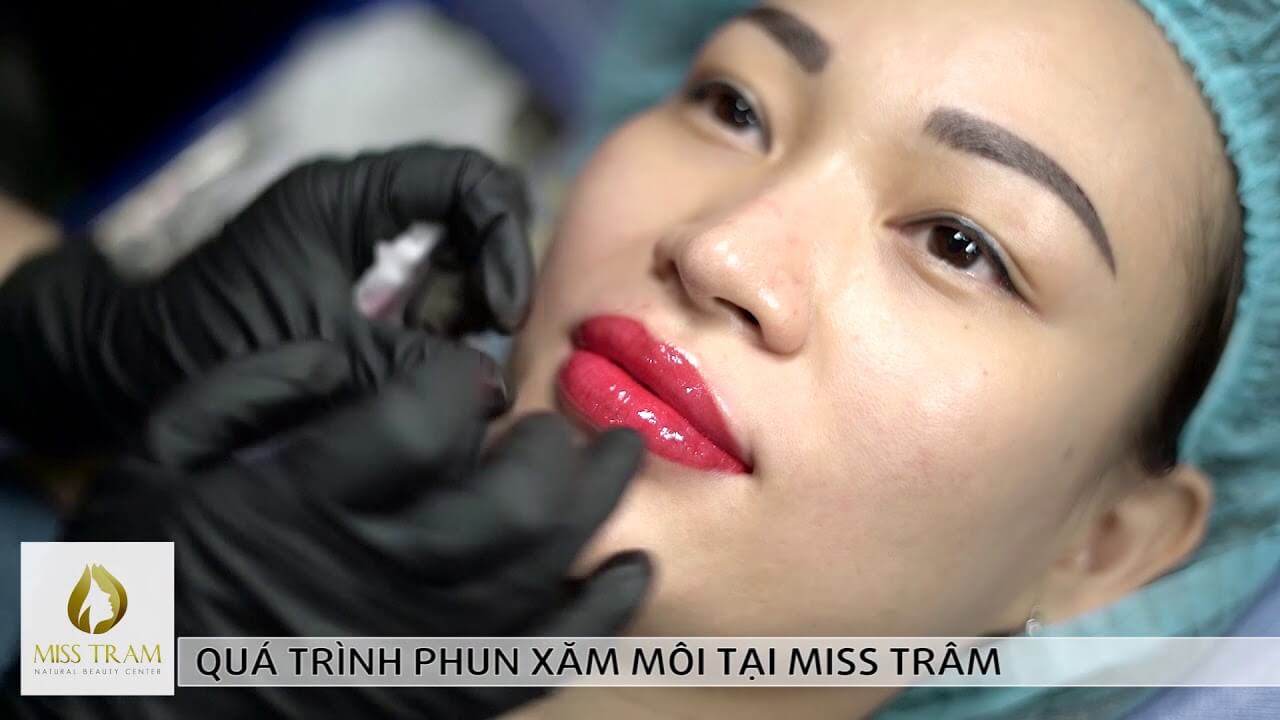 In general, depending on the circumstances, you can adjust your lips accordingly. But the general rule is that if you want to thicken your lips, you "cheat" your lips to the outside, if you want your lips to be less thick, you narrow your lips by "cheating" your lips inside. Thus, you easily create the standard lip shape that customers want.
These techniques are all instructors and are very specific notes in Miss Tram Academy's lip spray curriculum, you should refer carefully for more useful information. You should also note that, a beautiful lips is not the right lips, but the lips that match the face, and the customer 's personality, helping customers to be more beautiful, seductive and self - conscious. believe.
See More Posts:
How to Fix Common Errors When Covering Ombre Eyebrow Powder
Key Point In Ombre Touch Micro Eyebrow Technique
Where to learn lip spray?
If you want to become a good tattoo artist, you should study at professional tattoo training establishments like Miss Tram Academy. This place is currently one of the few institutes training in cosmetic spray industry methodically and professionally. Miss Tram Academy has:
Teaching facilities in spacious and modern

Enthusiastic, experienced lecturers

Detailed and professional curriculum

During the learning process, students are equipped with standard equipment and machines

The curriculum is always innovative, regularly updated with the latest trends

Learning goes hand in hand with hands-on work

Guaranteed output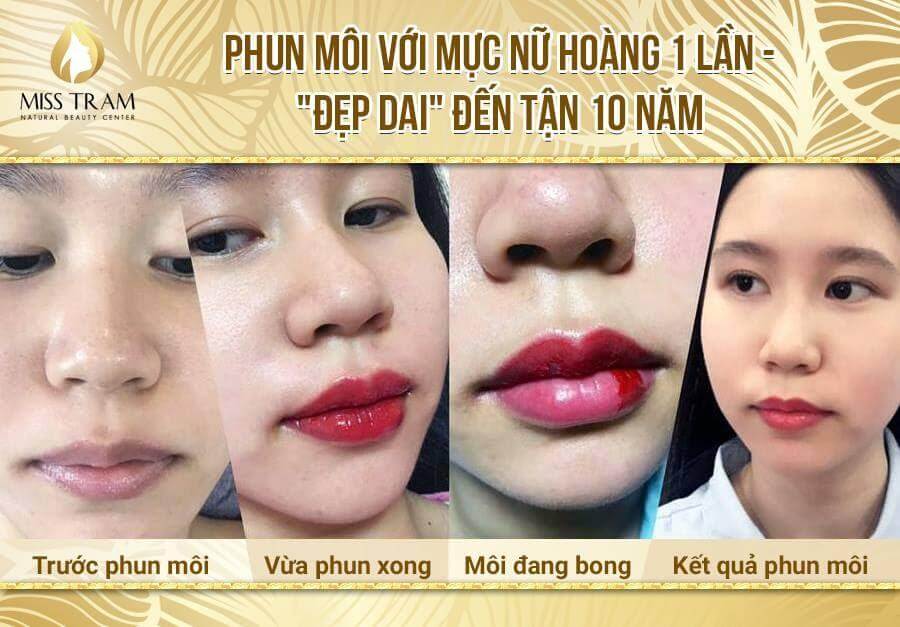 As a result, graduates here are skilled technicians who can confidently apply for jobs in their favorite places or open their own stores. When studying at Miss Tram Academy, techniques such as lip contour correction or other lip tattoo spray techniques are specifically instructed, making it easy for students to grasp important techniques, and practice throughout the course to be able to Become a professional tattoo artist, confident to bring radiant smiles to everyone.