Spas are in the top of the most promising and most stable industries today. Therefore, it is not too difficult to understand when the number of young people studying this profession is more and more.
If you have a passion for beauty and are looking for a prestigious and quality training address, do not miss this article. The list of famous spa training addresses in Nghe An that Miss Tram introduces below will certainly be useful information for you.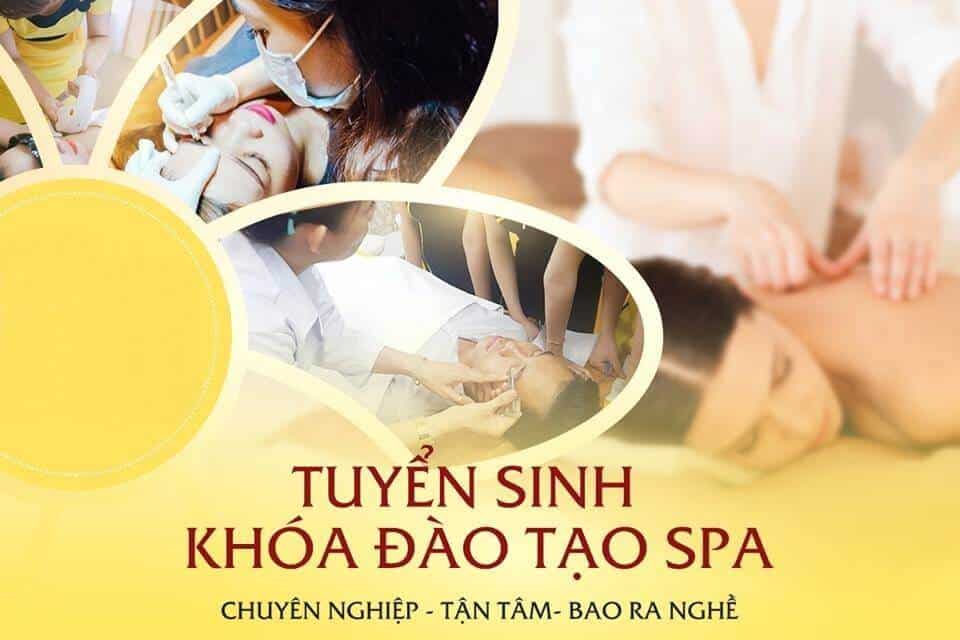 Top 15 Spa Reputation Vocational Skin Care, Tattoo Beauty Prestige In Nghe An.
1. Sang Moon Spa
Sang Moon Spa brings you the leading professional training programs in cosmetology. Combined with that, the curriculum is methodically and meticulously compiled.
Address: 21 Võ Thúc Đồng, Bến Thủy, TP. Vinh, Nghệ An

Phone: 0975.783.604
2. Tien Spa Beauty Salon
With many years of experience in beauty, Tien Spa Beauty Salon is the leading prestigious spa address in Nghe An. Thanks to the quality of training, as well as meticulously designed curriculum and friendly learning environment.
Address: 101 Chu Văn An, Lê Lợi, TP. Vinh, Nghệ An

Phone: 0961.382.223
3. Mommy Spa
Mommy Spa is a beauty training address suitable for all subjects, because it has extremely cheap training costs.
Address: 7 Phung Chi Kien, Block 15, TP. Vinh, Nghệ An

Phone: 0899.959.997
4. Thanh Thanh Spa
Coming to Thanh Thanh Spa, you will have direct contact with advanced and modern machinery and equipment, along with international standard curriculum.
Address: 25 Đàm Văn Lễ, Trường Thi, TP. Vinh, Nghệ An

Phone: 0944.952.343
5. Linh's Beauty Spa
With a good training environment, quality training techniques and a team of experienced teachers, Linh's Beauty Spa is a reliable address for you.
Address: 18 Võ Thị Sáu, Bến Thủy, TP. Vinh, Nghệ An

Phone: 0917.763.456
6. Mailisa beauty salon
Mailisa Beauty Salon is a golden address for you to trust. Mailisa always applies advanced and modern technologies from developed countries to the teaching process.
Address: Số 3 Ngư Hải, Phường Quang Trung, TP. Vinh, Nghệ An

Phone: 1900.0019
7. Hana Spa
Hana Spa is a name you should not ignore. With a team of highly skilled teachers, long-term professional experience you will learn the best quality lessons here.
Address: 25 Đàm Văn Lễ, Trường Thi, TP. Vinh, Nghệ An

Phone: 0931.781.789
8. HB Spa
HB Spa is one of the training facilities that many young people choose. Because this place not only owns advanced equipment, but also a team of experienced teaching teachers.
Address: Hà Huy Tập, TP. Vinh, Nghệ An

Phone: 0986.340.240
9. Huyen Trang Spa
Huyen Trang Spa is also one of the great choices for you. Studying here, you will have 80% time to practice on real samples to improve your skills.
Address: 161 Nguyễn Văn Cừ, Hưng Bình, TP. Vinh, Nghệ An

Phone: 0386.536.999
10. Thu Cuc Clinic
Highly qualified teaching staff, well-trained curriculum, state-of-the-art equipment, friendly learning environment are the outstanding advantages of the courses at Thu Cuc Clinic.
Address: Số 59 Nguyễn Sỹ Sách, Hưng Bình, TP. Vinh, Nghệ An

Phone: 1900.558.896
11. Eva Spa
Courses at Eva Spa are always innovative and apply the most advanced technology in the teaching process, in order to bring the best results for students.
Address: 134A Lê Hồng Phong Street, Trường Thi, TP. Vinh, Nghệ An

Phone: (023) .8397.9186
12. Amia Beauty Center
Studying at Amia Beauty Center, you not only have access to many advanced and modern techniques. Besides, you can also study with the leading cosmetic experts in Vietnam today.
Address: 39A Lê Hồng Phong Street, Hưng Bình, TP. Vinh, Nghệ An

Phone: 0917.203.333
13. Rosa Spa
Having many years in the field of beauty, Rosa Spa is sure to be the perfect choice for you. Not only do you gain specialized knowledge, you also receive additional practical training.
Address: 137 Nguyen Van Cu, Hung Binh, TP. Vinh, Nghệ An

Phone: 0981.201.333
14. Dong A Beauty Salon
With a system of modern machines, good, enthusiastic, friendly teachers at Dong A Beauty Salon will help young people conquer passion for beauty salon.
Address: 148 Nguyễn Văn Cừ, Hưng Bình, TP. Vinh, Nghệ An

Phone: 0962.778.866
15. Bich Hao Beauty Salon
Bich Hao Beauty Salon is a prestigious spa teaching address in Bac Lieu which is chosen by many people because of its good quality training and low cost.
Address: 79 Đặng Thai Mai, Hưng Đông, TP. Vinh, Nghệ An

Phone: (023) .8385.2284
In the middle of the matrix of "underground school - fake diploma" as today, for those who wish to learn the art of tattooing, if they do not learn thoroughly, it will be very easy to be "caught" in. So based on what criteria to be able to choose where to learn reputable cosmetic tattoo spray? That is:
Professional training environment.

The curriculum framework develops equally between theoretical and practical knowledge.

Facilities are modern, spacious and modern.

Ensure adequate learning tools.

A team of dedicated, professional teachers with teaching experience.

The training curriculum is well-written, thorough and important to understand.

Valid and valid vocational certificate.
Please refer to the article Experience choosing prestigious spa training places to better understand these criteria offline.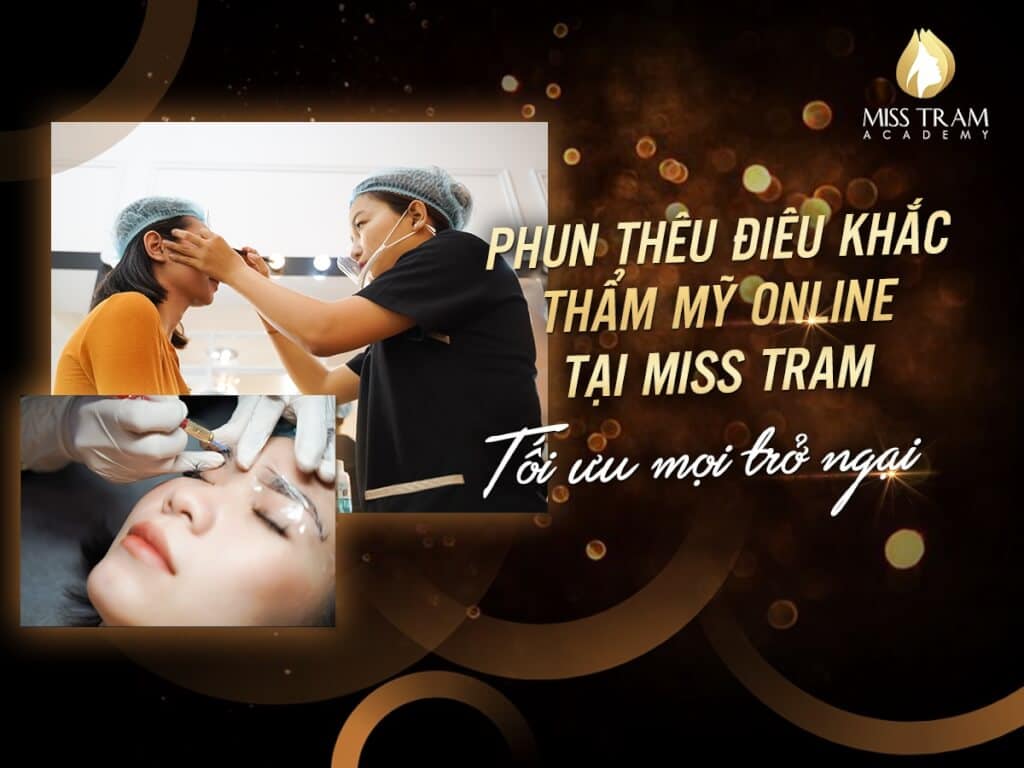 But today, not everyone with passion can pursue it. Because there are still many people who are passionate but encounter difficulties such as limited time, limited financial capacity, they cannot attend classes directly at the center. Because of understanding these difficulties, Miss Tram has brought you an online cosmetic spray course.
This course not only creates a gap between students and lecturers, but also brings knowledge to those who are passionate about the profession. When choosing Miss Tram's online cosmetic tattooing course, you will learn important knowledge such as:
Comprehensive knowledge base from basic to advanced of a professional esthetician.

Mastering the types of numb, ink brands, tools, ... on the market with beautiful standard color mixing formula, handling cases that customers have done damaged or not like.

How to choose the right spray method and color for each eyebrow shape, lip color, eyelids for customers.

Especially, when registering for Miss Tram's online cosmetic tattooing course, you will be granted a learning account VIP. Here, you have the right to participate in all courses such as skin care, cosmetic tattoo, makeup, nail, ... of Miss Tram Academy internal.
Along with that, attending Miss Tram's online cosmetic tattoo course is not only for you Master Dong Bao Tram direct teaching. But there are also a large number of professional instructors and pedagogical skills.
Miss Tram's online cosmetic tattooing course offers super-great benefits such as:
Study time is flexible, so students can choose the schedule according to their desired time.

For those of you who do not have enough tuition fees, Miss Tram's online cosmetic tattooing course will help solve this difficult problem.

The learning curriculum at Miss Tram is compiled with international standards in 3 languages including: English, Vietnamese and Chinese. Meticulous compilation, clear, easy to learn, easy to understand, easy to remember and important is easy to practice.

After completing the vocational training course, 100% students are guaranteed a stable job with a "terrible" income.

In particular, when students have entered the job, the Center will regularly update the latest knowledge to improve skills without any additional fee.
If you are passionate about the profession, and are interested in Miss Tram's course, please find out more details about the course at ONLINE AESTHETIC SPRAY COURSE COURSE be updated to the latest.
Above is a list of training institutions for skin care and cosmetic tattoo spraying in Nghe An that Miss Tram has sent to you. Hope you will choose a suitable training address for you.