You have a passion for the profession of spa, beauty. You are looking for a place to train skin care and cosmetic tattoo training in Dak Nong. You do not know which address trains prestige and quality.
Do not worry, the list of beauty training institutions, especially skin care and cosmetic spraying in Dak Nong that Miss Tram introduces below will certainly be useful information for you. Stay tuned with Miss Tram!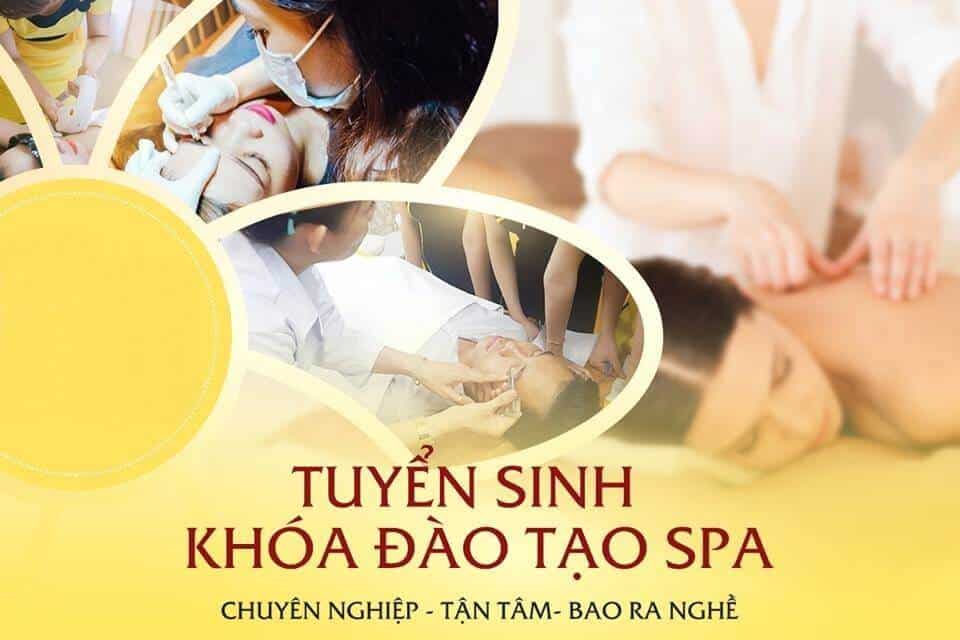 Top 08 Spas Receiving Training Of Skin Care Practitioners, Beauty Tatoo In Dak Nong.
1. Hong Tham Spa
The teaching staff at Hong Tham Spa are the leading experts in beauty care industry who will teach face to face.
Address: 70a Nơ Trang Long, TT. Kien Duc, Dak R'Lap and Dak Nong

Phone: 0988.446.565
2. Spa grass
When studying at Co Spa, you not only master the professional knowledge from basic to advanced. Besides, you are also trained to develop the necessary skills in the beauty industry.
Address: Ton Duc Thang, Nghia Thanh Ward, Gia Nghia, Dak Nong

Phone: 0961.984.848
3. Dong Nghi Spa
Dong Nghi judged to be a professional spa when applying advanced technology into teaching. In addition, the curriculum at Dong Nghi Spa is methodically compiled and trained directly by experts from major esthetics.
Address: 29 Chu Van An, Nghia Thanh Ward, Gia Nghia, Dak Nong

Phone: 0988.171.750
4. Beauty Salon
My Nhan Spa will bring you the most in-depth knowledge of skin care and tattooing, so you can confidently work as an esthetician at major spas and salons.
Address: 185 Quang Trung, Phường Tân Tân, Gia Nghĩa, Dak Nông

Phone: 0988.532.596
5. Dieu Anh Spa
Dieu Anh Spa brings the leading training programs in the field of cosmetology with a professional and well-designed curriculum.
Address: Dak Song, Dak Nong

Phone: 0968.761.471
6. Gia Dinh Spa
When attending the course here, you will learn through the intensive curriculum and are methodically and meticulously compiled. Therefore, any lesson will be learned very quickly, very easy to understand.
Address: Dak Mil, Dak Nong

Phone: 0905.195.160
7. Khanh Xuan Spa
The system of classrooms of Khanh Xuan Spa is designed in a standard manner, moreover, updated with modern and advanced machinery and equipment from developed countries.
Address: Pham Ngoc Thach, Nghia Tan Ward, Gia Nghia, Dak Nong

Phone: 0935.282.696
8. Lavender Beauty Salon
When studying here you can be assured that the knowledge you learn will be extremely practical, sticking to the curriculum and the most practical skills.
Address: Unnamed Road, Dak Nong

Phone: 0905.050.503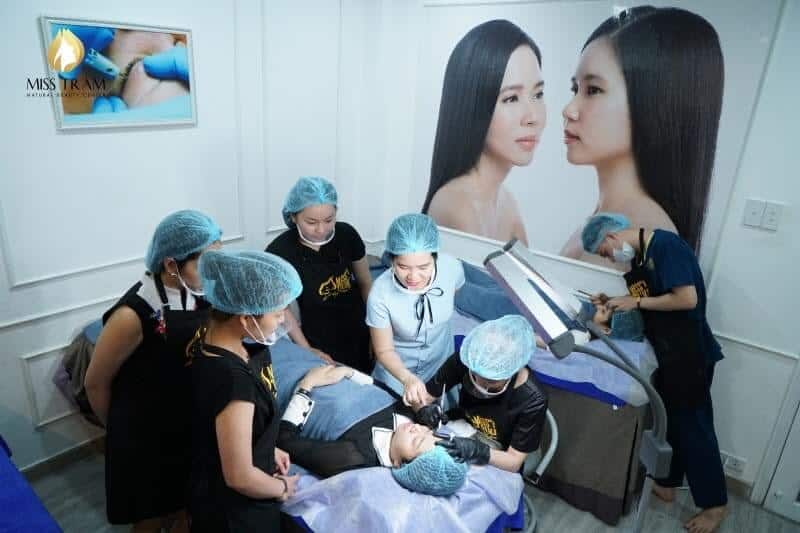 Choosing a reputable, quality vocational training institution among hundreds of thousands of names is not simple, right? So, in order to choose the right place to send your dreams and passions, you need to pay attention to the following:
Results and achievements of the location of your choice.

The reputation of the establishment.

Does the center have a large number of students, how are the previous trainees assessed?

Is the training school's facilities good?

Lecturers like?

Training curriculum

Qualified degrees and quality?

Employment situation after the course ends.

The support programs of the course.
For more information about the above experiences, please see the article Experience In Selecting A Prestige Spa Learning Address. Wish you choose the quality training institution, which best suits you.

If you have a great passion and want to pursue a career in cosmetic tattooing, but you cannot go directly to the center because there are no conditions, do not worry. By Miss Tram's online cosmetic tattooing course, you will be able to solve these concerns.
Miss Tram's online cosmetic tattooing class is seen as the "key" to help you open a new door in your work. For a better overview of the art of tattooing, let's join with us for the benefits of taking an online course "Useful - Effective - Excellent"In the following:
Save time:
An online cosmetic tattoo spraying course that gives you the flexibility of your time, no travel time, no restrictions or influence from anyone.

Arrange the schedule with the Course Management at the hours of Morning - Afternoon - Evening ... or any time of the day.

What you need is an internet-enabled technology device, which can be learned at home or taken with you anywhere.
Cost savings:
Online courses are considered a cost-effective solution compared to studying at centers (simply because it will not cost travel, ground costs, teacher costs, ..)
Interactivity - high connectivity:
You have the opportunity to exchange, meet and exchange with other students / lecturers / KTV via the internet, group chat, fanpage, forum .... of Miss Tram Academy. From there increase interactivity, helping you exchange knowledge about cosmetic tattoo spray with faculty, siblings and friends to increase progress.
Proficient not inferior to offline courses:
Study online but not because of that inferior quality, guys, the teaching staff will always accompany you throughout the learning process to help students reach their full potential.

Not knowing where to ask questions, you will be answered by the lecturer as soon as possible.

There are practical exercises to evaluate skills through each course.

More time 4 - 10 days practice at the Center to help strengthen skills and effective skills.
Besides, Miss Tram's online cosmetic tattooing course also brings students:
Comprehensive knowledge base from basic to advanced professional of an esthetician.

Firmly about the types of numb, ink brands, tools, ... on the market with beautiful standard color mixing formula, handling cases where customers have done damaged or not like.

Know which eyebrow shape, lip color, eyelid spray method is suitable for you in particular and your customers in general.

It is completely possible to become a Professional Eyebrow Embroidery - Eyelid - Eyeliner - Professional Lips Technician with a stable income.
* Especially, when you register for Miss Tram's online cosmetic tattooing course, you will be granted VIP account. There you have the right to study all online courses (skin care, cosmetic tattooing, makeup, nail, ...) of Miss Tram.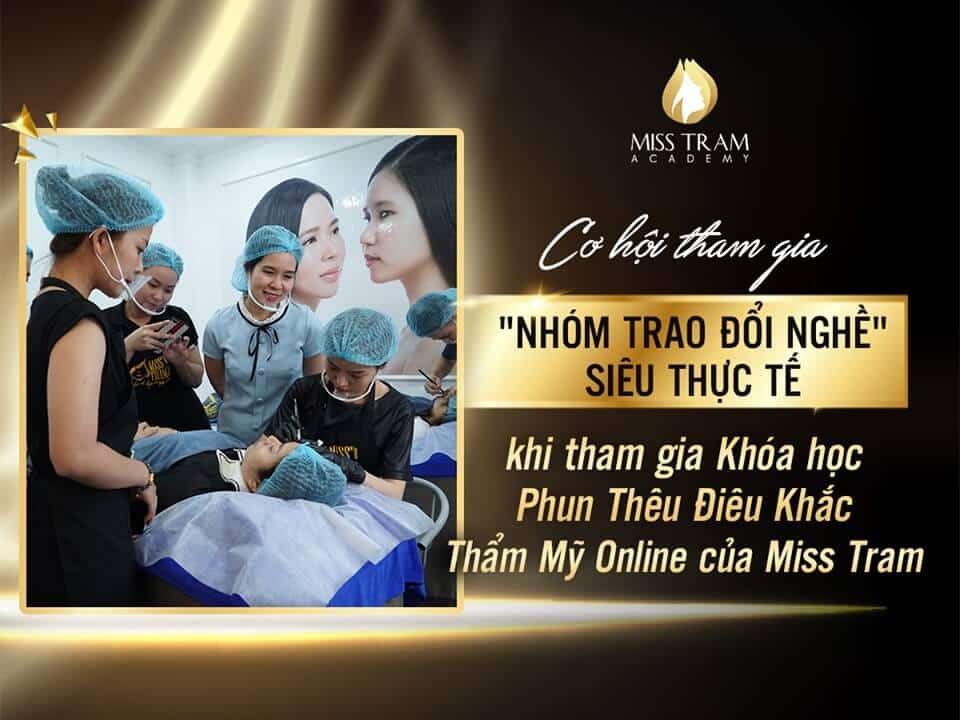 Are the benefits "1 - 0 - 2" that Miss Tram's online cosmetic tattooing course offered great, right? So if you have a real passion for this job, don't miss Miss Tram's extremely passionate course! Find out more details at COSMETIC SPRAY COURSE COURSE ONLINE latest update of Miss Tram.
Although there are many training centers in the cosmetology market that offer attractive courses, not all addresses guarantee good quality of learning. So, before making a choice, you should find out the information and consider carefully.
Above is a list of the most prestigious, quality and most prestigious skin care, tattoo and skin training training establishments in Dak Nong that Miss Tram would recommend to you. Miss Tram would like to remind you that: Occupations follow us throughout life, because they are smart in choosing reputable training institutions. Thank you for following the article.