Cosmetology in general or skin care and tattooing in particular is gradually becoming a "money-making" career. However, in order to really become a good esthetician, the passion for the job is not enough. Besides, you need to go through a training course of knowledge and skill training as well as professional skills in a methodical manner.
However, where is the quality and prestigious training address? How to choose a good training institution is still one of the rather difficult issues. Therefore, to help you the following article Miss Tram will introduce you to the list of reputable cosmetic skin care and tattooing training facilities in Ba Ria - Vung Tau. Stay tuned with Miss Tram!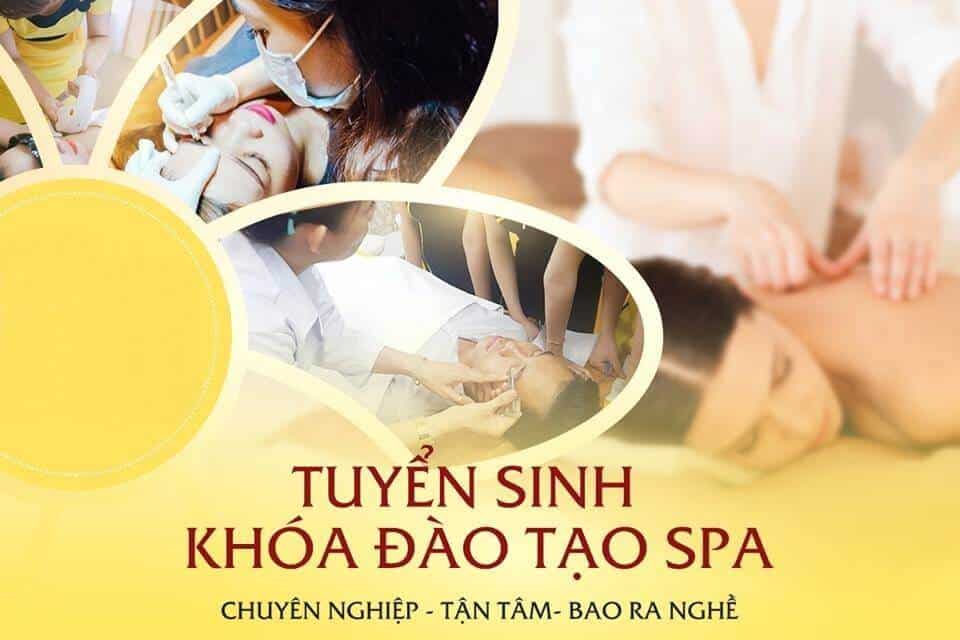 Top Skincare Training, Cosmetic Tattoo In Vung Tau
1. Ngoc Huong beauty salon
Established since 2003, with a long experience in beauty field, Ngoc Huong annually trains and commits jobs for thousands of students.
Address: 301 Truong Cong Dinh, Ward 3, City Vung Tau

Phone: 025.4381.0333
2. Ngoc Dung Beauty Salon
The teaching staff at Ngoc Dung are the leading experts in beauty care industry who will teach face to face.
Address: 157 Nam Ky Khoi Nghia, Ward 3, TP. Vung Tau

Phone: 1800.6377
3. May Spa
When studying at May Spa, you not only master the professional knowledge from basic to advanced. Besides, you are also trained to develop the necessary skills in the beauty industry.
Address: 33 Nam Ky Khoi Nghia, Ward 3, TP. Vung Tau

Phone: 025.4351.3879
4. Lam Kieu Spa
Lam Kieu evaluated as a professional spa when applying the advanced technology into teaching. In addition, the curriculum at Lam Kieu Spa is methodically compiled and trained directly by experts from major esthetics.
Address: 443 Nguyễn An Ninh, Phường 9, TP. Vung Tau

Phone: 0985.226.564
5. Hana Beauty Salon
Hana will bring you the most in-depth knowledge of skincare and tattooing, so you can confidently work as an esthetician at major spas and salons.
Address: 9 Nguyễn An Ninh, Phường 9, TP. Vung Tau

Phone: 0833.629.368
6. Seoul Spa Vung Tau
Seoul Spa brings the leading training programs in the field of cosmetology with a professional curriculum that is methodically and meticulously prepared.
Address: 387 Nguyễn An Ninh, Phường 9, TP. Vung Tau

Phone: 0938.453.123
7. Vuong Gia Spa
When attending the course here, you will learn through the intensive curriculum and are methodically and meticulously compiled. Therefore, any lesson will be learned very quickly, very easy to understand.
Address: 10 Lê Lợi, Phường 1, TP. Vung Tau

Phone: 0937.027.986
8. Arika Spa
During the course of study at Arika Spa, students will learn and practice the latest technology. The teaching staff at Arika Spa are all experienced, highly skilled and have studied abroad.
Address: 66 Bình Giã, Phường 8, TP. Vung Tau

Phone: 0902.482.737
9. Moc Spa
The system of Moc Spa's classrooms is well-designed, moreover, updated with modern and advanced machinery and equipment from developed countries.
Address: 203 Thống Nhất Mới, Phường 8, TP. Vung Tau

Phone: 025.4383.6589
10. Lavender Spa
When studying here you can be assured that the knowledge you learn will be extremely practical, sticking to the curriculum and the most practical skills.
Address: 101A Phan Chu Trinh, Phường 2, TP. Vung Tau

Phone: 0915.782.807
Actually, choosing a prestigious and quality spa training institution in Ba Ria - Vung Tau is not an easy thing, is it? We can not close our eyes, because it will be easy to choose the wrong training address. So, before choosing a training unit you must learn and consider carefully.
If you really want to choose a quality and prestigious training institution, you can refer to the following article. Miss Tram guarantees this will be an important part of knowledge to "leverage" you: Spa Learning Experience - How to Choose a Good Beauty Training Site?
Today there are many young people who have a passion for beauty in general, and the art of tattooing in particular. But there are also many friends who cannot afford to study far away, cannot afford to pay tuition fees - living, no accommodation, ... and many other worries. Understanding that, now you will no longer have to worry because Miss Tram has brought online cosmetic tattooing course.
The reason you should choose the online cosmetic tattoo spraying course at Miss Tram:
Wherever you sit, you can join the course without spending too much time to move to the center.

Your electronic device only needs a strong internet connection and a standard curriculum of Miss Tram Academy.

Despite being an online course, the quality is not inferior to the offline course.

Register for an online course at Miss Tram you will also be fully answered all questions such as offline course.
The online cosmetic tattoo spraying course at Miss Tram brings you the main differences:
Each lesson is a clear full HD video, about 10 - 15 minutes with the guidance of the professional teachers, clear sound, easy to understand and understand.

Teachers will guide the finishing on both the eyebrows and eyelids, not just on one hand as other training institutions.

When registering for a course at Miss Tram, students will be fully equipped with the standard curriculum.

The course is only suitable when you're really serious because you need to complete your lesson on a per-level basis, where you can submit it there through your account.

You will not have the opportunity to neglect because you will be connected directly with the Academy Manager to Design your own study schedule at home.

Instructors will always supervise online to ensure the quality of your study.

When participating in cosmetic tattooing course at Miss Tram, you will be in the closed zalo / facebook group. Here, you can easily send teachers questions, along with sharing experiences and learning more knowledge.

After completing the course submission, students will be rehearsed directly at Miss Tram Academy from 4 - 10 days and prepare a response form prepared by the center, under the 1-on-1 support of the team. Teacher.

Students after completing the course of Embroidery Embroider Sculpting Eyebrows - Eyelid - Lips professionally at Miss Tram will be granted a nationally recognized and fully validated certificate nationwide.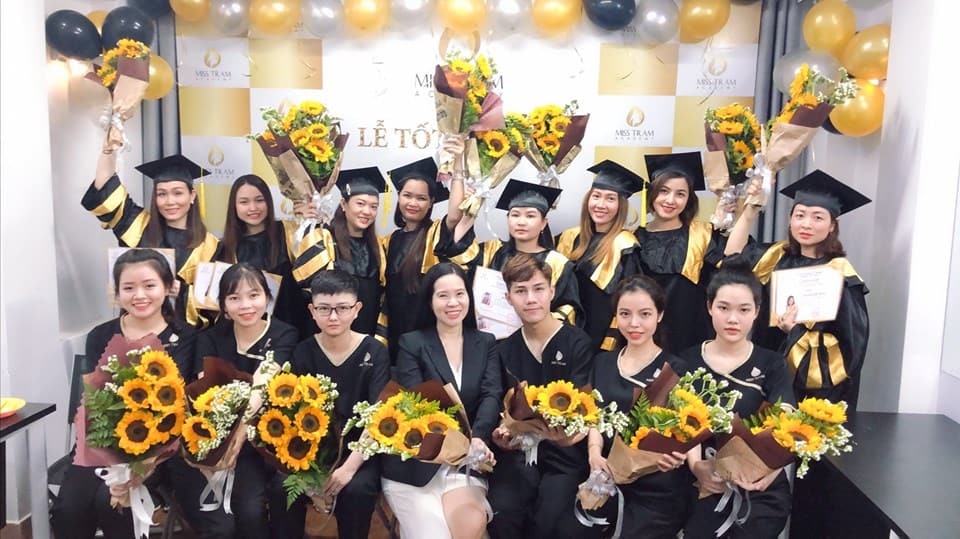 So, with the outstanding and different advantages that the online tattooing course at Miss Tram brings will help you make new progress in your work and in life. From there, you can completely develop your own capabilities, abilities and passions.
To be able to find establishments teaching cosmetic tattoo spray helps you "choose the face to send gold" is not simple, right? Hopefully, with the information Miss Tram shared above you will have more luggage as well as the confidence to choose the right training facility.