Skin care, cosmetic tattoo spray is a very popular service nowadays. It is almost ubiquitous, all cities with an enormous amount of expertise. Therefore, people who follow this industry increasingly have more job opportunities as well as higher advancement in work.
The following article Miss Tram will introduce to you the list of training locations for skin care, cosmetic tattoo spraying in Quang Binh province. Stay tuned with Miss Tram!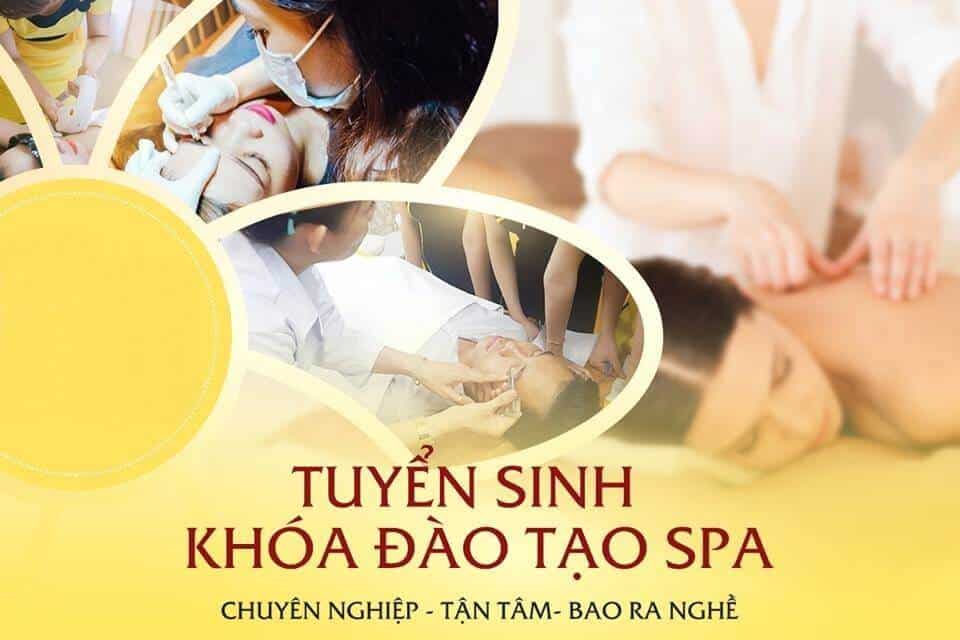 List of 12 Vocational Spa Addresses: Skin Care, Cosmetic Tattooing In Quang Binh.
1. EMMY aesthetics
EMMY aesthetics have good training quality, friendly learning environment, and a team of experienced trainers so this is always chosen by many young people.
Address: 156A Ly Thuong Kiet, Hai Thanh Ward, Dong Hoi, Quang Binh

Phone: 0966.103.411
2. Asena Spa
Having many years in the field of beauty, Asena Spa is sure to be the perfect choice for you. Not only do you gain specialized knowledge, you also receive additional practical training.
Address: 30 Ly Thuong Kiet, Dong An, Dong Hoi, Quang Binh

Phone: (023) .2385.7123
3. Saigon Xinh Spa
With modern machinery system, good, enthusiastic, friendly teachers at Saigon Xinh Spa will help young people to conquer passion with beauty profession.
Address: 47 Ly Thuong Kiet, Dong My, Dong Hoi, Quang Binh

Phone: 0967.975.095
4. Emdepemcoquyen Spa
Emdepemcoquyen Spa is a prestigious spa teaching address in Quang Binh which is chosen by many people because of its good quality training and low cost.
Address: 383 Ly Thuong Kiet, Hai Thanh Ward, Dong Hoi, Quang Binh
Phone: 0378.881.555
5. La Bella Spa
La Bella Spa will be a great address for you. This place owns a team of highly qualified, experienced and experienced trainers abroad.
Address: Bảo Xuân, Đồng Hới, Quảng Bình

Phone: (023) .2384.2999
6. Moon Home Spa
Coming to the class at Moon Home Spa, you will be exposed to a system of advanced and modern equipment imported directly from abroad.
Address: 27 Phung Hung, Hai Thanh Ward, Dong Hoi, Quang Binh

Phone: 0971,991,939
7. Vitoria Spa
Vitoria Spa owns a team of experienced instructors teaching abroad, so make sure you choose this address you will learn a lot of great knowledge.
Address: 56 Le Loi, Ba Don, Quang Trach, Quang Binh

Phone: 0982.977.499
8. My Dung Spa
Faculty at My Dung Spa are the leading experts in beauty care industry will participate in direct teaching.
Address: 43 Tran Hung Dao, Hai Thinh Ward, Dong Hoi, Quang Binh

Phone: 0948.163.435
9. Diamond Beauty Institute
When studying at Diamond, you not only master the expertise from basic to advanced. Besides, you are also trained to develop the necessary skills in the beauty industry.
Address: 300 Ly Thuong Kiet, Hai Thanh Ward, Dong Hoi, Quang Binh

Phone: 0917.571.333
10. Eva Spa
Eva Spa is rated as a professional spa when applying advanced technologies in teaching. In addition, the curriculum at Eva Spa is methodically compiled and directly trained by experts from major esthetics.
Address: 16 Le Quy Don, Dong My, Dong Hoi, Quang Binh

Phone: 0916.805.652
11. The Beauty Salon Kim
Dr. Salon Kim will give you the most in-depth knowledge of skincare and tattooing, so you can confidently work as an esthetician at major spas and salons.
Address: 245 Tran Hung Dao, Nam Sach, Dong Hoi, Quang Binh

Phone: 0931,900,268
12. Thuy Duong Spa
Thuy Duong Spa brings the leading training programs in the field of cosmetology with a professional curriculum that is methodically and meticulously prepared.
Address: Do Nhuan, Hai Thinh Ward, Dong Hoi, Quang Binh

Phone: 0906.454.786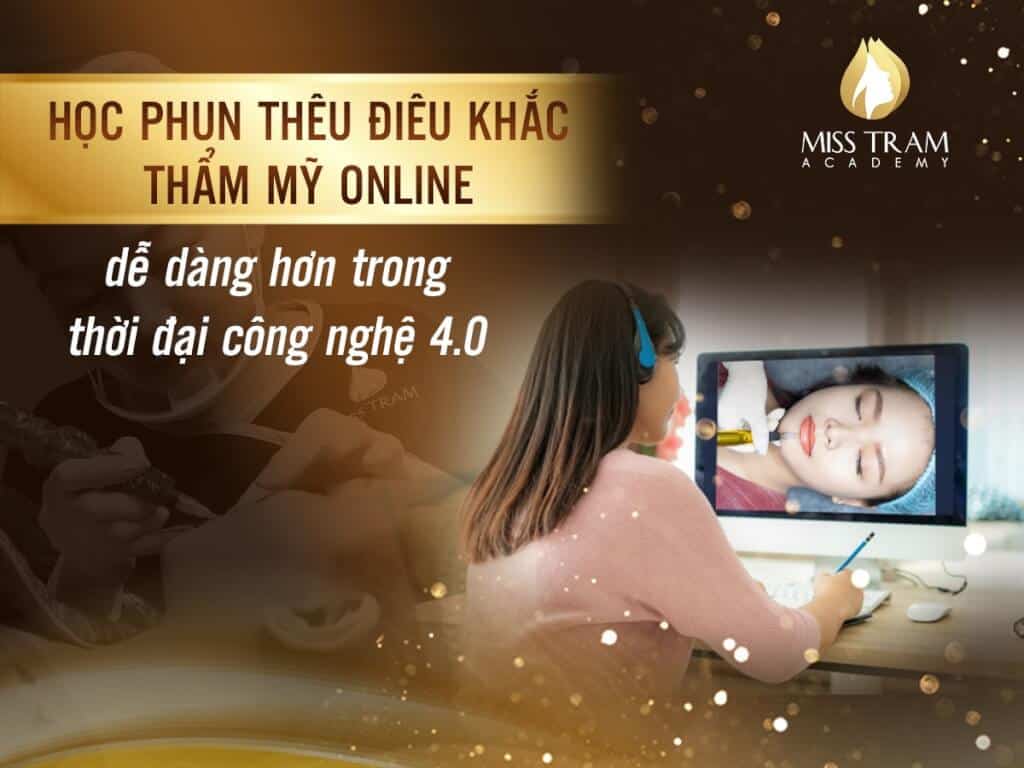 The selection of a quality center among hundreds or thousands of vocational training centers today is only a small probability, right? However, you can make it easier to master the following 8 important notes:
Ask clearly about the requirements - the nature of the job.

Inquire about money (Tuition, Fees incurred).

Study time

Place (place of study - exam - degree).

The real value of a diploma upon graduation.

What is the specific curriculum?

Post-course support.

Must commit in writing.
To be able to better understand the information of the notes that Miss Tram shared above you can refer to the article experience in choosing a place where you can learn quality tattooing.
If you are a lover and want to pursue tattooing but have difficulty because of the geographical distance, time does not allow; Or even if you do not have enough money to go directly to the center, you should not worry. By Miss Tram's online cosmetic tattooing course, you will be able to solve these concerns.
Why does Miss Tram's cosmetic tattooing course do that?
The course is perfectly suitable for young people who are passionate and want to start a business when they only have a few million dong in their pocket.

The course gives you more flexibility during study time, you can study anywhere anytime with only electronic devices connected to the internet.

The curriculum is compiled with the dedication of a team of teachers with more than 17 years of experience, providing the most quality lessons and the easiest to understand and absorb.

The quality of training is always guaranteed, technically - flexible and skillful, performing proficient maneuvers.

Get extended work opportunities at major spa and beauty facilities.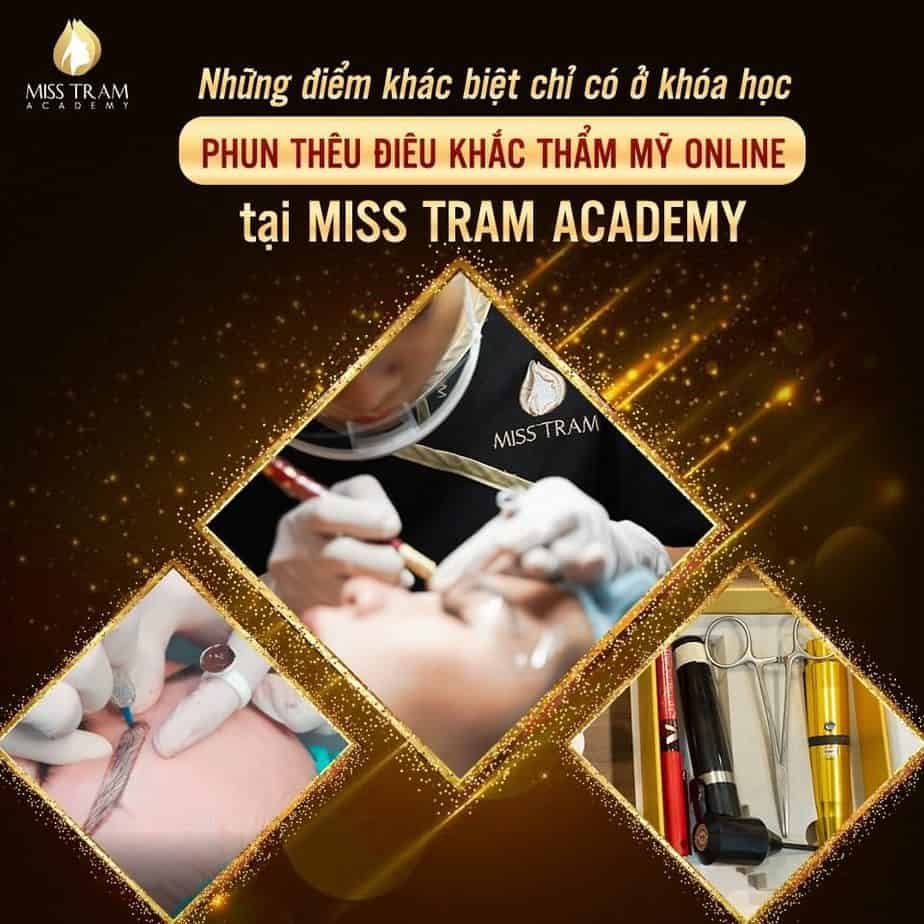 So what is the difference between Miss Tram's online cosmetic tattooing course?
Each lesson is a clear HD quality video, from 15 - 30 minutes with the detailed technical guidance of professional teachers, clear sound, easy to understand and communicate.

Instructors complete on both the eyebrows and eyelids, not just on one hand like other training institutions.

Students registering for the course will be fully equipped with the standard curriculum.

The course is only suitable when you're really serious because you need to complete your lesson on a per-level basis, where you can submit it there through your account.

You will not have the opportunity to distract because it will be connected directly with the Academy Manager to design a private study schedule at home. Instructors will always monitor online to ensure the quality of learning.

Students who join the course will be able to join the closed zalo / facebook group, where you can easily send questions, share experiences and learn knowledge.

After completing the course submission, students will be rehearsed directly at Miss Tram Academy from 4 - 10 days and prepare an application template prepared by the Center under the 1-on-1 support of the teachers. .
Although Miss Tram's online cosmetic tattooing course is only available recently, it has brought a new "wave" to all those who are passionate about the profession across the country. This course has received a lot of good feedback from students, so
Miss Tram believes that this is the "door" to help you step to the road to success more easily. To know more about Miss Tram's course, you can find out right here ONLINE SPRAY COURSE COURSE Latest.
With the list of the most famous locations for training in skin care and cosmetic tattoo training in Quang Binh, Miss Tram introduced here. Hope to be a helpful suggestion for you. Be smart and wise before making the final decision!