Meeting the beauty tastes of customers and the needs of society, skin care and tattooing is now known as the "modern gold" profession, which is chosen by many young people. In Phu Yen, this is also a very hot profession.
To help you choose a place to learn skin care, tattoo quality spray. The following article Miss Tram will introduce you to the list of spa training locations in Phu Yen. Stay tuned!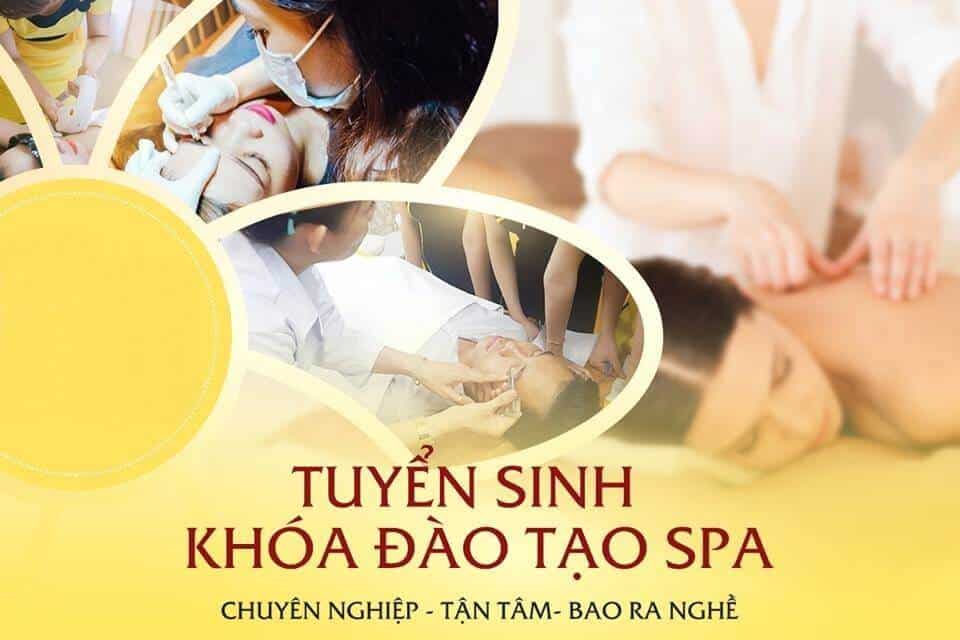 List of 09 Vocational Spa Skin Care, Cosmetic Tattoo Spraying In Phu Yen.
1. Moonspaphuyen.com
When you become a student of Moonspaphuyen.com you will be learning in a professional vocational environment. Along with modern equipment will help you always learn the best, most rewarding and latest in the profession.
Address: 49 Dien Bien Phu Street, Ward 7, Tuy Hoa, Phu Yen

Phone: 0907.122.433
2. Seoul Spa
Studying at Seoul Spa, you will be taught by a team of experienced, skilled instructors until you become proficient in the profession.
Address: PG1-9 Vincom Phú Yên, DL Hùng Vương, Phường 7, Tuy Hòa, Phú Yên

Phone: 1900.6947
3. Tulip Spa
Tulip Spa is a prestigious address for tattooing training, with a team of experienced teachers along with modern equipment. With these strengths, Tulip Spa is guaranteed to train you to become proficient after graduation.
Address: 16 Huyen Tran Cong Chua, Ward 6, Tuy Hoa, Phu Yen

Phone: 0796.642.469
4. Na Thi Beauty Spa
Na Thi Beauty Spa is famous as a training address with a system of modern and advanced equipment to maximize the teaching and learning process.
Address: 111 Le Thanh Phuong, Ward 8, Tuy Hoa, Phu Yen

Phone: 0934.109.210
5. Tuyet Nhung Spa
Beauty tattoo spray training program is the strength of Tuyet Nhung Spa. With the necessary elements from facilities, teaching staff, textbooks will ensure the best learning process.
Address: 107 DL Hung Vuong, Ward 6, Tuy Hoa, Phu Yen
Phone: 0935.754.353
6. Lemus Spa
Lemus Spa is the address that will help you master all the knowledge, career skills from basic to advanced through different levels.
Address: 135 Nguyen Thai Hoc, Ward 5, Tuy Hoa, Phu Yen

Phone: 0968.151.816
7. DIVA Beauty Salon
DIVA is the place that has trained many Masters in beauty industry in general and the aesthetic tattoo spray industry in particular. So, this is the address you should not ignore.
Address: 141 DL Hung Vuong, Ward 6, Tuy Hoa, Phu Yen

Phone: 1900.6689
8. Bao Xinh Beauty Salon
Courses at Bao Xinh Beauty Salon always innovate and apply the most advanced technology to the teaching process, in order to bring the best results to students.
Address: 206 DL Hung Vuong, Ward 6, Tuy Hoa, Phu Yen

Phone: 0971.132.179
9. Kimmi Spa
With years of experience in beauty, Kimmi Spa is the leading prestigious address in Phu Yen. Thanks to the quality of training, as well as meticulously designed curriculum and friendly learning environment.
Address: 142 Nguyen Hue, Ward 7, Tuy Hoa, Phu Yen

Phone: 0964.140.449
To be able to choose a reputable and quality training place in hundreds, thousands of locations is not really easy, right? However, "nothing is impossible", before choosing a location you need to find out the information carefully. You need to be sure 8 experience in apprenticeship spa cosmetology tattooing Make sure you will easily choose for your future path.
However, there are many young people who really have a passion for cosmetic tattooing but do not have conditions to study far away, have no accommodation, not enough tuition fees - living expenses, ... and a lot of things bother otherwise. So, to solve this problem, the online cosmetic tattooing course at Miss Tram was born.
Right now with Miss Tram, let's look at a few reasons for you to trust your online cosmetic tattoo course:
Spa management will be supplemented and updated with advanced knowledge about the profession to bring more efficiency in the job.

You will become more flexible in time, studying anywhere with just internet-connected electronics.

The curriculum with over 17 years of experience was compiled with the dedication of the Miss Tram team, providing the most quality and easy-to-understand lessons.

Guaranteed quality of training, technical skills - flexible workmanship, performing mature manipulations.

Open employment opportunities at Spas and beauty facilities.
Subjects can participate in Miss Tram's online cosmetic tattooing course:
Those who have a passion for beauty and more specifically the Cosmetic Spray Tattoo Eyebrow - Eyelid - Lips.

Those who wish can become a professional esthetician.

Those who manage at the spa and want to learn, learn more advanced knowledge about the profession to bring more efficiency at work.

Those who want to open a small spa to a professional Beauty Center which has beauty services Eyebrows - Eyelids - Lips.

Those who have worked as a tattoo artist but are blind in knowledge such as: unable to control hand force, do not identify the standard color mixing formula, ....

Those who often encounter crisis problems with customers but do not know how to resolve.

Those who have been disoriented by the process of self-study at home through group meetings, youtube, facebook, ... and much mixed information on the internet.

Those who cannot afford to take direct courses at Beauty Academy or Vocational Training Center.

Those who want to be flexible about the time and place of study.
Besides, with Miss Tram's online cosmetic tattooing course, can you completely solve all concerns and difficulties in the contents by: Accompanying with you throughout the online cosmetic tattoo course only Master Dong Bao Tram, along with a large team of experienced teachers and pedagogical skills. They are constantly practicing, accumulating knowledge and professional experience to be able to help you have a passion for a more developed career.
Miss Tram's online cosmetic tattooing course will bring you the passion for a new career advancement. This is also the "key" to help you open the door of your dreams. For more information, please see details at ONLINE SPRAY COURSE COURSE Get the latest update of Miss Tram.
Above is a list of reputable, quality skin care and tattoo training locations in Phu Yen that Miss Tram wants to share with you. Hopefully, the information that Miss Tram shared above will help you choose the right place.