Beauty jobs, especially skincare and cosmetic spray, are in great demand. So, if you are looking to pursue a cosmetic spray job, and are looking for a reputable and quality vocational training address in Vinh Long, please refer to the article below. The list of spa training addresses that Miss Tram introduces below will certainly help you.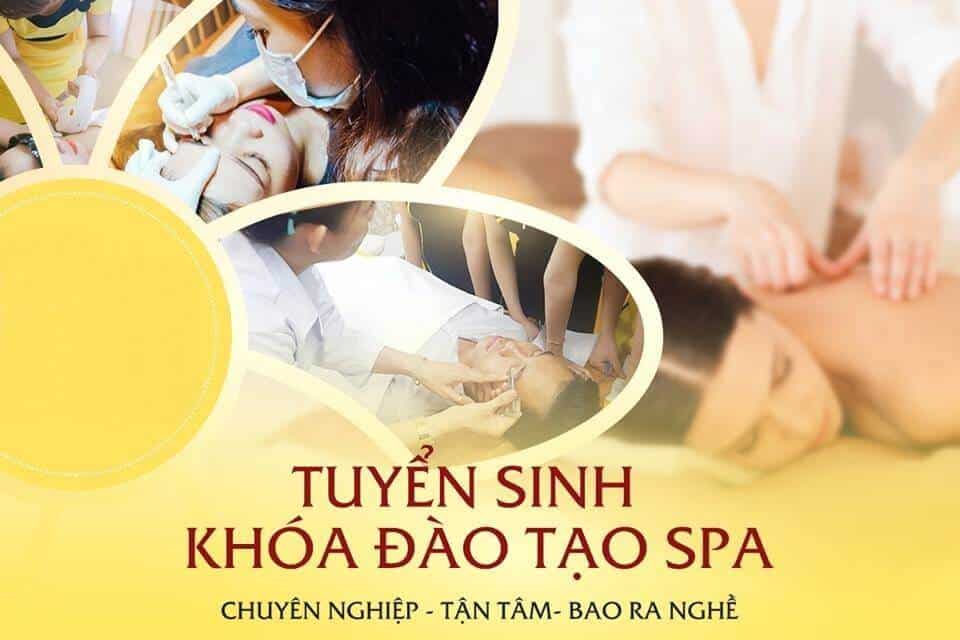 Spa Teaching Vocational Skin Care, Cosmetic Tattoo Spraying In Vinh Long
1. DiVa Beauty Salon
Come to DiVa Beauty Salon class, you will be exposed to a system of advanced and modern equipment imported directly from abroad.
Address: PG 1-09, Vincom Quarter, Phạm Thái Bường, Vĩnh Long

Phone: 1900.6689
2. Kay Spa
Kay Spa will be a great address for you. This place owns a team of highly qualified, experienced and experienced trainers abroad.
Address: 86 Nguyễn Thị Minh Khai, Phường 1, Vĩnh Long

Phone: 0938.858.111
3. Calle Spa
Calle Spa has good training quality, friendly learning environment, and a team of experienced trainers, so this is always chosen by many young people.
Address: 33 Pham Thai Buong Street, Ward 4, Vinh Long

Phone: 0933.648.964
4. Holly Spa
With modern machinery system, good, enthusiastic, friendly teachers at Holly Spa will help young people to conquer the passion of beauty salon.
Address: E26, Lot E, Group 73, Hong Van Villa Area, Pho Co Dieu, Ward 3, Vinh Long

Phone: 0833.330.686
5. Ngan Hoa Spa
Ngan Hoa Spa is a prestigious spa teaching address in Vinh Long which is chosen by many people because of its good quality training and low cost.
Address: 112 Trần Đại Nghĩa, Phường 4, Vĩnh Long

Phone: 0909.254.777
6. Myan Spa
Come to Myan Spa, you will be learning with the latest technology, the latest and is constantly updated. Therefore, during the course of study here you will be trained with the best conditions.
Address: 394c / 19 Ấp Phước Ngọ A, Vĩnh Long

Phone: 027.0358.2488
7. Van Du Spa
Studying at Van Du Spa, you will be taught by a team of experienced, skilled teachers, closely accompanied until you become proficient in the profession.
Address: 33 / 9K Alley 6 Pham Thai Buong, Ward 4, Vinh Long

Phone: 0386.584.917
8. Trang Spa
Trang Spa is famous as a training address with a system of modern and advanced equipment to serve the process of teaching and learning.
Address: 114 Tran Dai Nghia, Ward 4, Vinh Long

Phone: 0896.616.139
9. Anna Spa
Cosmetic tattoo training is the strength of Anna Spa. With the necessary elements from facilities, teaching staff, textbooks will ensure the best learning process.
Address: 58 Trần Đại Nghĩa, Phường 4, Vĩnh Long

Phone: 0915.747.494
10. Zen Spa
Zen Spa is the address that will help you master all the knowledge, career skills from beginner to advanced through different levels.
Address: 158 Nguyễn Văn Thiệt, Phường 3, Vĩnh Long

Phone: 0909.460.477
To choose a reputable cosmetic tattoo training location, quality is not a simple thing, but it is not too difficult. You should not close your eyes to choose the ultimate "money loss disability". If you master the following experiences, Miss Tram believes that you will find it easier to choose a training place: 8 Notes About Beauty Profession & Experience Choosing Beauty Salon - Beauty Spa Training Is Right For You. These experiences will be a "springboard" to help you on the road to more successful success.
According to experts, this industry is not only developing in the present, but besides that in the future it may create a big "wave" in the beauty industry. If time is limited, your financial ability does not allow or the geographical distance is too far that you can not participate in studying directly at the center.
How can you pursue your passion and dream? The Miss Tram online cosmetic tattoo course is the answer for you.
Register for an online cosmetic tattoo course, you will learn and acquire knowledge from the best experts in the beauty arena. From there, you will have the opportunity to improve your skills, become a predecessor to expand this business again!
On the other hand, when choosing an online course, there are certainly a lot of students who have a doubt and constantly question the results. But when you come to Miss Tram's online cosmetic tattooing course, you will have a different view by:
The curriculum is the "enthusiasm" of the teaching staff at Miss Tram, compiled in 3 languages: Vietnamese, English, Chinese. And is best suited for online training.

Going from introductory lessons, beginner for those who did not know anything about Cosmetic embroidery spray. It may be a "leisurely" but this will be a solid foundation step with you to build a beautiful house.

Group of lessons on Eyebrow - Eyelid - Lips clear, training from basic to intensive.

Faculty / Customer Care team will always follow up to support, share and motivate you to be more motivated to complete the lesson well.

Each student has the time to review directly at the academy from 4 -10 days, to form an application prepared by the Center under the 1-on-1 support of the Teachers Team.
Miss Tram's online cosmetic tattooing course requires students to be serious, hard-working and constantly practicing, completing their lessons, according to each level, and learning where to submit them. Therefore, in this course you need to have the determination and effort.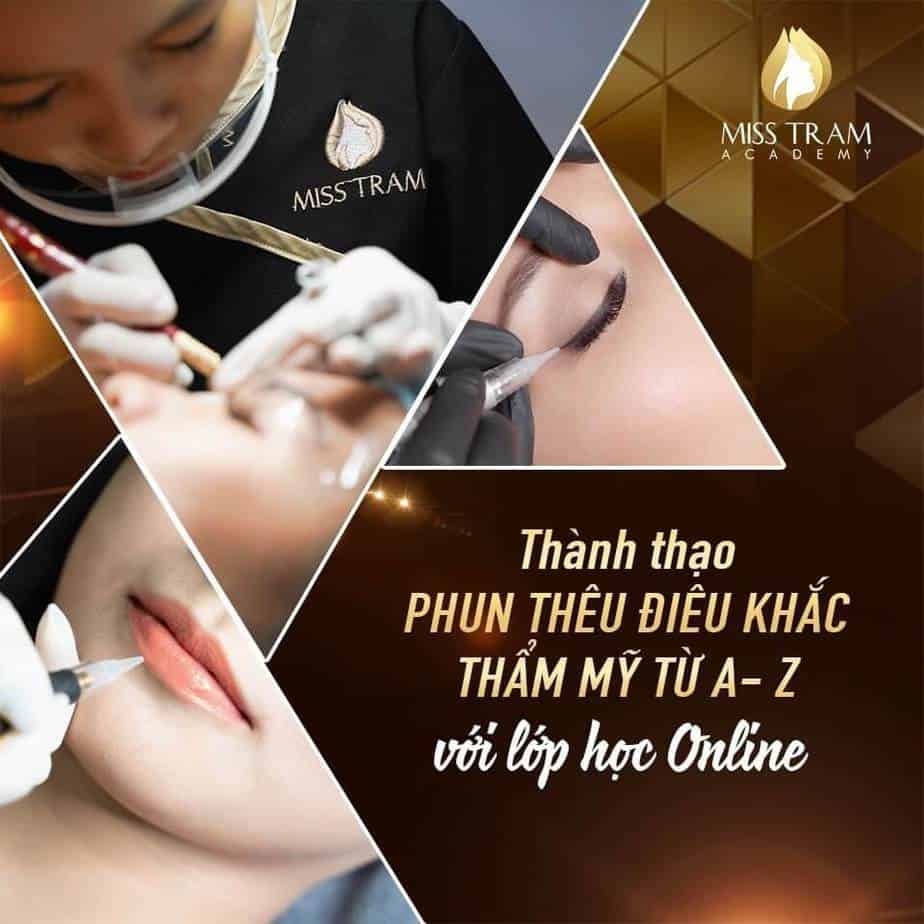 For more information about Miss Tram's Online Tattooing Course, you can refer to the following article: 4 Benefits Of Attending Anesthetic Embroidery Spray Course Online
This article Miss Tram has introduced to you Top the most prestigious, quality cosmetic skin care and tattoo training locations in Vinh Long today. Hope you will choose a location that suits you.