In recent years, the spa profession in general and the skin care profession, tattoo spray in particular are becoming a hot trend in the market. It can be said that this is the job of making money that many young people love and welcome.
To own a terrible income and stand firm in this profession, you need to have good professional skills. Therefore, the immediate priority is to find a reputable and quality spa vocational training address. With the article below Miss Tram will introduce to you the prestigious spa teaching addresses in Dong Nai. Please see more.
Top Spa Teaching In Dong Nai: Skincare, Cosmetic Tattooing
1. Luna House Spa & Cosmestic
Luna House spa & Cosmestic is an address specializing in training students with a team of highly qualified and professional instructors and modern equipment.
Address: D2 Street, Biên Hòa, Đồng Nai

Phone: 0974.490.197
2. Thuy Duong House
Thuy Duong House is a spa training address that many young people love and appreciate for its soft quality and cost.
Address: 118 Dong Khoi, Block 11, Tan Phong, Bien Hoa

Phone: 097.1223.778
3. Nguyen Beauty - Spa and Clinic
With years of experience, professional teaching staff, regular updates of new technology as well as modern machines, Nguyen Beauty is now a prestigious spa teaching address in Dong Nai and is trusted by many people.
Address: F190, Street N1. Thong Nhat Ward, Bien Hoa, Dong Nai

Phone: 094.357.9977
4. Sapa NaNa
With over 10 years of spa training experience, NaNa is always the first choice of young people in Dong Nai when they want to learn a trade.
Address: 127/4, QL1A, Khu Phố 10, Phường Tân Biên, Biên Hòa, Đồng Nai

Phone: 0935.17.4757
5. Spa Quynh Mai
Spa Quynh Mai has many years of experience in training skincare and nourishment. Help you fully can confidently work or open your own Spa after completing Spa training program in Quynh Mai.
Address: 15B / 68 Khu Phố 3, Phường Tam Hòa, Biên Hòa, Đồng Nai

Phone: 0905.348.891
6. Minh Yen Spa Vocational Training Center
Extremely preferential tuition, practical instruction on real people, 100% graduates have a stable job is all that you get when choosing Minh Yen Spa Vocational Training Center.
Address: 61/1 Phạm Văn Thuận, Biên Hòa, Đồng Nai

Phone: 0818.606.118
7. Spa Bien Hoa
Bien Hoa Spa with a logical and scientific training program, practiced directly on real people helps students gradually accumulate practical experience in the learning process and gain confidence in their skills after completing. into the course.
Address: 2B Doan Van Cu, Tam Hiep Ward, Bien Hoa, Dong Nai

Phone: 0869.631.921
8. Gangnam Beauty Salon
Gangnam is also one of the addresses you should choose. With a team of professional and experienced instructors and modern equipment system, committed to bringing you the best service.
Address: Số 388, Đồng Khởi, P. Tân Hiệp, Biên Hòa, Đồng Nai

Phone: 0898,000.045 - 0937.287.549
9. Vy Clinic & Spa
Vy Clinic & Spa is one of the prestigious spa vocational training addresses in Dong Nai today with excellent lecturers, modern machinery, and a reasonable price.
Address: A2 Street F7, Quarter 1, P. Buu Long, Bien Hoa, Dong Nai

Phone: 0937.988.815
Finding the address of spa school is always a concern that many young people encounter, to choose a reputable place to send you should grasp the following notes to make it easier for me.
Ask clearly about the requirements - the nature of the job.

Inquire about money (Tuition, Fees incurred).

Ideas to know about study time

About the location (place of study - exam - degree).

About the real value of a diploma when graduating.

What is the specific curriculum?

Any support after the course.

Must commit in writing.
If you love the beauty of tattooing but are far away or busy, do not have the opportunity to go to school directly at the center, do not worry. With Miss Tram's online cosmetic tattooing course, you will resolve all of your long-term problems.
Course of cosmetic tattoo spray at Miss Tram with the criteria: "Online class as REAL CLASS - Study quality at home with cost SAVING max. ". So with this class is suitable for any object?
Those who have a passion for the job of cosmetic tattoo Eyebrow - Eyelid - Lip.

Those who wish can become a Beauty Salon.

Those who manage at the Spa and want to learn, learn more advanced knowledge about the profession to bring more efficiency at work.

Those who want to open a small Spa to a professional Beauty Center which has beauty services Eyebrows - Eyelids - Lips.

Or do you want to improve your skills, knowledge and how to handle crisis problems or problems with your customers?

People are disoriented with the process of self-study at home through group meetings, youtube, facebook, etc. and lots of mixed information on the internet.

Those who are not eligible to take Direct Courses at Beauty Academy or Vocational Training Center.

People want to be flexible at the time and place of study.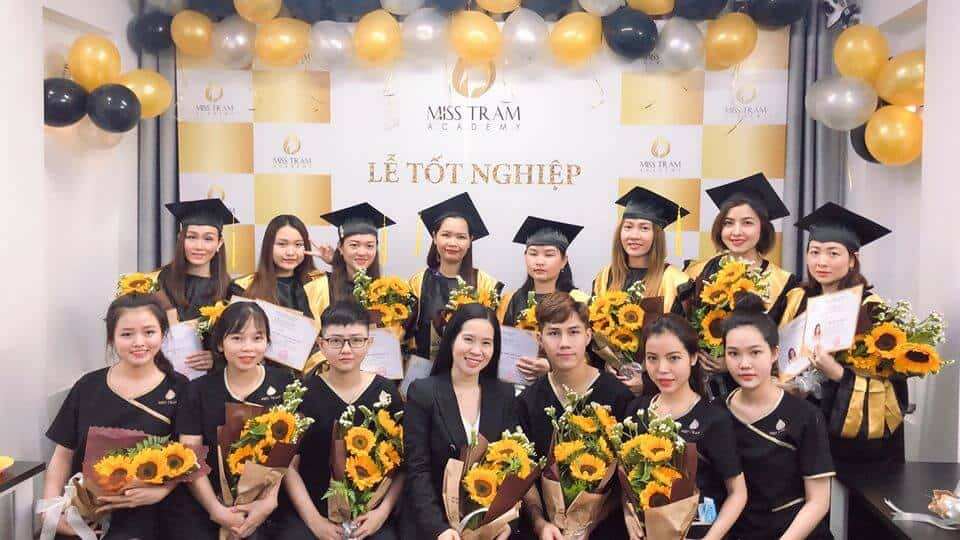 Why should you choose Miss Tram's online cosmetic tattooing course?
You will be fully equipped with the comprehensive knowledge base from basic to advanced professional of an esthetician.

Mastering all kinds of numbness, brand ink, tools, .. on the market with beautiful standard color mixing formula, handling cases where customers have done through being damaged, not satisfied.

Know which eyebrow shape, lip color, eyelid spray method is suitable for you in particular and your customers in general.

Students are granted VIP account, have the right to study all online courses (skin care, cosmetic tattoo, makeup, nail, ...) of Miss Tram internal.
Besides with over 17 years of his experience. Miss Tram is always the leading teaching and beauty address that you should not miss. Accompanying you in the course also Master Bao Tram Dong with a team of experienced teachers and pedagogical skills at Miss Tram Academy.
It is too attractive, isn't it? If you are looking for a prestigious and quality vocational training address, please contact Miss Tram immediately for more advice on the learning path.
Through the locations of spa teaching in Dong Nai that Miss Tram has introduced above, hope to help readers find yourself a reputable address to send offline.