Spa career is becoming a hot trend in the market and many young people choose to study. However, many people in the process of choosing a vocational training place to learn again put more emphasis on price than quality. This is what many of you make mistakes. Because these courses are just basic enough for you to work.
But nowadays, with the development of science and the need for people, there are also increasing demands for large spas, which will require technicians to know a lot of skills and expertise to operate these advanced machinery technologies. . If you do not meet it will be difficult to survive in the industry and the salary will be quite low because of incompetence.
Therefore, the choice of vocational training address is extremely important. Please refer to the list of teaching spas in Khanh Hoa that Miss Tram shares below to know more.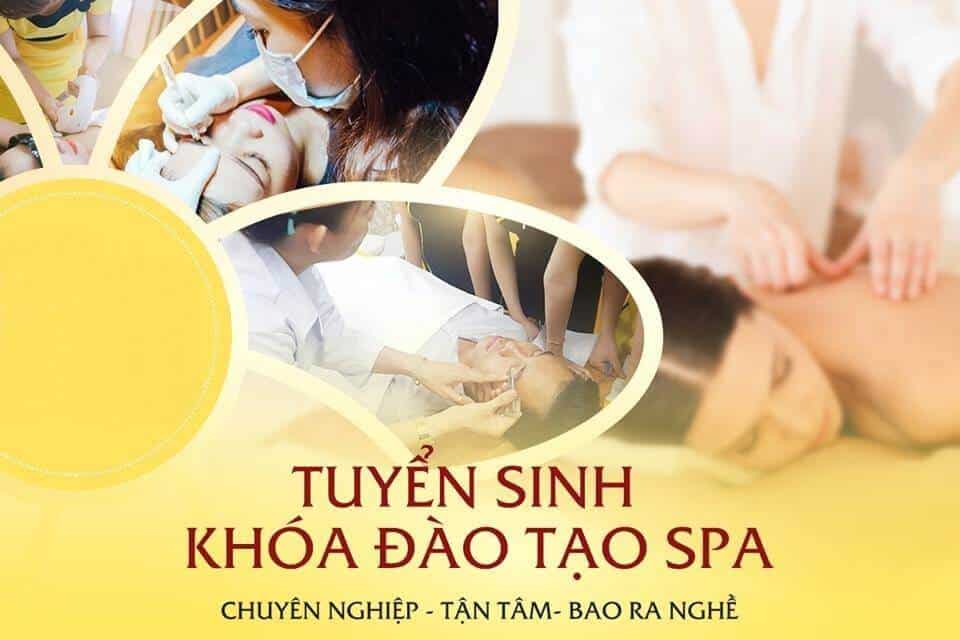 Top 15 Spas Get Skincare, Cosmetic Tattoo In Khanh Hoa.
1. Annam Spa

Annam Spa is a famous spa training address in Khanh Hoa because of good training quality, students are practiced throughout the learning process, helping to improve their skills.
Address: 384 Truong Chinh, Cam Duc, Cam Lam, Khanh Hoa
Phone: 0942547879
2. Sandy Spa
Sandy Spa is a vocational training address in Khanh Hoa, which is always at the forefront of updating high-tech and leading equipment in the country and around the world, in order to bring the best experience for students.
Address: 72 Truong Chinh, Cam Duc, Cam Lam, Khanh Hoa
Phone: 038 486 5296
3. Kim Phuong Spa                      
Kim Phuong Spa with good vocational training quality, friendly learning environment, affordable cost should always be chosen by many young people to study in Khanh Hoa.
Address: Cam Tân, Cam Lâm, Khánh Hòa
Phone: 0977412120
4. EVA Spa & Beauty
EVA Spa & Beauty owns a team of excellent teachers, with a system of advanced modern equipment, so many students believe in Khanh Hoa.
Address: Dinh Tien Hoang (Near the police station in Cam Lam district), Cam Lam, Khanh Hoa
Phone: 0935.178.605
5. TiGon Spa 
With over 9 years of experience in the field of beauty, TiGon Spa is always a prestigious and quality vocational training address that many young people study in Khanh Hoa. 
Facility 5: Số 6 Trần Quang Khải, Lộc Thọ, Nha Trang City, Khánh Hòa
Tel: 0902,900,555 - 0908,291,979
6. Quynh Anh Beauty & Spa
With over 15 years of experience in the field of spa beauty and vocational training, Quynh Anh Beauty & Spa brings together a team of highly qualified and experienced teachers and experts with many years of experience in the field of spa training.
Address: 45 Bạch Đằng. Nha Trang, Khanh Hoa
Phone: 0258 3511771- 093 777 2925
7. Anna Spa
Among the vocational spa locations in Khanh Hoa, Anna spa is a famous name that is highly appreciated by many people for its professionalism and quality.
Address: 38 Nguyen Khanh - Nha Trang City, Khanh Hoa
Hotline: 0905,944,234 - 058,6282,949
8. Lyz's Spa
 Lyz's Spa with good training quality, friendly learning environment, specializing in using modern imported equipment to improve the quality of teaching for students.
Address: 7 / 1a Nguyễn Thiện Thuật, Lộc Thọ, Nha Trang City, Khánh Hòa
Phone: 0258 6502 345
9. Bao Nghi Beauty - Spa
Bao Nghi Beauty - Spa is a prestigious, quality and low-cost spa training center in Khanh Hoa that is trusted by many students.
Address: 401, Street 3/4, Cam Thuan Ward, Cam Thuận Ward, Cam Ranh, Khánh Hòa
Hotline: 0938 944 727
10. Van Van Beauty Salon
The next name is Van Venus, which has a modern system of facilities, a friendly and fun learning environment that helps the quality to be better learned.
Address: 180 Nguyen Chi Thanh, Cam Nghia, Cam Ranh, Khanh Hoa
Hotline: 0358 591 558 - 0889 363 602 
11. PEONY Beauty Medi & Spa
PEONY Beauty Medi & Spa is famous as a quality vocational spa address, with a thorough learning schedule, dedicated, professional instructors in Khanh Hoa that you should not ignore.
Address: 352 Pham Van Dong, Cam Loi Ward, Cam Ranh, Khanh Hoa
Hotline: 090 687 9749
12. My Nghi spa
My Nghi Spa with modern equipment system, focusing on more practice to give students the opportunity to improve their skills.
Address: 230 Phan Chu Trinh, Cam Loc, Cam Ranh, Khanh Hoa
Hotline: 0867 961 443 - 0971 411 339
13. MIA SPA
Can not ignore the apprenticeship spa with very attractive cost, the friendly, enthusiastic teacher in Khanh Hoa is Mia spa.
Address: 239 3/4 Street, TDP Thuan Hiep, Ward Cam Thuan, Cam Ranh, Khanh Hoa
Hotline: 0963 908 890 
14. MiRe Home Spa - Kim Thien Hoa Nha Trang
MiRe Home Spa is a prestigious vocational training spa in Khanh Hoa that is loved and appreciated by many young beauty lovers.
Address: House 2.10, apartment building 07 Nguyen Thien Thuat, Nha Trang City, Khanh Hoa Province
Phone: 084 434 6999
15. Taza Spa Beauty Salon - Branch of Nha Trang
This is a famous beauty salon in Vietnam with many branches nationwide. With modern facilities, professional teachers and friendly environment.
Address: STH41.47 Street No. 4, P.Phuoc Hai, Le Hong Phong II Urban Area, Nha Trang City
Phone: 098 730 12 56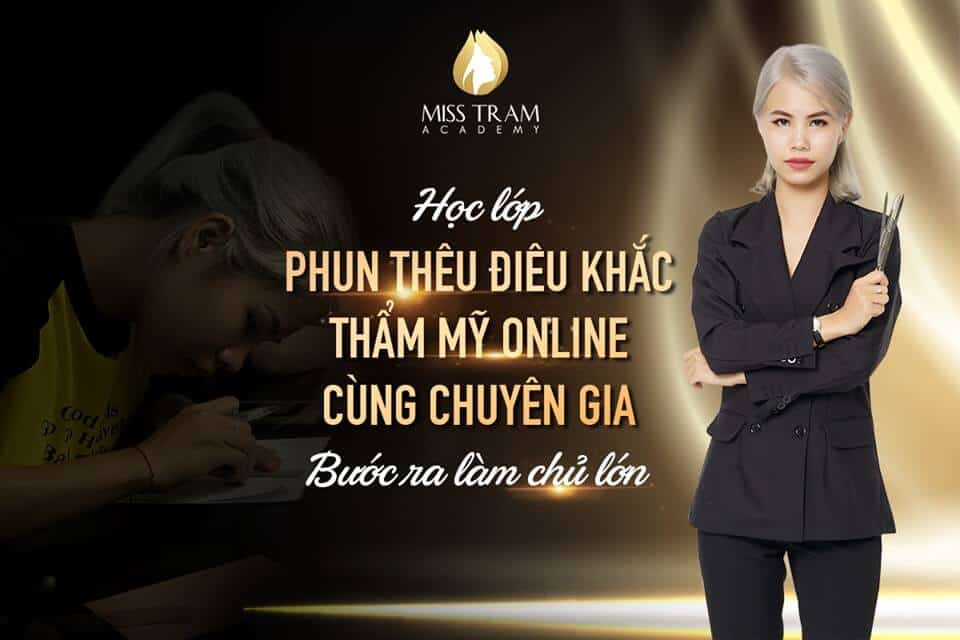 In addition, understand the needs and desires of young people who are passionate about embroidery, but difficult in terms of time and cost. So Miss Tram has developed an online aesthetic embroidery course to: 
Save time: flexible time fund, does not take time to move, not confined or influenced by anyone. Only need a technology device connected to the internet, can study at home or take with you anywhere.
Cost savings: No travel costs, site costs, teacher costs ...
Interactivity - high connectivity: have the opportunity to meet and exchange with other students / lecturers / KTV via internet, group chat, fanpage, forum ... of Miss Tram Academy. 
No less skilled in offline locking: You can ask questions if you have any questions. And you will be answered by the lecturer as soon as possible. At the same time, you also have more time from 4 to 10 days practice at the Center to help strengthen skills and effective skills.
Especially Miss Tram's Online course will eliminate negative thoughts like: 
"Studying online is probably just taking care of yourself on the phone"

"Learning online cannot ask anyone if you have questions"

"After studying Online, no one will follow me, what if I get discouraged?" ... etc.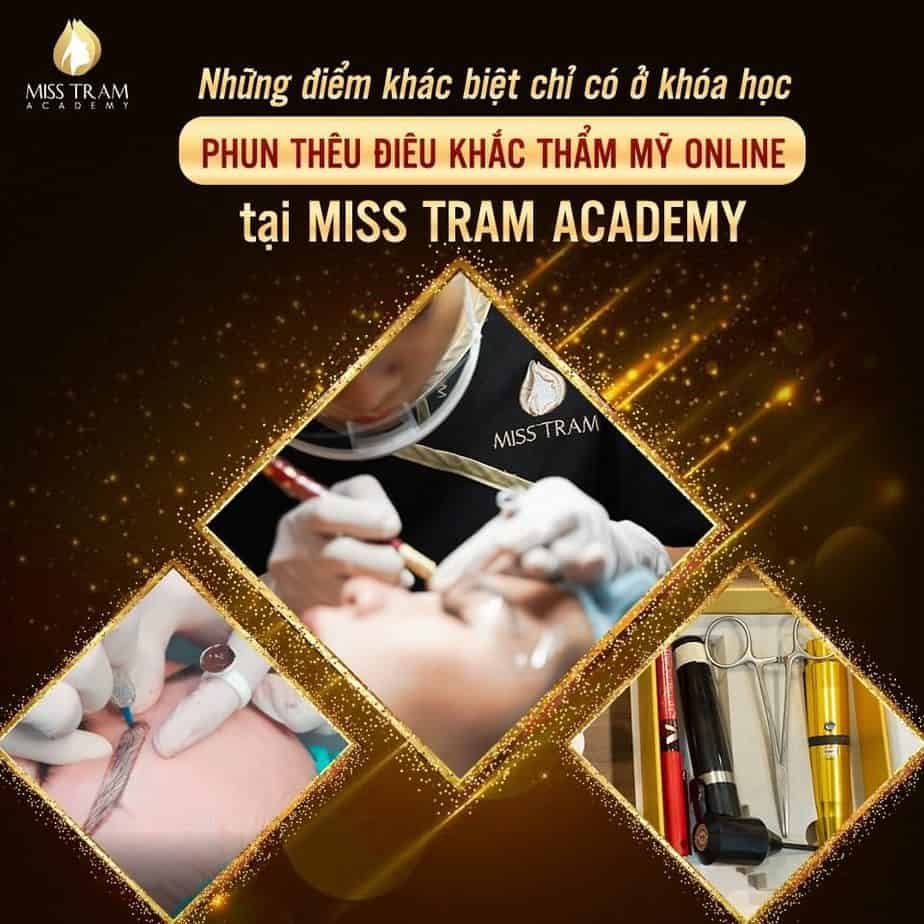 Highlights and differences of the online cosmetic embroidery spray course at Miss surprised you, because: 
Each lesson is a clear HD quality video, from 15 - 30 minutes with the detailed technical guidance of the Professional Teacher, clear sound, easy to understand and communicate.

Instructors complete on both the eyebrows and eyelids, not just on one hand like other training institutions.

Students registering for the course will be fully equipped with the standard curriculum.

The course is only suitable when you are serious because you need to complete your lesson on a per-level basis, where you will submit it to your account.

You will not have the opportunity to neglect because you will be connected directly with the Academy Manager to Design your own home study Timetable, Instructors will always monitor online to ensure the quality of learning.

Students who complete the Embroidery, Eyebrow, Eyelid, Lip and Lip Embroidery course will receive a nationally recognized nationally valid certificate nationwide.
It is true that in this era to find such an online course, it must be said to dig a needle in a haystack. So, if you want to pursue this career, do not miss this good opportunity. For information about the training course of eyebrow - lip - cosmetic sculpture at Miss Tram, you can read more at:
Course Of Embroidery Embroidery Beauty Sculpture Online - Why Not?
With the information about the list of vocational spa addresses, note when choosing a prestigious training place and information about the online course Miss Tram has introduced. Guaranteed to help readers make the right decision, exactly for their own conditions and have a good stepping stone to realize this dream of pursuing a very hot beauty industry!