Skincare, tattoo spray is currently chosen by many young people. If you are looking for a place to train tattoo in Cao Bang, do not skip the article below. Miss Tram promises to be useful information for choosing your spa location.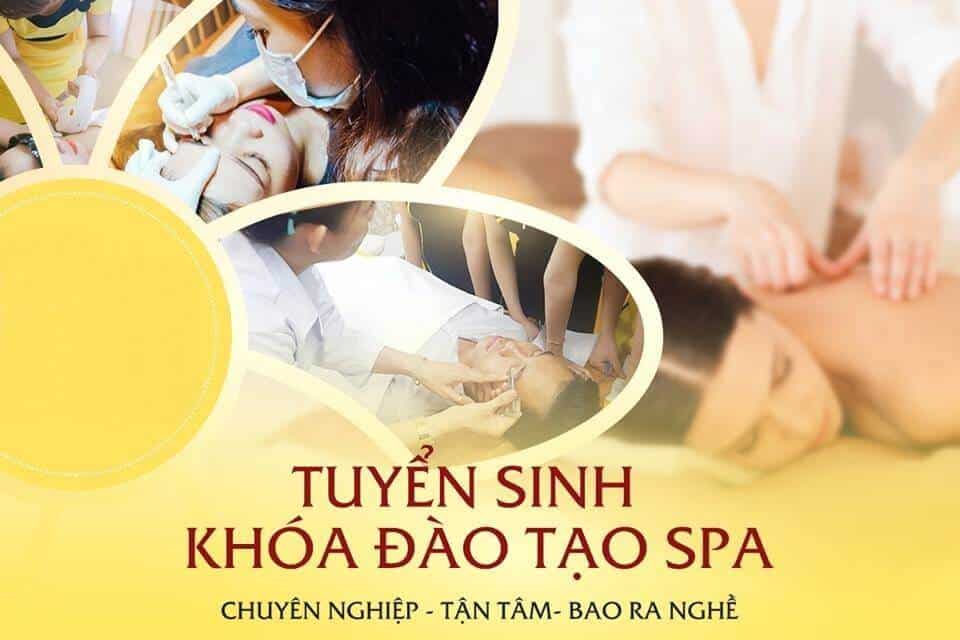 List of 09 Spas, Spa, Beauty Salon, Cao Bang.
1. Amys Spa
Amys Spa possesses a large number of highly qualified, experienced and extremely qualified lecturers.
Address: No. 255, Nuoc Giap Street, Hop Giang Ward, TP. As tall as

Phone: 0962.010.033
2. Bloom Clinic & Spa
At Bloom Clinic & Spa, you will have access to a lot of advanced and modern techniques. Moreover, the dedicated advice from theory to practice of a team of experienced and skilled teachers.
Address: Số 7 Bế Văn Đàn, Phường Hop Giang, TP. As tall as

Phone: 0382.414.456
3. Sen Spa
Sen Spa owns a team of teachers with many years of experience, highly skilled and regularly updated with the most advanced and modern techniques.
Base 1: Group 1 Be Van Dan Street, Hop Giang Ward, City. As tall as

Base 2: No. 40 Kim Dong, Hop Giang Ward, City. As tall as

Phone: 0913.279.325
4. Bao Ngoc Spa & Clinic
Faculty at Bao Ngoc Spa & Clinic are the leading experts in beauty care industry will participate in face-to-face teaching.
Address: Số 65 Tổ 4, Tân Giang Ward, TP. As tall as

Phone: 0888.820.166
5. Royal Spa
When studying at Royal Spa, you not only master the professional knowledge from basic to advanced. Besides, you are also trained to develop the necessary skills in the beauty industry.
Address: Số 21 Đường 30/10, Sông Bằng Ward, TP. As tall as

Phone: 0868.929.595
6. Anh Spa
Mr. Spa will bring you the most in-depth knowledge of skin care and tattooing, so that you can confidently work as an esthetician at major spas and salons.
Address: 142 Be Van Dan Street, Hop Giang Ward, City. As tall as

Phone: 0942.608.218
7. Min Beauty Center
Min Beauty Center brings the leading training programs in the field of cosmetology with a professional and well-designed curriculum.
Address: Số 3 Lý Tự Trọng, Hợp Giang Ward, TP. As tall as

Phone: 0973.149.721
8. Hien Deli Spa
Hien Deli Spa's classrooms system is designed standard, moreover updated with modern and advanced machinery and equipment from developed countries.
Address: Km4 Group 3, De Tham Ward, TP. As tall as

Phone: 0985.419.333
9. Oanh Oanh Spa
When studying at Oanh Oanh Spa you can be completely assured that the knowledge you learn will be extremely practical, sticking to the curriculum and the most practical skills.
Address: Số 092, Tổ 22 Vườn Cẩm, TP. As tall as

Phone: 0978.498.666
How to choose a reputable and quality tattooing vocational training center has caused many young people to have a headache. By now the state of "mixed gold brass" has made young people can not know what is the quality training institution. So, before choosing and making the final decision, you must find out the information as well as carefully consider it! If you are sure 8 criteria for choosing a vocational training spa address Miss Tram shared, you will be more confident in choosing where to learn spa.
Studying directly at the center is not the only way for you to succeed in this field. Besides that, the online course of cosmetic tattoo spray is also considered as the "key" to help you open that bright door.
Miss Tram's online cosmetic tattooing course not only brings all the necessary knowledge. But this is also a course to help you have a passion for the profession of tattooing but can't come to the center because there are no conditions.
Why should you choose Miss Tram's online cosmetic tattooing course?
Wherever you sit, you can join the course without spending too much time to move to the center.

Your electronic device only needs a strong internet connection and a standard curriculum of Miss Tram Academy.

Although it is an online course, the quality of training is not inferior to that of an offline course.

Sign up for the Miss Tram online cosmetic embroidery course, you will be completely answered all the questions and questions as when studying offline.
The online cosmetic tattoo spraying course at Miss Tram brings you the main differences:
Each lesson is a clear full HD video, about 10 - 15 minutes with the guidance of the professional teachers, clear sound, easy to understand and understand.

Teachers will guide the finishing on both the eyebrows and eyelids, not just on one hand as other training institutions.

When registering for a course at Miss Tram, students will be fully equipped with the standard curriculum.

The course is only suitable when you're really serious because you need to complete your lesson on a per-level basis, where you can submit it there through your account.

You will not have the opportunity to neglect because you will be connected directly with the Academy Manager to Design your own study schedule at home.

When participating in cosmetic tattooing course at Miss Tram, you will be in the closed zalo / facebook group. Here, you can easily send teachers questions, along with sharing experiences and learning more knowledge.

After completing the course submission, students will be rehearsed directly at Miss Tram Academy from 4 - 10 days and prepare a response form prepared by the center, under the 1-on-1 support of the team. Teacher.

Students after completing the course of Embroidery Embroider Sculpting Eyebrows - Eyelid - Lips professionally at Miss Tram will be granted a nationally recognized and fully validated certificate nationwide.
With the outstanding advantages that Miss Tram's online cosmetic tattooing course brings will surely help you take the most favorable steps. From there, you can use it as a "lever" to promote your abilities and capabilities well. To learn more about this course, you can refer to details at ONLINE SPRAY COURSE COURSES, Aesthetic SCIENCE ONLINE Latest updates of Miss Tram.
Above Miss Tram has selected for you the list of locations of vocational training in skin care and cosmetic tattoo spray in the province of Cao Bang. Hopefully, with the information Miss Tram shared above you will have more luggage as well as the confidence to choose the right training facility.