In order to meet the increasing human resources of the spa and beauty industry, many training establishments for skin care, cosmetic tattoo spraying in Ha Tinh have appeared countless. Because this is a hot job that will thrive in the future and bring a stable source of income, even terrible for students if you have good qualifications.
Many vocational training institutions are like that, but where is the prestigious and quality address to send is difficult to answer. To help readers have more information in finding spa apprenticeship: skin care, cosmetic spraying - in today's article, Miss Tram would like to introduce to you the list of spa training facilities at Ha Tinh. Please read it!
List of 10 Vocational Spas Skin Care, Cosmetic Tattooing In Ha Tinh.
1. Melia Spa
Melia Spa is a gathering place for professors, doctors who are internationally recognized with cosmetology certification, along with a team of dedicated, professional technicians.
Address: 149 Xuan Dieu - Ha Tinh City

Hotline: 02 393 897 999 - 0967 88 22 66
2. Emmy Spa
Emmy Spa is the leading prestigious vocational training center in Ha Tinh, constantly improving its technology, updating the latest beauty technologies in the world for students.
Address: 219 Trần Phú, TP. Ha Tinh

Hotline: 093,933.6866 - 0969,786,726
3. Xinh SPA
With friendly learning environment, good teachers, good quality, Xinh spa will be a vocational training address in Ha Tinh that you should not miss.
Address: 165 Lý Tự Trọng, TP. Ha Tinh

Phone: 093 178 68 99
4. La Bella International Beauty Salon
La Bella International Beauty Salon with a modern system of equipment, well-organized textbooks and excellent teachers are always friendly and dedicated to helping you improve your skills in the best way.
Address: Lot M3-05 Vincome, Đường Lê Duẩn - TP. Ha Tinh

Phone: 096.970.0440
5. Evaly Spa
Not on this list, Evaly with good spa training quality, modern learning environment, but cheap tuition should be worth considering.
Address: 56 Nguyen Huy Tu. Ha Tinh City

Hotline: 0985844255
6. Ngoc Beauty
Ngoc Beauty is a prestigious spa teaching address which is loved by many young people in Ha Tinh because of its friendly environment, good training quality and good price.
Address: 403 Đường 26/3 - TP. Ha Tinh

Phone: 0977074799
7. BEAUTIFUL SPA +
When participating in a training course on beauty tattooing at a beautiful spa +, you will have the opportunity to access and update the latest beauty trends and technologies in the world.
Address: 212 nguyen du tp Hà Tĩnh

Phone: 0904733717
8. Le Tam Spa
Possessing advanced technologies and methodical teaching curriculum, Le Tam spa will be the address for a spa in Ha Tinh that you should not ignore.
Address: 09 Mac Dinh Chi, Tran Phu Ward, Tp. Ha Tinh

Hotline: 0941 89 6969 - 02393 667799
9. Beu spa
Coming to the spa course at Beu spa, you will learn practical lessons on both fake and real models, so you will have more opportunities to practice skills, quickly catch up with the job. after finishing the training process.
Address: No. 10 Hai Thuong Lan Ong - Bac Ha Ward - Ha Tinh City

Hotline: 098 232 32067 - 0366612318
10. White Porcelain HomeSpa
HomeSpa White Porcelain is one of the centers with the most modern space and facilities for spa training in Ha Tinh.
Address: Nga 3 Bich Chau - Xuan Tho - Ky Tan - Ky Anh - Ha Tinh

Phone number: 0979138188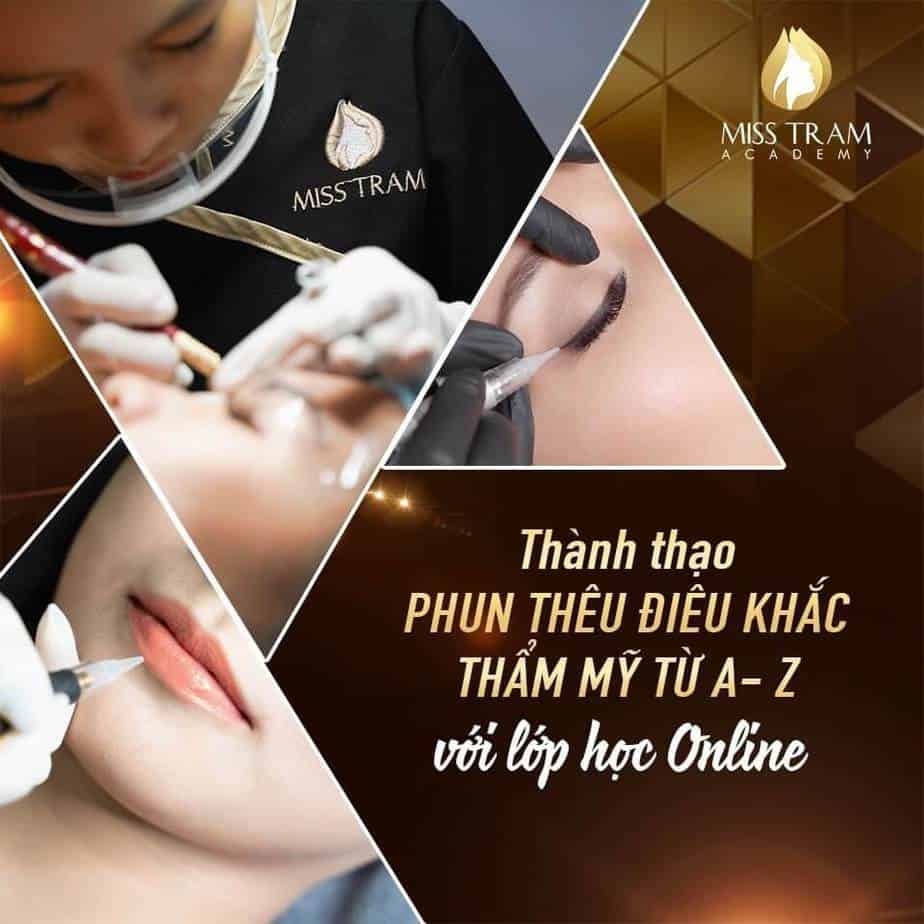 The choice of spa vocational training address: skin care, cosmetic tattoo spray is extremely important, it affects the amount of knowledge and skills after graduation. So focus on finding the best and the best place to study. If you do not have much experience in the search, Miss Tram would like to introduce to you the article Note Choose Your Beauty & Experience Choose A Beauty - Training Spa Appropriate. Please refer to offline.
Besides, in order to create conditions for many young people who are passionate about cosmetic embroidery industry but cannot afford to go to school far away, have no accommodation, not enough tuition fees - living expenses, ... Miss Tram has brought a The solution that will solve all these problems is: " Cosmetic embroidery course online".
With this course you will learn online but the quality is offline. Always been Master Dong Bao Tram with a team of experienced teachers and pedagogical skills at Miss Tram Academy follow closely during the learning process.
* More specifically, you are granted an account VIP, has the right to learn online all courses (skin care, cosmetic tattoo spray, makeup, nail, ...) of Miss Tram internal anymore.
Miss Tram's Online Aesthetic Embroidery Salon course is suitable for:
People who are passionate about the job of cosmetic tattoo Eyebrow - Eyelid - Lips.

The person who wants to become an Aesthetic Embroidery Artist.

People who want to improve their job knowledge to be more productive at work.

Those who want to own spa business

People who can't control their hands, don't know the color-coded formula for each customer situation.

People who don't know and can't handle crises with their customers.

People are disoriented by self-study at home.

Those who cannot afford to take courses directly at the center and want flexible time and place to study.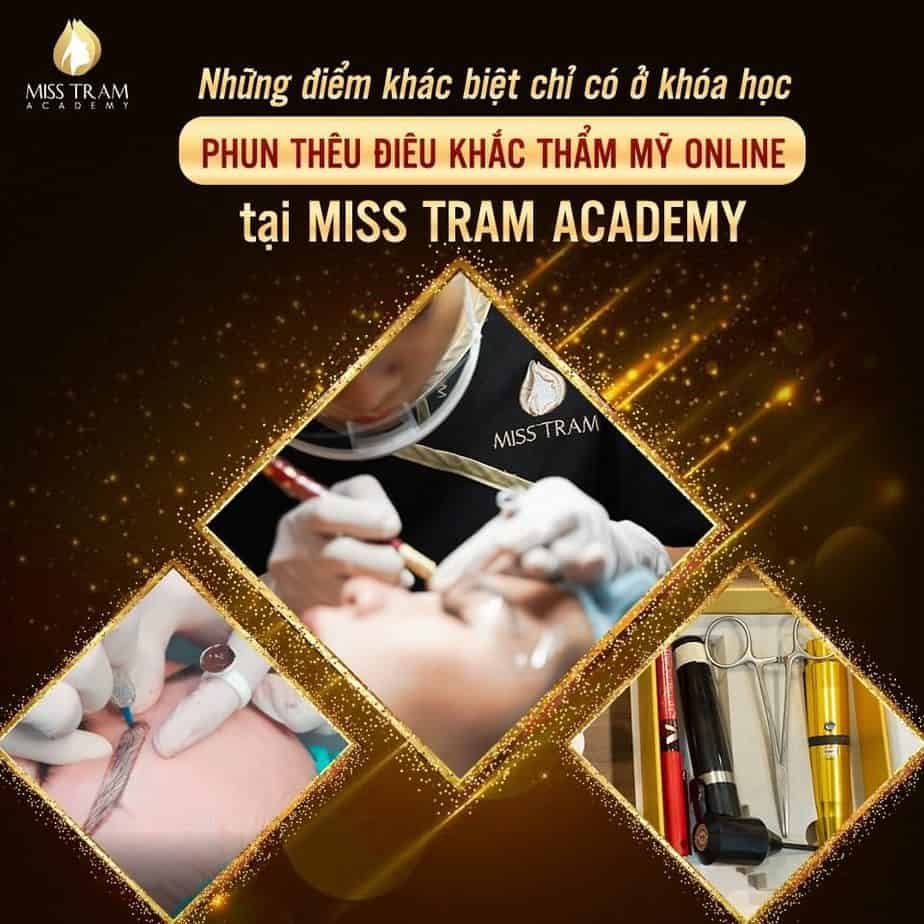 In addition, Miss Tram's online embroidery course has many outstanding advantages compared to other facilities such as:
Each lesson is a clear HD quality video, from 15 - 30 minutes with the detailed technical guidance of the Professional Teacher, clear sound, easy to understand and communicate.

Instructors complete on both the eyebrows and eyelids, not just on one hand like other training institutions

Students registering for the course will be fully equipped with the standard curriculum.

The course is only suitable when you are serious because you need to complete your lesson on a per-level basis, where you will submit it to your account.

Instructors will always monitor online to ensure the quality of learning.

Students who join the course will be able to join the closed zalo / facebook group, where you can easily send questions, share experiences and learn knowledge.

After completing the submission of the course, students will be revisited directly at Miss Tram Academy from 4 - 10 days.

Students who complete the Embroidery, Eyebrow, Eyelid, Lip and Lip Embroidery course will receive a nationally recognized nationally valid certificate nationwide.
With the highlights that Miss Tram's Online Embroidery Contest course will surely help you take new steps in your work, life and develop your passion for beauty salon. To better understand this course, readers can read more at: Course Of Embroidery Embroidery Beauty Sculpture Online - Why Not?
Choosing your career is always an important issue for everyone, but choosing a place to help you gain knowledge and skills is even more important. Hopefully, the list of teaching spas in Ha Tinh and the information on choosing a school that Miss Tram shares above will be helpful for readers.