If you are skilled and have a high professional level, it is quite easy to earn a "terrible" income by a spa and beauty salon. However, in order to become a professional, you need to be well-trained. But not all are the addresses that bring you good and consistent training quality.
The following article Miss Tram will share with you the list of training facilities for quality skin care and cosmetic tattoo spray in the province of Binh Dinh.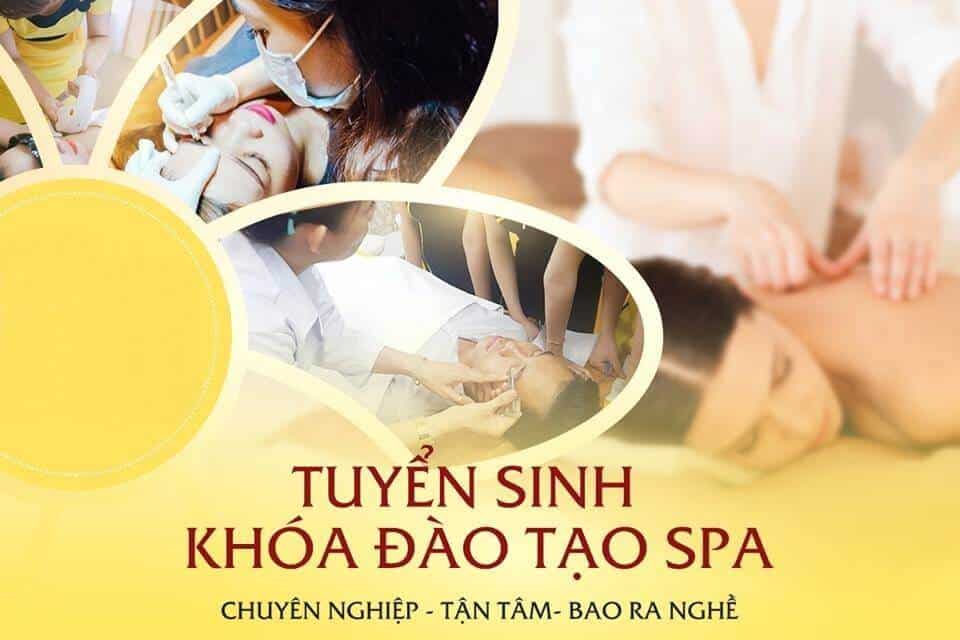 List of Top 12 Spas Vocational Skincare, Cosmetic Tattoo Spraying In Binh Dinh.
1. Seoul Spa
Seoul Spa has been on the beauty market for a long time. So with a lot of experience, along with a large investment, the cosmetic tattooing course here produces trainees with high professional qualifications.
Address: 56 Chuong Duong, Nguyen Van Cu, TP. Quy Nhon and Binh Dinh

Phone: 0938.453.123
2. Viet Han Medical Spa
Viet Han Medical Spa is a great choice that you should not miss. Here, you will receive in-depth training from knowledge to career skills.
Address: 477 / 85A Nguyễn Thái Học, Nguyễn Văn Cừ, TP. Quy Nhon and Binh Dinh

Phone: 0973.675.899
3. Green Herb Spa & Clinic
Here you will be exposed to a full range of modern equipment, manufactured and supplied from many developed countries around the world. Moreover, the teaching staff here are masters and doctors with direct experience in training.
Address: 66 Pham Hung, Ly Thuong Kiet, TP. Quy Nhon and Binh Dinh

Phone: 0938.286.493
4. Khanh Thy Beauty Salon
Come to the class at Khanh Thy Beauty Salon, students will experience the leading training programs in the field of cosmetic tattoo spray. Moreover, the curriculum is designed methodically and professionally.
Address: 202 Tang Bat Ho, Tran Phu, TP. Quy Nhon and Binh Dinh

Phone: 0944.644.949
5. Avani Spa
The teaching staff at Avani Spa are all doctors, masters and doctors who have been trained at home and abroad. So have high professional qualifications and many years of experience in the profession.
Address: Ghenh Rang, Bai Dai Beach, Binh Dinh

Phone: (025) .6384.0132
6. Chicken Spa
Come to Chicken Spa, you will learn with the latest technology, the latest and is constantly updated. Therefore, during the course of study here you will be trained with the best conditions.
Address: 19 Nguyễn Tất Thành, Lý Thường Kiệt, TP. Quy Nhon and Binh Dinh

Phone: 0982.419.479
7. Zen Spa
With outstanding advantages, as well as the ability to train students extremely well, Zen Spa is a place worth paying attention to when having a passion in the field of cosmetology.
Address: 270 Nguyen Thi Dinh, Nguyen Van Cu, TP. Quy Nhon and Binh Dinh

Phone: (025) .6652.5678
8. Kay Spa
Kay Spa owns a large number of highly qualified instructors; Combined with many advanced and modern equipment. Make sure you come here and have a quality and intensive course in all aspects.
Address: 38 Nguyễn Tất Thành, Lê Hồng Phong, TP. Quy Nhon and Binh Dinh

Phone: 0901.366.111
9. Diamond Spa
Students coming to Diamond Spa will be trained with an intensive course by renowned experts in the profession. Moreover, the curriculum here is also meticulously and meticulously compiled.
Address: 55 Bùi Thị Xuân, Lê Hồng Phong, TP. Quy Nhon and Binh Dinh

Phone: 0911.405.566
10. Doctor Spa
Doctor Spa has a team of lecturers with attractive, attractive, inspiring and easy-to-understand teaching styles that will surely help you easily grasp all the necessary knowledge to serve for the future. .
Address: 204 Trần Phú, TT. Tam Quan, TP. Quy Nhon and Binh Dinh

Phone: 0865.171.347
11. JAE Spa
The JAE Spa courses are compiled with the latest and hottest trends of the moment. Moreover, JAE Spa's students are trained from the basic to the intensive level so they will grasp the most necessary knowledge.
Address: 111 Hai Bà Trưng, Phường Lê Lợi, TP. Quy Nhon and Binh Dinh

Phone: 0974.425.122
12. Charm Spa
The courses at Charm Spa always bring students the latest, most modern beauty methods by experts with years of experience.
Address: 2 Trinh Cong Son, Nguyen Van Cu, TP. Quy Nhon and Binh Dinh

Phone: (025) .6655.1555
Today there are many young people who have a passion for beauty in general, and the art of tattooing in particular. But there are also many friends who cannot afford to study far away, cannot afford to pay tuition fees - living, no accommodation, ... and many other worries. Now you will no longer have to worry by Miss Tram brought Course of cosmetic tattoo spray online.
From an external perspective, you can see that the online cosmetology course will lack interaction between students and teachers, right? However, the fact that Miss Tram's Online Cosmetic Tattooing Course is a community is CONNECT as SHARE, EXCHANGE Experiences for all Students!
The reason you should choose the online cosmetic tattoo spraying course at Miss Tram:
Students who join the course will be able to access the closed zalo / facebook group, you can easily send questions, share experiences and learn knowledge.

You will not have to "just one phone" because you will be connected directly to the Academy Manager to design a separate Study Schedule at home. The staff of teachers / CSKH always accompanies throughout the learning process.

Now do not have to worry about losing, because the opportunity to connect, inspire learning will be transmitted through the spirit of team learning Online.

Register for an online course at Miss Tram you will also be fully answered all questions such as offline course.

Wherever you sit, you can join the course without spending too much time to move to the center.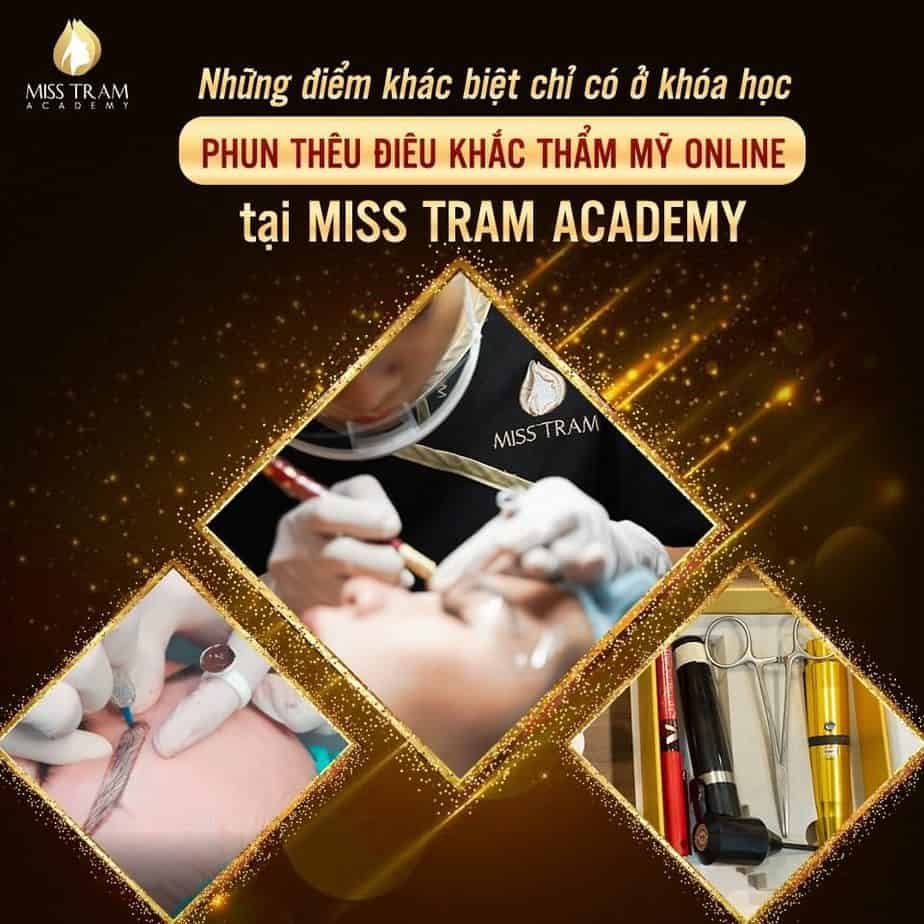 The online cosmetic tattoo spraying course at Miss Tram brings you the main differences:
Each lesson is a clear full HD video, about 10 - 15 minutes with the guidance of the professional teachers, clear sound, easy to understand and understand.

When registering for a course at Miss Tram, students will be fully equipped with the standard curriculum.

The course is only suitable when you're really serious because you need to complete your lesson on a per-level basis, where you can submit it there through your account.

Instructors will always supervise online to ensure the quality of your study.

After completing the course submission, students will be rehearsed directly at Miss Tram Academy from 4 - 10 days and prepare a response form prepared by the center, under the 1-on-1 support of the team. Teacher.
With the outstanding and different advantages that the online tattooing course at Miss Tram brings, you can completely develop your ability, ability and passion. So, if you are passionate about this profession, and are looking to learn more about the online tattoo course at Miss Tram, do not hesitate to contact us for inquiries. !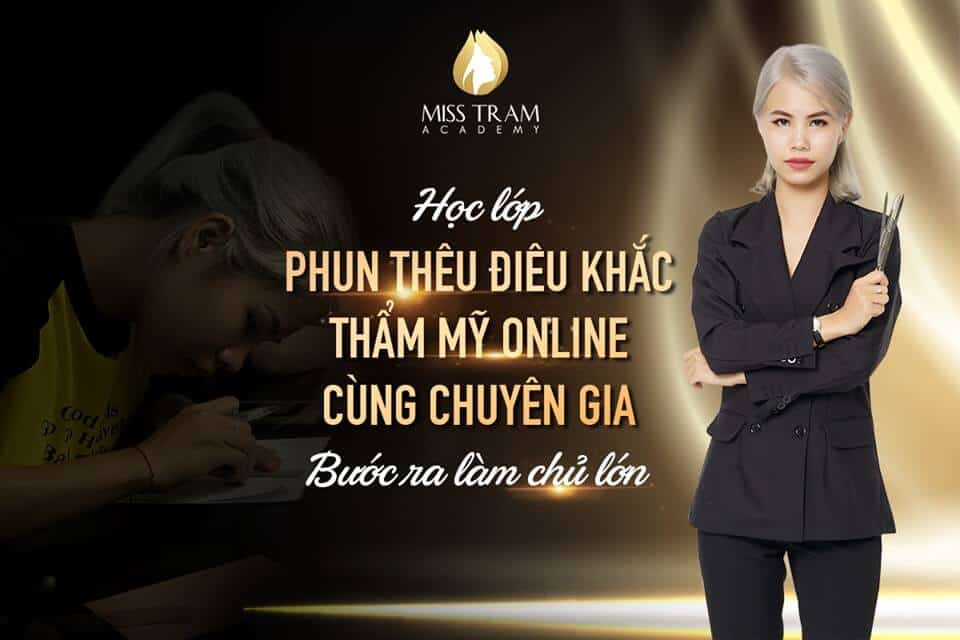 To be able to "choose face send gold" is not simple, is it? If you really want to choose a quality and prestigious training institution, please master the following 8 important notes. Miss Tram ensures this will be a fairly important piece of knowledge to "leverage" you.
Ask clearly about the requirements - the nature of the job.

Ask for money (fees, expenses incurred).

Ideas to know about study time

About the location (place of study - exam - degree).

About the real value of a diploma.

What is the specific curriculum?

Any support after the course.

Must commit in writing.
If you want to find out more about the above notes, you can refer to this article: https://misstram.edu.vn/kinh-nghiem-chon-noi-dao-tao-spa-nghe-lam-dep/
Above is a list of reputable, quality tattoo training and skin care spa locations in Binh Dinh that Miss Tram wants to share with you. Hopefully this will be a "guideline" for you to choose the most appropriate facility. Thank you for following the article.