Spa is currently one of the hottest jobs today, especially skin care and cosmetic tattoo spray. Because this is a business that brings a fairly stable income.
You are in need of this apprenticeship, so have you chosen any prestigious training place yet? If not, please follow this article. The list of prestigious locations in Quang Nam for skincare and tattooing training that Miss Tram introduces below will help you make the right decisions.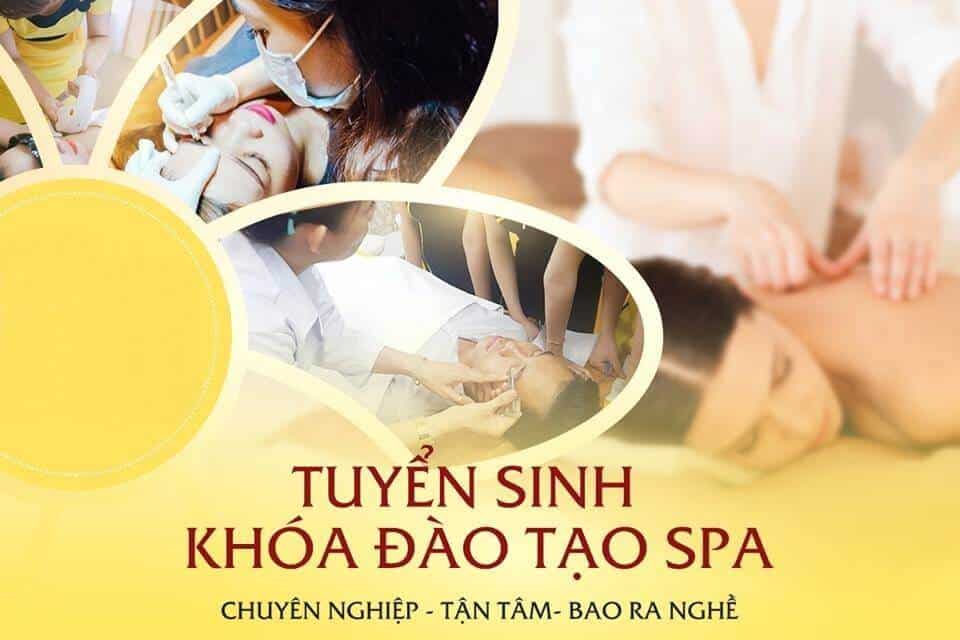 Top 10 Reputable Skincare, Cosmetic Tattoo Care In Quang Nam.
1. Seoul Spa
Seoul Spa will be the perfect address for you in Quang Nam. With a team of experienced trainers you will be intensively trained from basic to advanced.
Address: 374 Phan Châu Trinh, Phường Phước Hòa, Tam Kỳ, Quảng Nam

Phone: 1900.6947
2. Moc Van Spa
Moc Van Spa is famous for its good quality training facilities, reasonable costs, dedicated teachers so it is very suitable for young people in Quang Nam.
Address: Lot 36, Northeast Residential Area, Quang Nam

Phone: 0795.555.098
3. Ocean Spa
Come to the class at Ocean Spa, you will be exposed and practice directly with the most modern and modern equipment and machinery.
Address: An Bang Beach, Cam An, TP. Hoi An, Quang Nam
Phone: 0935.558.220
4. Blue Gift Spa
Blue Gift Spa is the owner of the standard curriculum, which is designed in a methodical and meticulous way. Along with that is a friendly learning environment, so you will learn very quickly.
Address: 52 Mac Dinh Chi, Cam Son, Hoi An, Quang Nam

Phone: 0905.706.790
5. Uyen Lee Beauty Salon
It would be flawed not to mention Uyen Lee Beauty Salon. Owning a team of good teachers, modern equipment, standard curriculum, spacious facilities, ... this is definitely a great address for you.
Address: 174 Hung Vuong, An Xuan Ward, Tam Ky, Quang Nam

Phone: 0969.791.316
6. Ylang Ylang Spa
With many years of experience, with a team of enthusiastic and enthusiastic teachers, Ylang Ylang Spa is an address that you should not miss in Quang Nam.
Address: 65 Ly Thuong Kiet, Cam Chau, Hoi An, Quang Nam

Phone: 0905.266.667
7. Green House Spa
Green House Spa is the "golden" address for you to trust. Green House Spa always applies advanced and modern technologies from developed countries to the teaching process.
Address: 144 Ton Duc Thang, An Son Ward, Tam Ky, Quang Nam

Phone: 0905.389.696
8. Pandanus Spa
Pandanus Spa is a name you should not ignore. With a team of highly skilled teachers, long-term professional experience you will learn the best quality lessons here.
Address: 3A Phan Đình Phùng, Cẩm Sơn, Hội An, Quảng Nam

Phone: 0935.552.733
9. Selah Spa
Highly qualified teaching staff, well-organized curriculum, state-of-the-art equipment, friendly learning environment are the outstanding advantages of Selah Spa's courses.
Address: 26 Lê Lợi, An Mỹ Ward, Tam Kỳ, Quảng Nam

Phone: 0989.862.387
10. La Luna Spa
La Luna Spa has a large team of highly qualified, experienced and extremely qualified teachers.
Address: 700 Hai Ba Trung Street, Minh An Ward, Hoi An, Quang Nam

Phone: 0935.111.966
Currently, there are many people who have a great passion for beauty in general and in cosmetic spraying in particular. However, there are many friends, although they have passion, but because of circumstances or some objective reasons, they cannot come to the center to study directly.
So, in order to help you continue on your dream path, Miss Tram has brought you an online cosmetic tattoo spraying course. Online classroom quality not only not inferior Offline tattoo spray classes, but also help you to save up to the cost part too!
The reason you should choose the online cosmetic tattoo spraying course at Miss Tram:
Students who join the course will be able to access the closed zalo / facebook group, you can easily send questions, share experiences and learn knowledge.

You will not have to "just one phone" because you will be connected directly to the Academy Manager to design a separate Study Schedule at home. The staff of teachers / CSKH always accompanies throughout the learning process.

Now do not have to worry about losing, because the opportunity to connect, inspire learning will be transmitted through the spirit of team learning Online.

Register for an online course at Miss Tram you will also be fully answered all questions such as offline course.

Wherever you sit, you can join the course without spending too much time to move to the center.
Subjects can participate in Miss Tram's online cosmetic tattooing course:
Those who have a passion for beauty and more specifically the Cosmetic Eyebrow Spray - Eyelid - Lips.

Those who wish can become a Beauty Salon.

Those who manage at the Spa and want to learn, learn more advanced knowledge about the profession to bring more efficiency at work.

Those who want to open a small Spa to a professional Beauty Center which has beauty services Eyebrows - Eyelids - Lips.

Those who are a tattoo artist but lack knowledge about how to control their hand force are not able to identify the color-mixing formula for each customer situation, ....

Those who often encounter crisis problems with guests but do not know how to resolve.

Those who are disoriented with the process of self-study at home through group meetings, youtube, facebook, ... and much mixed information on the internet.

Those who are not eligible for direct courses at Beauty Academy or Vocational Training Center.

Those who want to be flexible about the time and place of study.
Miss Tram's online cosmetic tattooing course has trained and led many young people who are passionate about the profession to follow the path of their dreams. Therefore, no matter where you are if you have passion for cosmetic tattoo spray, do not miss this course of Miss Tram. Certainly after the course you will own a "treasure" of knowledge there.
So, in order to know all the information and training content, please refer to the article ONLINE HOT SPRAY COURSE COURSE COURSE latest, latest this year.
If you really want to choose a prestigious and quality cosmetic tattoo training location, please master 8 important experiences. overriding below. Miss Tram ensures this will be an important piece of knowledge useful to you guys:
Ask clearly about the requirements - the nature of the job.

Inquire about money (Tuition, fees incurred)

Ideas to know about study time

About location (place of study - examination - diploma)

About the real value of a diploma

What is the specific curriculum?

What support is available after the course?

Must commit in writing.
To be able to better understand the above, refer to article 8 experience choosing a spa apprenticeship, reputable tattoo spray quality today.
Above is a list of reputable, quality skin care and tattoo training locations in Quang Nam that Miss Tram would like to recommend to you. Hopefully this will be the basis for you to rely on to choose the most suitable location. Thank you for following the article.