Skin care, cosmetic tattoo spray is one of the hot jobs today. Because human beauty needs are infinite. Therefore, many people intend to learn spa profession and are determined to succeed with this profession.
But in order to do that, first you need to find yourself a reputable, quality apprenticeship address as possible. Today, Miss Tram will bring you a list of good vocational spas in Thai Binh.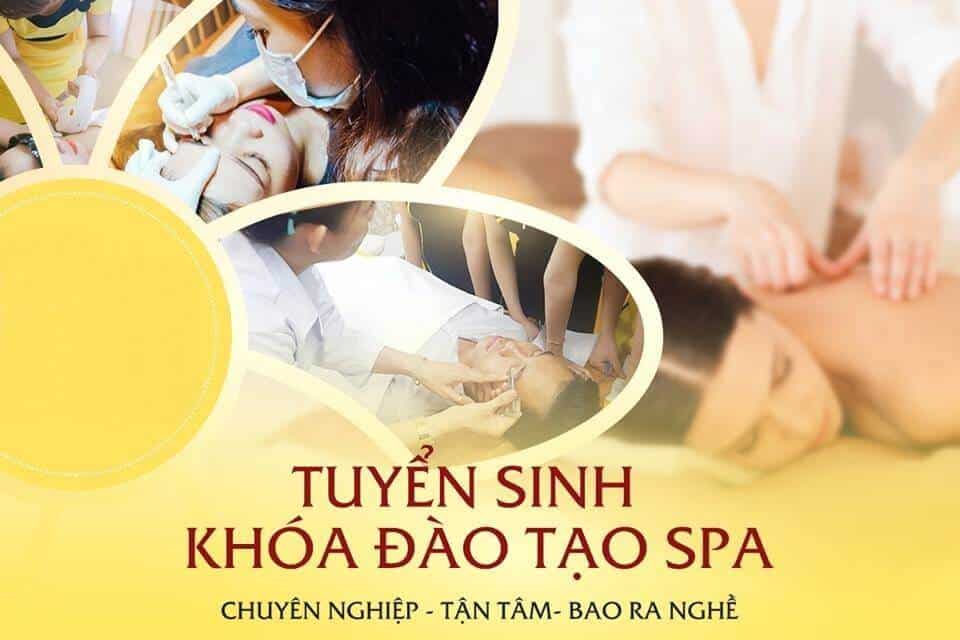 Collection of 08 Teaching Vocational Spa, Cosmetic Tattooing In Thai Binh.
1. The Beauty Esthetic & Clinic - Thai Binh
The Beauty Aesthetic & Clinic is a prestigious vocational training address, with good training quality, which is highly appreciated by students in Thai Binh.
Address: Lot 6.01 Le Quy Don, Thai Binh City

Hotline: 0772 225 666
2. Aesthetic bud Tran
The name that is familiar to many people in Thai Binh is Nu Tran. With good quality vocational training, affordable price, this is always the choice of many young people passionate about beauty.
Address: house number 23, street 10, KĐT PETRO Thăng Long, Thái Bình

Phone: 0965775668
3. Lan Huong - Thai Binh High-tech skin care Institute
Lan Huong is a well-known spa address with top-quality, high-tech skin care jobs in Thai Binh.
Address: Lot 5.1- Ngo Quyen Street, Tran Lam Urban Area, Thai Binh City

Hotline: 0227.6535.888
4. Vi Vi Beauty Spa
Vi Vi Beauty Spa always focuses on the quality of teaching, creating a friendly, modern learning environment that gives students the best experience when coming here.
Address: Sn 5- Đường 7, Kđt Petro, Quang Trung, TP. Thai Binh (At the end of the white drain market I welcomed)

Phone: 0904474709
5. Phuong VuViet Beauty
With modern facilities, enthusiastic teachers, methodical study schedule, Phuong VuViet Beauty is always trusted by many young people to choose to study in Thai Binh.
Address: 80 Phạm Thế Hiển, TP. peaceful

Consulting hotline: 0944239566
6. THE QUEEN Nail & Spa
THE QUEEN Nail & Spa is a favorite job site for many young people because it always pays attention to the practice hours in the classroom, helping the trainees' skills be improved.
Address: 116 Tran Hung Dao, P. De Tham, TP. peaceful

Hotline: 098 998 19 89
7. Eva Xinh Spa
Coming to Eva Xinh spa, students will be taught by enthusiastic, friendly teachers here in a friendly and modern environment.
Address: Lot 8 A3, nest 36, Tran Lam Ward, Thai Binh

Phone advice: 097 120 66 22
8. Ngoc Hanh Spa
Ngoc Hanh Spa is a vocational training address with modern facilities, professional curriculum, enthusiastic lecturers, so it is highly appreciated in Thai Binh.
Address: 269 Tran Thai Tong, Tran Hung Dao, Thai Binh

Phone advice: 098 572 09 99
When choosing a spa location, you need to know some of the following points to know if the facility is quality and suitable for you:
Firstly, you need to find out if this industry is right for you?

Tuition fees, costs incurred about how much?

What is the class time like?

Information about study locations - exam locations - location of the degree.

The value of a degree granted after graduation.

Specific curriculum

Are there any support after finishing the course?

A written commitment is required.
Detailed information you can refer to here: 08 Notes To Choose A Beauty & Experience Choose A Beauty - Spa Spa Is Right For You.
Do you know, now with the 4.0 era, it is not necessary to go directly to the center to learn the vocational training. But just sitting at home owning a computer / laptop, ipad, ... connected to the internet is able to study methodically.
Miss Tram would like to introduce to you the online embroidery course of cosmetic sculpting with the curriculum compiled and designed most suitable for Online training. Help solve all problems of time, cost, quality of training, interaction in the learning process, ...
Who this course is aimed at:
Those who love and need to stick with the job of Tattooing Eyebrow Beauty - Eyelids - Lips.

People who want to become a professional tattooist.

People planning to open a spa at home / a beauty salon offer Eyebrow tattoo - Eyelid - Lip service.

Spa managers want to cultivate in-depth knowledge about cosmetic tattoo spray.

Disoriented people learn by themselves at home.

There is no time to study directly at the academy / center classes.

Want flexibility in location and study time.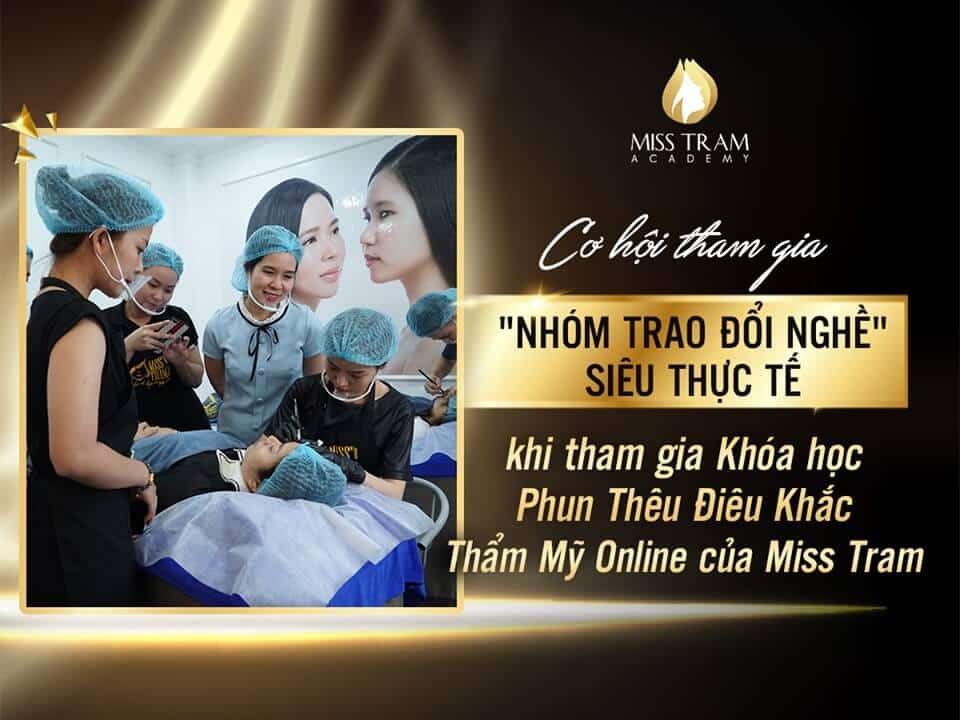 Not only that, this course also offers other outstanding advantages such as:
Flexible learning methods, no classes, no fixed class time. Study when you have free time.

Each lesson is built-in for each specific video, completed and submitted before the next lesson

Each student actively learns to complete his / her own Personal Timetable for professional management in the learning process.

Participate in exchange groups / groups to easily exchange and support each other in the learning process.

Learning Online but still firmly grasping the knowledge, skills and easy application in practice.

Having a team of Lecturers / Customer Care staff who are always following to support and share for you to complete the lesson well.

Each student has a direct review time at the academy from 4 to 10 days, on the application form prepared by the Center under the 1-on-1 support of the Teachers team.

Extremely cost-saving.

Awarded the certificate after completing the course.
Not inferior to the direct courses at the center, right? If you are interested in the course, you can find out more here: Course Of Embroidery Embroidery Beauty Sculpture Online - Why Not?
To pursue your passion of becoming a tattoo artist or opening a spa salon for business, first find your prestigious vocational training address first. Please refer to the information that Miss Tram has shared above and choose for yourself the most suitable apprenticeship. Good luck.