Beauty jobs, especially skincare and cosmetic spray, are now very interested in young people. Because this is one of the hottest industries and has the most potential development in the future.
However, in order to become a professional cosmetologist, you must undergo well-trained training. The following article Miss Tram will introduce you to the list of the most prestigious cosmetic and cosmetic skin care training and spraying establishments in Nam Dinh. Stay tuned with Miss Tram!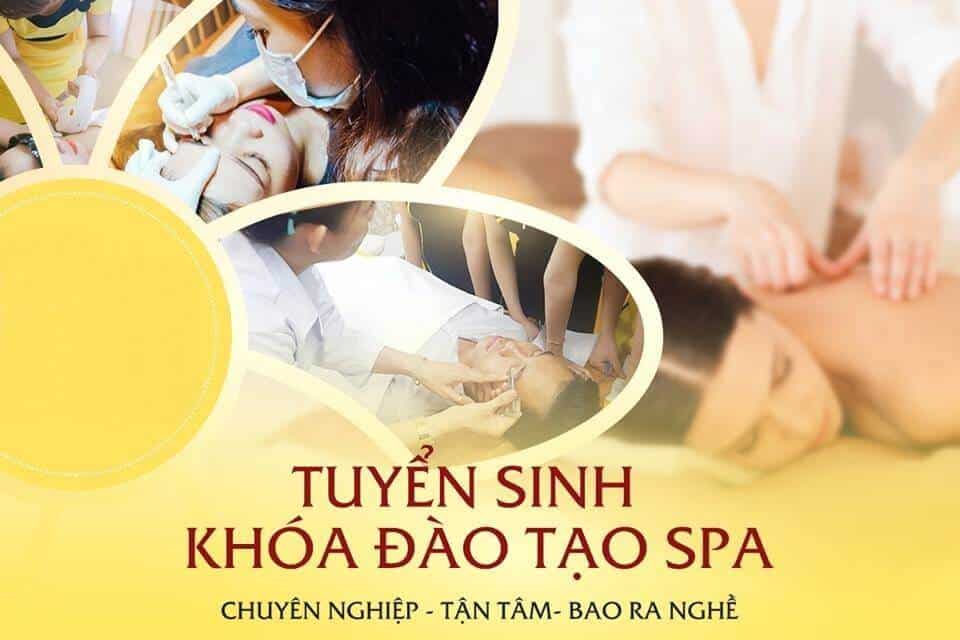 Collection of 09 Vocational Training Skincare, Cosmetic Tattoo Spraying In Nam Dinh.
1. Kim Spa
When participating in the course here, you will get benefits such as: Being taught by experienced teaching staff, practical practice and access to high technology, ...
Address: 109 Truong Chinh, Loc Vuong, TP. Nam Dinh and Nam Dinh

Phone: 0359.899.532
2. Kora Spa
Kora Spa brings you the leading professional training programs in cosmetology. Combined with that, the curriculum is methodically and meticulously compiled.
Address: 75A Nguyễn Bính, Trần Quang Khải, TP. Nam Dinh and Nam Dinh

Phone: 0989.997.205
3. Ngoc Huong beauty salon
Ngoc Huong owns a team of lecturers who are masters and doctors who have graduated from universities, trained at home and abroad. An inspiring, engaging and enthusiastic teaching style will help you understand and absorb it faster.
Address: 317 Hoang Van Thu, Ba Trieu, TP. Nam Dinh and Nam Dinh

Phone: (022) .8366.8877
4. Simi Beauty Salon
Simi Beauty Salon is one of the professional tattoo training centers in Nam Dinh. Each lesson is carefully invested from knowledge to skills to ensure the best output for students.
Address: 89 Trần Thánh Tông, Thống Nhất, TP. Nam Dinh and Nam Dinh

Phone: 0988.497.262
5. Mai Vy Spa
At Mai Vy Spa, you will be trained according to a standard science curriculum with professional teachers, experienced and long-term skills in the industry.
Address: 53 Giai Phong Street, Loc Hoa, TP. Nam Dinh and Nam Dinh

Phone: 0834.121.183
6. Trang Trang Beauty Spa
When studying at Trang Trang Beauty Spa, students will get up to 80% time is practice. Help students to master the theory and at the same time be able to experience reality from which to improve their skills as quickly as possible.
Address: 20 Doan Ket, Truong Thi, TP. Nam Dinh and Nam Dinh

Phone: 0945.603.009
7. Queen Spa
Queen Spa owns extremely quality equipment and machines imported from developed countries. Along with that, the classroom is specifically designed to provide students with a comfortable learning space.
Address: 365 Le Hong Phong, Vi Xuyen, TP. Nam Dinh and Nam Dinh

Phone: 0912.166,916
8. Bao Ha Spa
Bao Ha Spa with outstanding advantages is to bring students the best quality courses, when having a large number of highly qualified and experienced trainers abroad.
Address: 104 Nguyen Cong Tru Street, Hoa Vuong Urban Area, TP. Nam Dinh and Nam Dinh

Phone: 0812.175.858
9. Linh Beauty & Spa
The courses at Linh Beauty & Spa always attract a large number of young people in Nam Dinh by the quality of teaching, and the tuition is usually average.
Address: 107 Trần Thánh Tông, Thống Nhất, TP. Nam Dinh and Nam Dinh

Phone: 0944,860,000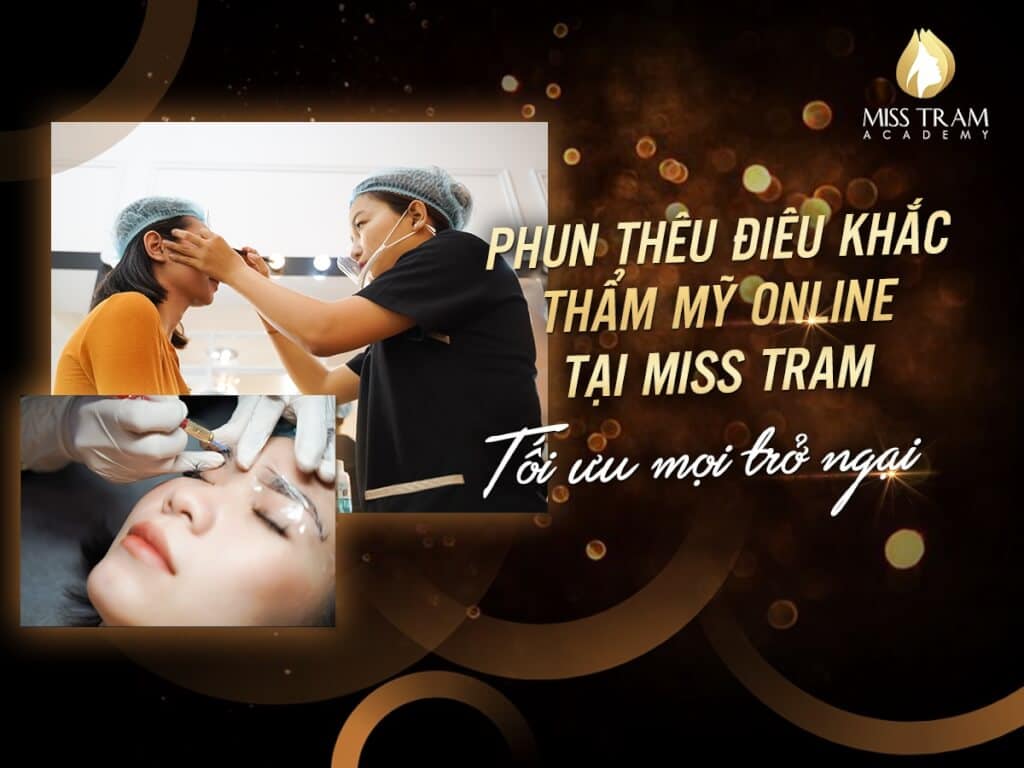 You want to enter the beauty world. You want to be trained to improve your cosmetic tattooing skills. However, your passion and determination have not grown, so you have to pause because the obstacles and difficulties appear more and more. You worry about issues such as: accommodation costs, difficulties in moving due to distant geographic distance, the time that is not allowed, reputable training address, ... and many other problems arise.
But now you do not need to worry about these issues anymore. Because Miss Tram has optimized all your obstacles with Course of cosmetic tattoo spray online That's it!
Right now with Miss Tram, let's look at a few reasons for you to trust your online cosmetic tattoo course:
Spa management will be supplemented and updated with advanced knowledge about the profession to bring more efficiency in the job.

You will become more flexible in time, studying anywhere with just internet-connected electronics.

The curriculum with over 17 years of experience was compiled with the dedication of the Miss Tram team, providing the most quality and easy-to-understand lessons.

Guaranteed quality of training, technical skills - flexible workmanship, performing mature manipulations.

Open employment opportunities at Spas and beauty facilities.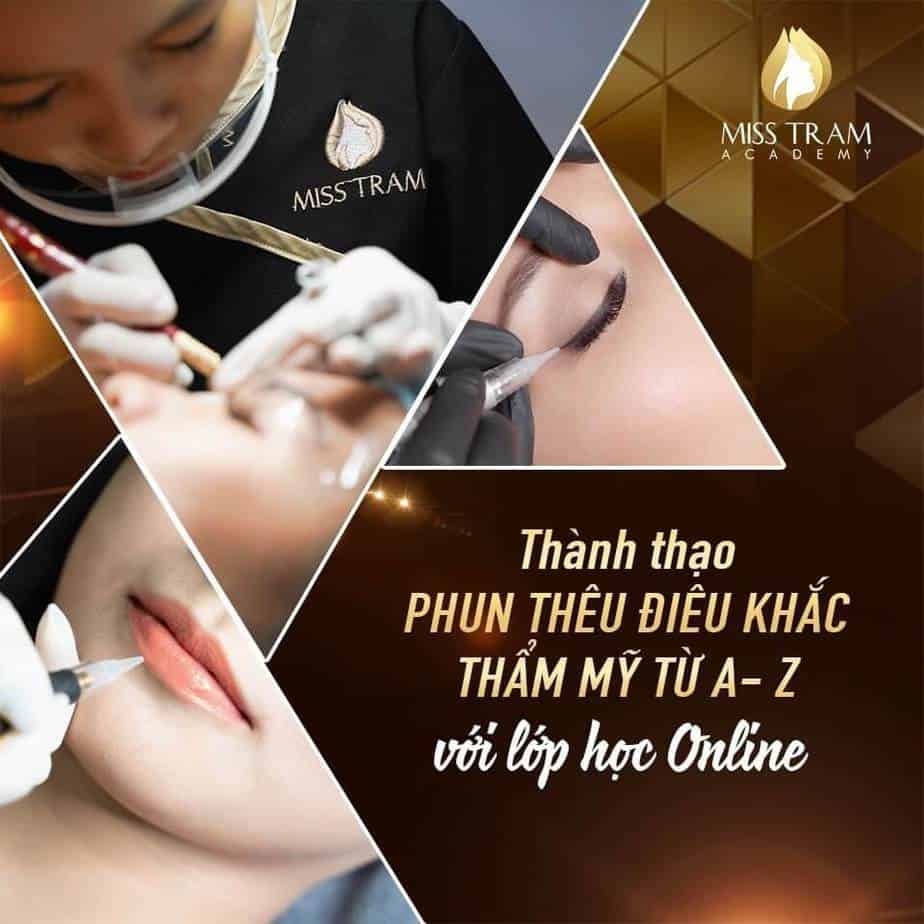 When choosing the online cosmetic tattooing course at Miss Tram, you will be sure of knowledge such as:
A comprehensive knowledge base from basic to advanced professional of an esthetician.

Firmly about the types of numb, ink brands, tools, .. on the market with beautiful standard color mixing formula, handling cases where customers have done damaged, not satisfied.

How to choose the method that colors suitable for each eyebrow shape, lip color, eyelids for customers.

In particular, students are also granted VIP accounts, have the right to online learning all courses (skin care, cosmetic tattoo, makeup, nail, ...) of Miss Tram internal.
So who can attend Miss Tram's online cosmetic tattooing course?
Those who have a passion for beauty and more specifically the Cosmetic Eyebrow Spray - Eyelid - Lips.

Those who wish can become a Beauty Salon.

Those who manage at the Spa and want to learn, learn more advanced knowledge about the profession to bring more efficiency at work.

Those who want to open a small Spa to a professional Beauty Center which has beauty services Eyebrows - Eyelids - Lips.

You are already a tattooist, but you are not knowledgeable: Standard hand force cannot be identified, the color-mixing formula is not known for each customer situation ...

People often encounter crisis problems with customers but do not know how to solve them.

Those who are disoriented with the process of self-study at home through group meetings, youtube, facebook, ... and much mixed information on the internet.

Those who are not eligible for direct courses at Beauty Academy or Vocational Training Center.

Those who want to be flexible about the time and place of study.
Choosing a reputable cosmetology tattoo training institution is not too difficult but it is not simple. Right? But if you master the following 8 notes, Miss Tram believes that you will feel easier there:
Ask clearly about the requirements - the nature of the job.

Ask for money (fees, expenses incurred).

Ideas to know about study time

About the location (place of study - exam - degree).

About the real value of a diploma when graduating.

What is the specific curriculum?

What support is available after the course?

Must commit in writing.
To be able to know the information of each note on you see the full article experience choosing a prestigious spa vocational training institution.
Above is a list of training establishments in skin care, cosmetic tattoo spray in Nam Dinh that Miss Tram has shared with you. Miss Tram hopes that this information will be useful to help you choose the most prestigious and best vocational training institution. Thank you for watching the article, wish you success.