You have oriented, thinking about the future you do and the future of your career is pursuing? This article will only identify and acknowledge the aspect of future aesthetic profession, share quite a lot of news fish, find out about aesthetic profession useful for those who want to study. Beauty and beauty profession in general in recent years is becoming a profession chosen by many young people.
Because this industry is not only easy to learn, but after finishing the study, you can easily get many jobs, in many different positions. At the same time, cosmetology students also have many opportunities to advance and earn high income, not only in the country but also in foreign countries. Therefore, many experts consider the future of aesthetic profession very potential.
Future aesthetic career Job opportunities are rich and diverse
Along with the development of society, the needs of human beauty are increasing. Therefore the future of cosmetology and careers related to aesthetic needs, beauty or relaxation and taking care of yourself tends to increase.
To keep up with the development trend, Beauty care profession There are also obvious changes. But the most important is still the human factor, which is the aesthetic staff - who directly motivate and meet the demands of beauty are flourishing today.
After finishing the class of 12, knowing the possibility of not pursuing a university path as peers, My Trang (Dong Nai) chose a vocational apprenticeship to make it easier to apply for a job, because you yourself noticed that soy sauce Hybrid aesthetic profession will develop more, there are more opportunities. After 4 months of apprenticeship, Trang received a certificate and was a consultant on spraying - cosmetic tattooing. Then Trang was transferred to the official technician, and now she is working for a famous spa in Ho Chi Minh City.
The young girl said: "I can work early to help my family sooner, instead of going to college, I have to spend more money from my parents. Now that I have saved a sum of money, I intend to open a small spa to become a master in the year, because in looking at beauty, the future of beauty salon is very hot ".
Similar to My Trang and Huynh Anh (from Long An province) also pursuing the path of "beauty for people" after she failed the Foreign Trade College, Huynh Anh confided: "Unexpected turn into aesthetic industry brings more job opportunities than I thought." After I graduated from a vocational certificate for a while, the spa owner reminded me to be a manager. With this position, I have just been able to take care of the guests, and have more time to learn to improve beauty knowledge ".
In addition to the main job of the spa staff, after graduating from the course, there are many other career opportunities. For example, as a spa manager, a beauty care center, as a counselor, a receptionist, a customer care staff, a lecturer (if you are hard-working in advanced study) ... or open aesthetic facility yourself. , spa for business, mastering.
It can be seen that the aesthetic industry does not limit the work of young people today. Well-trained, experienced employees will always be enthusiastic about the high treatment regime and many opportunities to develop in the future career.
With many orientations for future aesthetic career and attractive income
According to statistics Vietnam Beauty Training and Development Association, Each year there are more than 4 spa and beauty salons opened. Inside Need about 20.000 manpower technicians meet demand. Forecast in years of XNXX - 2019, this number also increases exponentially.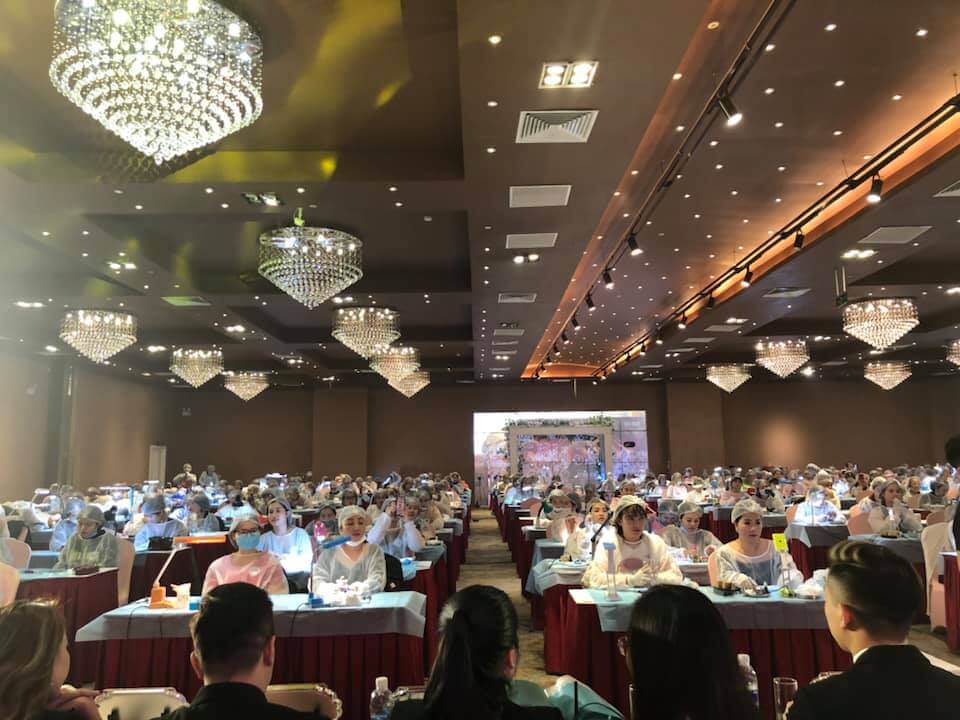 Many domestic and international beauty contests are registered by many students to learn and try and continue the future of aesthetic development.
Dong Bao Tram (MISS founder TRAM Academy) said "If nail industry was a job to export abroad before, nowadays, the number of people who study cosmetology (such as spray tattooing, skin care, eyelash extension, etc.) to go abroad to work is more dominant. . On the one hand, due to the characteristics of the American and European markets, the attitude and skills of Vietnamese aesthetic workers are preferred. Beauty professionals in Vietnam not only have a sense of responsibility, hard work, hard work to learn ... but besides that, they are also highly appreciated for their deeper professional knowledge than those from other countries. other family ".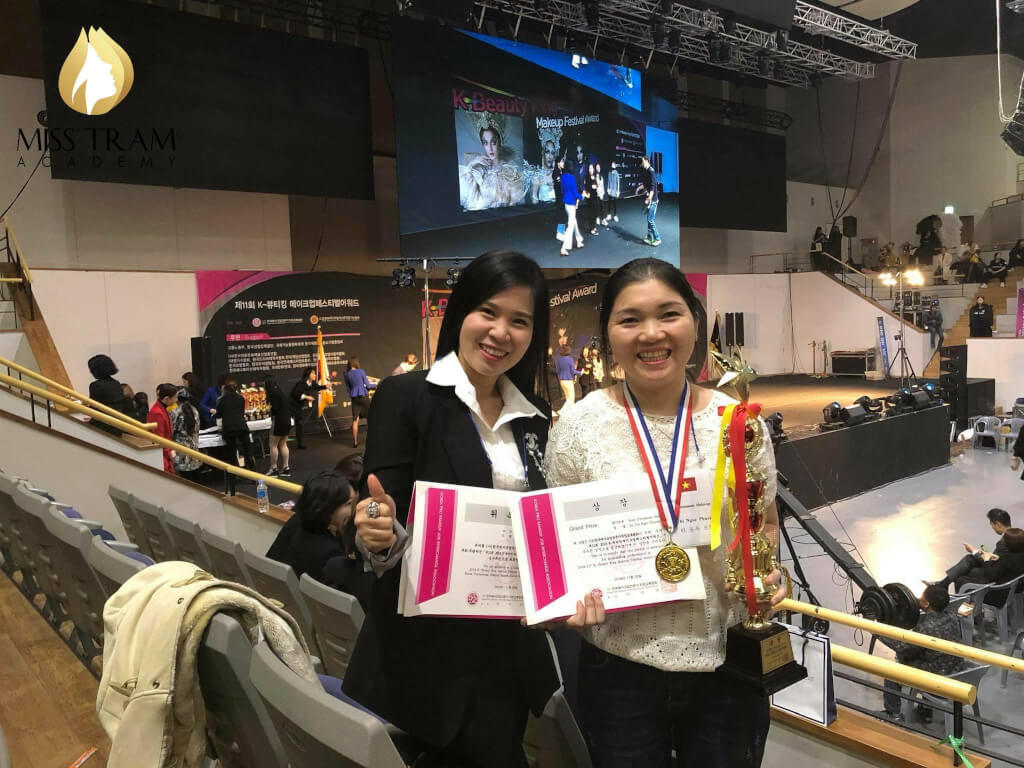 Practitioner of Vietnam Tattooing Industry (student at Miss Tram Beauty Academy) won the championship of Golden Hand Assembly International market
Mrs. Tram also analyzed one more reason that makes the beauty profession loved by many young people, because it is because: The time of apprenticeship is short, and it is possible to combine many skills at the same time. As soon as you go to school and have been practicing, after the certified student can get the basic salary from 7 to 10 million per month.
If considering the total cost for 4 in university year and a cosmetology course, the cost for the trainees to be able to get a job is only ¼ or 1 / 5 at the cost of getting a university degree.. Therefore, cosmetic apprentices still save money, time and, most importantly, have a stable job, with a high income.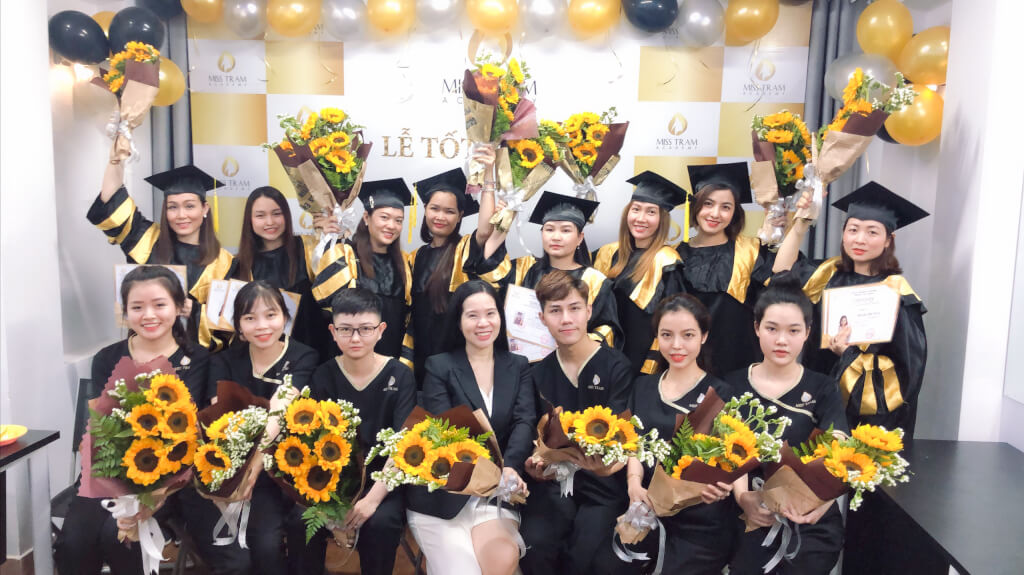 Popular courses (depending on preference) to get started with beauty careers are:
– Locking Tattooing, Embroidery, Cosmetic Sculpture (eyebrows - eyelids - lips)
– Skin Care and Therapist Training Course
– Mi Mi Vocational Training - Professional Bending Mi
With the guidance of Grand Master Dong Bao Tram (The founder of MISS TRAM Academy and running MISS TRAM Natural Beauty Center), many years of experience in beauty training, she has trained many generations of MISS TRAM Academy students to be highly appreciated. inside and outside the country. And also one of the factors contributing, bringing the future of aesthetic career up one level, a new height
MISS TRAM Academy uses a methodical curriculum, professional and skilled lecturers and with the motto "Know what teaches all, Practice monitoring; Training ethics and professional behavior"So students can quickly grasp knowledge in a realistic way, not books.
In particular, MISS TRAM is the first and only unit until now investing in the App technology application to support the process of making trades for the beauty and beauty spa community in Vietnam. And this is also The only place with online learning system more than 500 course dedicated to work internal training.
After finishing the MISS TRAM Academy training program, students are committed to output, 100% are skilled, confident in applying for or opening their own spa.
So students at MISS TRAM Academy always have a lot of priorities to develop a sustainable career during and after the training.
Miss Tram Academy Contact Information:
Address District 1: Số 30 Đặng Thị Nhu, P.Nguyễn Thái Bình, Q.1, Tp.HCM.
Address Phu Nhuan District: 126 / 6 Phan Xich Long, Ward 3, Binh Thanh District.
HotLine: 1900 7018; Website: https://misstram.edu.vn/
Sources: https://phunuphapluat.vn/tuong-lai-phat-trien-cao-cho-nghe-tham-my-lam-dep-viec-lam-thu-nhap-xuat-ngoai-158502.html
See more beauty community news miss tram other:
Trend of Selecting Beauty Salon of Youth: High Income, Less Need of Degree
Opportunity "Change Life" Thanks to Apprenticeship Beauty - Beauty
Master, Protect Your Eyes, and Journey In The Year Sowing The Beauty