Coconut oil is highly rated in the list of natural beauty ingredients. So in fact coconut oil is effective, especially the ability to whiten the skin? The article below of Miss Tram Academy will answer questions, and provide additional knowledge and experience using coconut oil for you.
Recipes Skin Whitening with Coconut Oil
Coconut oil promote whitening effect like?
Dark skin due to factors such as sunlight, environmental pollution, hormonal imbalances, heavy use of cosmetics, eating harmful foods, unhealthy lifestyles, etc. Can use natural ingredients to save the skin, make skin healthier and more beautiful. And coconut oil is one of these ingredients.
Coconut oil contains essential fatty acids like lauric acid, myristic acid along with large amounts of vitamin E. Although, the main effect of this material is to moisturize the skin, but with the useful ingredient as above, coconut oil is completely Can bring glowing effect, improve overall skin color. Thanks to its antibacterial, anti-inflammatory properties, coconut oil helps to control various skin infections, while also preventing the appearance of skin blemishes, including acne.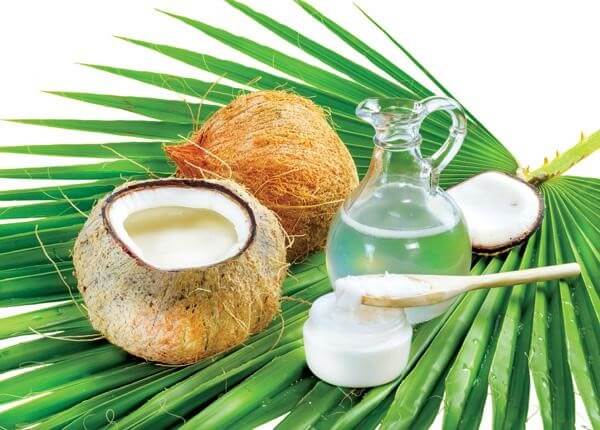 + Note: Recipe Recipe Whitening Mask From Honey
However, whitening your face with coconut oil cannot give instant results. We will need a lot of time, perseverance and especially the right way to use coconut oil to promote its effects.
The best way to make our skin whiter with coconut oil is to use it as a daily moisturizer. For an extra boost, combine ingredients like lemon juice and lavender essential oil. These whitening formulas both help improve skin tone and help prevent future skin pigmentation changes.
In addition, if anyone is exposed to the sun, you can advise guests to use coconut oil daily to provide fatty acids, vitamins necessary for the process of self-healing of skin damage. Note that coconut oil used in beauty must be pure cold pressed, contain no preservatives to avoid irritation to the skin.
Some ways to whiten your face with coconut oil
Miss Tram Academy suggests some simple whitening formulas with coconut oil as follows:
Method 1: Use virgin coconut oil
You take a quantity of virgin coconut oil gently massage on the skin of the face to be absorbed better. Coconut oil can stay on the skin for about 20-30 minutes and then use warm water to wash off. With its benign nature, coconut oil can be used continuously every day without worrying about skin irritation.
+ Note: Whitening Face Skin with Rice Bran Powder Effective?
Option 2: Combine coconut oil and lemon
We mix 2 teaspoons of coconut oil with 1 teaspoon of lemon juice to make a homogeneous mixture. Then apply to face and massage gently. After about 15 minutes, then rinse with warm water. This formula is used 2 times / week is appropriate and if the type of dry skin type, it does not apply to you. Lemons can lose moisture from your skin, making it drier.
+ Note: Ways To Whiten Skin With Vegetables
Option 3: Coconut oil, grape seed oil and sandalwood
Sensitive skin areas such as those under the eyes can be whitened with this formula. Please mix in proportion:
1 tbsp sandalwood

1 teaspoon grape seed oil

1 tbsp of coconut oil
After washing your face, apply this mixture evenly on the skin, save for 10-15 minutes and then wash your face with warm water, let the skin dry naturally.
So, Miss Tram Academy has helped you to better understand the skin whitening ability of coconut oil and the most effective formulas. Hope the article is useful to you!