One of the great foods with skin not to be missed tomatoes. Tomatoes are rich in lycopene - a powerful antioxidant compound that helps protect the skin from UV rays, delay the aging process and prevent cancer-causing factors. To achieve all of these benefits, we can process tomatoes as dishes in our daily menu. In addition, if properly exploited, tomatoes will bring unbelievably smooth white beauty to the skin.
Hint 3 Effective Tomato Whitening Facial Mask Formula
Instructions for making white skin masks from tomatoes
Whitening masks from tomatoes come in many different types, but are generally very simple and easy to prepare. The combined ingredients are also the raw materials that are close to us every day. With Miss Tram Academy's experience, a safe and effective whitening mask from tomatoes is the following formulas:
1. / Tomato and fresh lemon
Ingredients to prepare:
Half ripe tomatoes

Half a teaspoon of lemon juice
Implementation: You add tomatoes and puree, add lemon juice and mix well. We can use this finger or soft cotton pad to apply this solution and evenly apply on customers' face.
Tomato and lemon masks should only stay on the skin for 10 to 15 minutes. When finished, rinse with cool water, dry skin and moisturize with olive oil.
You can replace fresh tomatoes with tomato paste (note the quality selection, clear origin), and use freshly squeezed lemon juice. For the mask to take effect, should steam the pores before expanding.
+ Note: Ways To Whiten Skin With Vegetables
2. / Tomatoes and honey
People with dull, uneven pigmented skin can use this mask for weekly care. Not only does it brighten skin, tomatoes and honey masks also help strengthen the outer skin barrier, effectively protecting the skin from ultraviolet rays.
Ingredient:
Half ripe tomatoes

1 teaspoon honey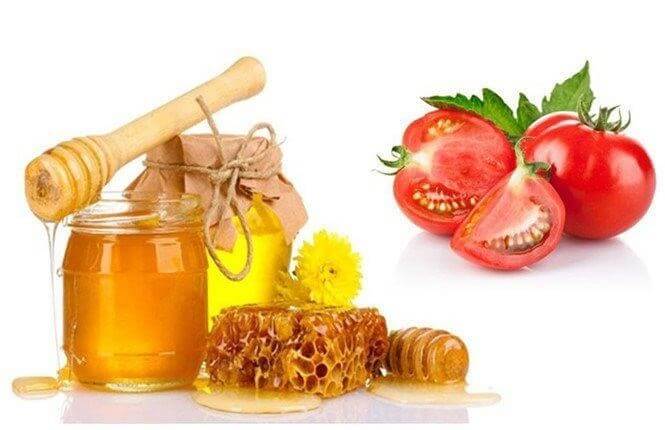 Perform:
Puree the tomatoes and mix well with the honey. Apply the mask to the skin for about 15 minutes for the nutrients to penetrate. Then rinse your face with cold water. To enhance the effect, we should combine with gentle massage movements.
+ Note: 5 Amazing Carrots Whitening Facial Masks
3. Tomato and aloe vera
Ingredient:
1 tablespoon aloe vera juice

1 teaspoon olive oil

Half ripe tomatoes
Perform:
Tomatoes after pureing will mix well with the remaining ingredients into a mixture. This mask should only apply on the skin for about 15 minutes and rinse with cold water. Apply twice a week, problems on dry skin will be improved, skin appears smoother.
Why tomatoes have the ability to whiten skin?
When applying tomatoes to the skin (through the mask formula), tomatoes will soothe sunburns, helping tighten pores. In particular, the natural acid of this fruit will effectively control oily, clear acne and improve skin pigmentation, making the skin brighter every day.
Scientists have found in tomatoes great beauty ingredients as follows:
Vitamin A: Helps fade dark spots, uneven skin areas, as well as nourish rough skin to become smooth and beautiful.

B-group vitamins: Slow down the aging process of the skin, fight against free radicals that cause wrinkles and many other skin damage.

Vitamin C: Stimulates collagen synthesis, maintains skin elasticity.

Calcium: Improves signs of dryness on the skin.

Potassium: Balance moisture, nourish healthy skin cells.

Magnesium: Slows down aging on the skin, helping the skin to stay young and radiant.
+ Note: Coconut Oil Does Skin Whitening?
Miss Tram Academy notes that you should only prepare and apply immediately, avoid the case of long-term storage because then the nutritional composition is no longer the same. Before giving a mask to guests, you must ask about the skin condition to avoid formulas containing ingredients that cause irritation. If during the procedure, the client shows signs of itching, wash the skin with water immediately.
Some share on here of Miss Tram Academy Hope to have provided useful knowledge for you!