The uses of beauty from pumpkin (also known as pumpkin) for health and skin are indisputable. But do you really know how pumpkin works in beauty? And Miss Tram Academy Find the answer in the article below.
Learn The Beauty Uses From Pumpkin
Red pumpkin Known as one of the foods with many uses for human health, such as blood tonic, boosting the immune system and especially pumpkin is also a good food for skin health. Pumpkin, which is supplied by the diet or used as a mask, has great results.
Pumpkin is rich in beta carotene - an antioxidant that has the power to fight free radicals, helps protect the skin from the effects of pollutants and other toxic chemicals from the environment. Besides, pumpkin is also a good source of vitamins A, C, E and zinc, especially for the skin facing acne, dullness and aging.
Pumpkin helps to promote collagen production, thus improving skin color as well as skin elasticity. It effectively eliminates the causes of wrinkles and even skin cancer.
+ Top 03 Skincare Masks Safe For Pregnant Women
Some beauty with pumpkins
Pumpkin is one of the few natural beauty ingredients suitable for all skin types. Especially for sensitive skin and damaged skin. Here are some beauty tips and pumpkins for your skin.
1. Pumpkin mask for dry skin
If you have dry skin, combining pumpkin with honey, fresh milk without sugar will not only give you a great moisturizing mask but also help gently remove the dead cells on. skin, helps nourish and prevent aging effectively.
Mix 2 tablespoons of cooked pumpkin with 1 teaspoon of honey, ¼ teaspoon of unsweetened milk. Blend the mixture on the paste, then apply on the clean face for a period of 15-20 minutes. Rinse with warm water then rinse with cold water to tighten pores and firm skin.
+ Top 06 Tips For Effective Moisturizing Moisturizing Lips Before Bed
2. Pumpkin mask for oily skin
Pumpkin, when combined with apple cider vinegar, will help remove excess oil from the face without losing the skin's natural moisture. Besides, apple cider vinegar also has strong antibacterial properties, helping to prevent and eliminate acne. This mask is extremely suitable for those who own oily skin to prevent the shine like oil pan on the skin.
Mix 1 tablespoon of pumpkin puree with 1 teaspoon of apple cider vinegar. Apply the mixture on a clean face. Allow to dry naturally or for no more than 30 minutes and rinse with warm water. Then using cold water to wash will help tighten pores as well as firmer skin.
+ Sharing Tips on Repairing Skin with Signs of Melasma
3. Remove dark pigmentation on the skin
Pumpkin mask combined with lemon juice and vitamin E will help to lighten the dark spots on the skin, making the skin evenly white and much brighter. 
To make a mask to remove dark spots, mix 1 teaspoon of pumpkin puree with 1 teaspoon of honey, 1 teaspoon of lemon juice, and 1 teaspoon of vitamin E. Apply this mixture to your face. clean and wait until it is dry or up to 30 minutes. Then rinse with warm water and rinse with cold water.
4. Exfoliating mask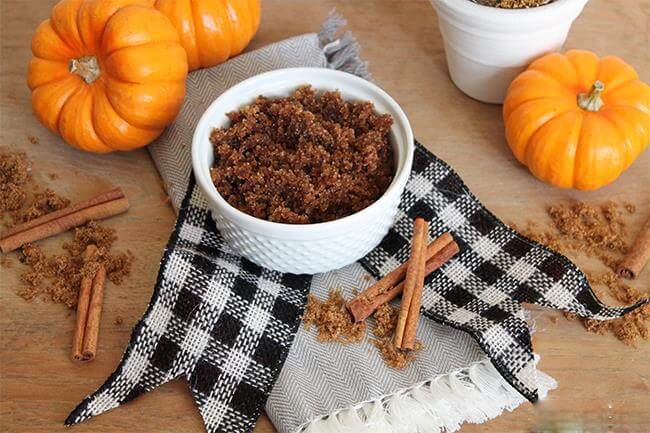 Using pumpkin as an exfoliating mask not only eliminates dead skin cells but also makes the skin much smoother and whiter. You can make an exfoliating mask for both the face and the body.
For an exfoliating face mask, mix 3 tablespoons of ground pumpkin and 1 tablespoon sugar and ½ spoon of olive oil. Gently massage this mixture onto your face in a circular motion clockwise. Then leave the mixture on the face for about 20 minutes and then massage again and rinse with water.
For the body, mix ½ cup cooked pumpkin with 1 cup of concentrated coconut oil and ½ teaspoon ground cinnamon powder. Gently massage the entire mixture on the body, leave for about 10 minutes and rinse with warm water.
After performing exfoliating with pumpkin, you will feel a surprisingly smooth skin. 
+ Preparing Skin Whitening Mask for Pregnant Women
Note:
For any mask after applying on the face, you should also end with moisturizing step with cream suitable for skin offline. This will keep the skin moisturized and smoother.
With the above article, you must have known the great uses of pumpkin. Miss Tram Academy We hope to receive your feedback, comments or suggestions to Miss Tram in the future, so Miss Tram can share more useful knowledge to you and everyone.
Wish you always have a smooth, youthful skin!