In skin types, oily skin is the most prone to acne problems. For those with acne-prone skin, there should be a careful care regime and a strong cold diet, avoiding many fried and multi-sugar foods. In addition, a clay mask is also an effective way to take care of acne skin - this is a mask known for its effective oil and acne prevention. Today's article, Miss Tram Academy Please share some clay masks for acne oil skin.
Oil Skin Acne Should Use This Clay Mask
1. Something about clay masks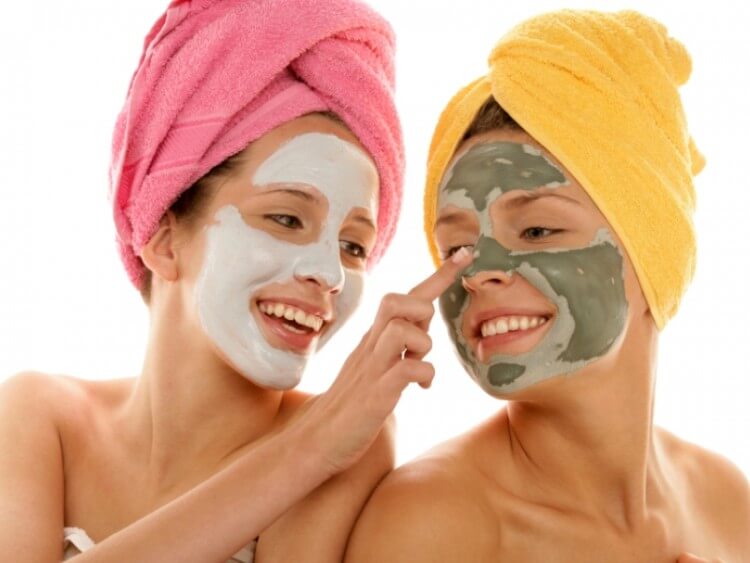 Clay mask is a kind of mask prepared from natural clay ingredients, has minerals such as iron, calcium, zinc, magnesium ... with high antioxidant ability to help smooth skin smooth. In general, all types of clay masks will be used to remove toxins, sebum, clean skin or moisturize, anti-aging and especially tighten pores effectively.
+ Studying aesthetic sculpture eyebrows, lips, eyelids in Ho Chi Minh City
There are many clay masks, each with different properties and uses suitable for one or more different skin types such as:
Parian:

Naturally absorbent, while helping to regenerate new skin cells. Suitable for all skin types, especially extremely good for acne oil skin.

Yellow clay and pink clay:

Used to reduce excess oil, clean mild skin without drying skin, suitable for sensitive and dry skin.

Green clay:

Highly alkaline, cleansing dirt and excess oil deep in pores, suitable for oily skin types.

Red clay:

Uses to replenish minerals, regenerate and make skin smoother, suitable for all skin types.

Bentonite clay:

Used for cleansing, detoxifying skin and restoring damaged skin.

Fuller's Earth Clay:

Is the most powerful clay, helps clean deep sebum and dirt, and also makes white skin visible. This mask is usually suitable for oily skin.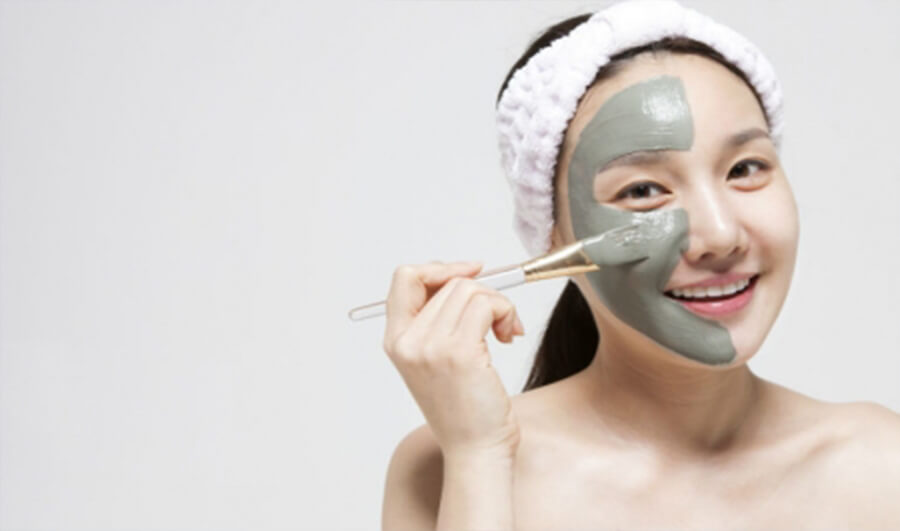 If you have acne oil Miss Tram Academy We recommend using two types of white clay (White Clay) and green (Green Clay) masks. If your skin is suffering from a lot of acne, you should use a yellow clay mask (Yellow Clay) - the mask has the most gentle cleansing effect, avoiding the painful acne areas.
+ Top 03 Type Clay Mask Alkaline Oil Best
2. Clay mask for acne oil skin
For acne-prone skin, in addition to using White Clay or Green Clay masks, you should consult the following formulas if you want the most effective masking:
Clay, lemon and strawberry masks
With vitamin C and natural acid in lemon and strawberries, combining with clay will create a mask to exfoliate, tighten pores and moisturize oily skin, treat acne extremely effectively.
+ Top 04 Type of Rescue Clay Mask For Oily Skin
Doing:
Step 1: Mix well 2 spoon of strawberry juice, a few drops of lemon juice and 1 clay spoon.
Step 2: Use a brush to apply the mask to your face.
Step 3: Let stand for 20 minutes and gently soak the water to wash your face.
Clay mask, green tea, honey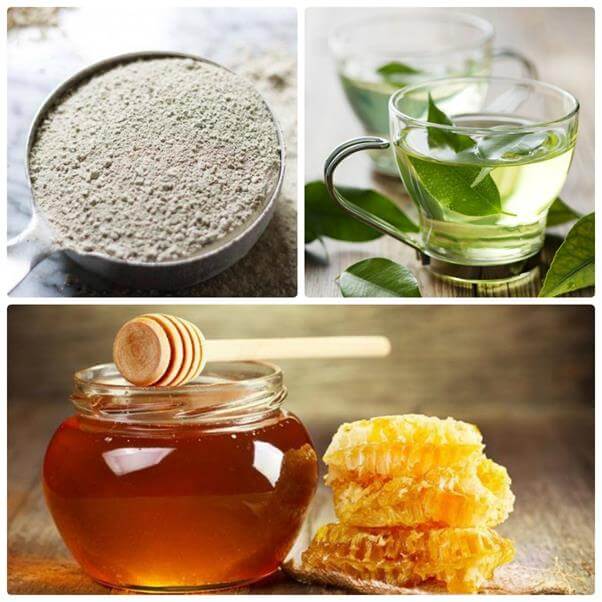 Green tea helps prevent oxidation, tighten hair, clean skin and brighten skin. Honey has antibacterial effects, prevents inflammation and moisturizes the skin. Combining these two ingredients with clay forms an alkaline mask, effectively preventing acne.
+ Top 5 Skin Care Mask With Saffron At Home
Doing:
Step 1: Mix well 1 spoons of pure honey, 1 spoons of fresh green tea and 1 spoons of clay.
Step 2: Use a brush to apply the mask to your face.
Step 3: Let stand for 20 minutes and gently soak the water to wash your face.
Clay masks, tea tree oil and coconut oil
Tea tree oil has anti-inflammatory, soothing properties, and moisturizes acne skin. And coconut oil has anti-oxidant, anti-bacterial and anti-microbial effect, while effectively smoothing white skin. Combining these two ingredients with clay will create an effective acne treatment for acne-prone skin.
Doing:
Step 1: Mix well with 2 spoons of clay, 2 spoons of water, 5 drops of tea tree oil and 2 of coconut oil drops.
Step 2: Use a brush to apply the mask to your face.
Step 3: Let stand for 20 minutes and gently soak the water to wash your face.
+ Formula Exfoliating For Facial Skin From Nature
3. Apply the clay mask properly
To make the clay mask effective and unproductive, after applying the mask to the skin, you need to understand the following process:
Stage XNXX:
The mask has just been applied to the face so it is still wet, the skin will absorb the minerals in the clay.
Stage XNXX:
At this stage, the clay has started to shrink slightly but still moist. Masks at this stage will stimulate capillaries, enhance blood circulation to the skin. At the same time, the clay mask will act as a magnet to help remove excess oil and dirt that remains deep in the pores.
Stage XNXX:
This is the stage of completely dry clay. Most of the time, most people think that it is better to wait for the mask to dry completely, leave the mask on the skin for longer, the more oil and dirt, the more acne will be sucked up. In fact, when completely dry, the mask will draw back moisture from the skin surface, causing dehydration and dehydration. This is also the reason why some of you, after covering the clay mask, will blush.
Therefore, the best way to optimize the effect of the clay mask is to apply it until the mask is nearly dry but should not be completely dry. It's best to wash your face when the mask is still damp.
Note when applying clay mask: Just like putting on other masks, before applying a mask, you should clean your skin and make facial steam so that the face mask is most effective. In addition, this is a highly alkaline oil mask so only use from 1-2 times / week and after applying face, remember to moisturize enough to provide enough moisture for the skin.
The above are the share of Miss Tram - Natural Beauty Center About the type of clay mask for acne oil skin. This is a very difficult skin to care for, so in addition to wearing a regular face mask once a week, remember to have a diet - healthy activities to care for your skin in the most effective way. ok Wish you have a healthy skin!
See more beauty news other:
Trend in Skin Care: Can Start From the End of Skin Care Cycle Step
Catching Up Trends Makeup From Korea And Japan
Thai Style Legs: New Makeup Trends