Dior with full name is Christian Dior SA, is one of the famous luxury brands from France. Dior is present in all fields such as fashion for men, women, children, perfumes or cosmetics, etc. And like other brands, Dior launches new collections every season.
In the launching program of Autumn and Winter Fashion Collection, in addition to the beautifully designed outfits, you might also be attracted to the new but impressive makeup style of the performing model.
Novelty Makeup Style In BST Dior Autumn - East
With a graphic style of makeup, Dior's Peter Philips Creative Director and Image brought viewers an elegant yet bold performance with rock-styled eyes. mainstream.
"I was inspired by the rebellious style of Teddy girls in England at the end of the years, their pioneering style was London-like. The result is a style of graphic makeup with dark black eyes in Rock style with little inspiration from Punk. " Peter Philips shared the idea for makeup style in his Dior Thu - Dong 2019 collection.
To emphasize the style of rock and graphics in the make-up style, Peter Philips focused his attention primarily on the eyes with bold lines on each person's natural skin and softly colored lips.
1. Eye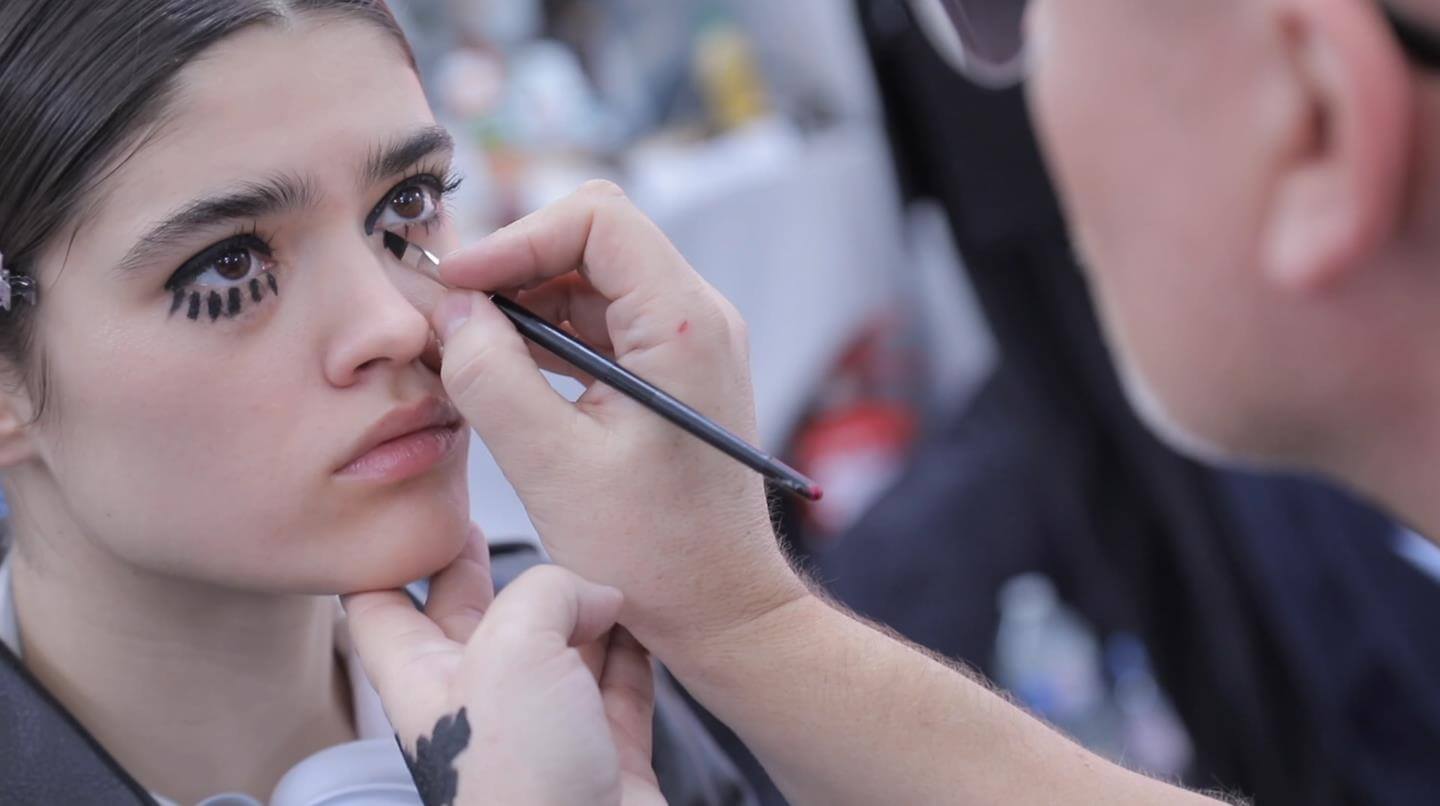 With the eyes as the main focus of the entire face and also the main highlight, Peter Philips has designed a new rock and graphic appearance with the upper eyelid completely covered in black. In the lower eyelid, he drew straight lines, short and equidistant to create a "star sparkling" effect for the model's eyes.
The rough, unadorned brushstrokes created a special attraction. Eyelashes are brushed and naturally curled to make the eyes more unique. Eyebrows also retain the inherent naturalness of each person when reshaping the eyebrows shape without painting more.
+ Note: Prestige Mi Courses in HCMC
2. Skin
The skin of the model was kept in the same natural skin tone without trying to use multiple layers of products to lift skin tones. He simply used a layer of background with the same tone as each person's skin. Then use concealer for a few minor blemishes on the face and finish with a thin coating to brighten the face on the stage.
3. Each
In order to help the lips get the best preparation, Peter Philips used a lipstick combined with 2 in 1 to both exfoliate and scrub. Then, use gentle finishing tones for your lips to look natural and full.
With only the basic make-up steps, Peter Philip created a new makeup style for the Dior Collection of Autumn and Winter 2015 and once again showed the mastery of Peter Philips. By retaining the most natural features and only paying attention to the eyes, it is enough to leave a strong impression in the hearts of the viewers.
With this style of makeup, we have somewhat seen the makeup trend in late 2019 and early 2020. Experts said that in the following years, the skin is natural, smooth and pure. will be a strong makeup trend not only on the catwalk but also applied in life.
Besides, there are strong accents on the eyes, such as creating bold lines, using striking colors or graphic drawings. A natural eyebrow that does not paint well or plump lips is also one of the particularly prominent trends this year.
+ Note: High Quality Cosmetic Sculpting Course
Every time the famous brand launches a new collection, we not only admire the unique artworks but also partly predict which trends will grow strongly in the future. . And this is also an opportunity to learn more new makeup styles. Maybe you can find a suitable make-up style and create a new look for people around you.
And don't forget to follow up regularly Miss Tram Academy to be able to update new beauty trends as well as learn the secrets of care and protection for your beauty.
+ Note: Attaching Stones to the Main Face is New Year's Trend
In addition, Miss Tram Academy also has training courses from basic to advanced areas of care and beauty such as embroidery embroidery, eyebrow, eye, and lips; skin care and eyelash treatment that you can consult.