Is Yogurt Whitening Mask Safe? How Modulation
In the list of natural beauty ingredients, yogurt is quite favored because it has the ability to soothe the skin, improve inflammation and especially smooth skin. One way yogurt works best on your skin is by combining it with useful ingredients to create a mask and apply it to your skin for a limited time.
1. Yogurt and great nutrition ingredients

The nutrients in yogurt have been shown to have the ability to nourish skin bright, youthful, stimulate new cells to grow safely. According to the study, there are 4 most prominent groups of substances exist in yogurt:
Zinc: In 100g of yogurt contains about 1mg of zinc. This mineral is famous for its anti-inflammatory, astringent properties and facilitates cell regeneration and tissue growth. Zinc also helps regulate sebum, cure acne and many other pimples.
Calcium: Do not think that calcium is only necessary for skeletal development, because in fact most of the epidermis includes calcium. The calcium content of yogurt can completely regenerate healthy skin, prevent dryness and dehydration.
B group vitamins: Yogurt is high in vitamins B2, B5 and B12 to keep your skin looking bright. These ingredients help hydrate the skin, protect it from harmful free radicals, and help regenerate new skin layers.
Lactic acid: This is an effective exfoliant and moisturizer. It acts simultaneously as an anti-aging agent, reducing the formation of wrinkles on the skin.
These are amazing benefits that yogurt can bring to the skin. You can save these uses to advise your customers when needed.
Here Miss Tram Academy has another important note for you that although yogurt is safe and effective, the maximum use is only effective when used properly, with the right combination of doses with ingredients. other. In addition, the time taken for results may be slower than whitening cosmetics or technological intervention. The problem with this approach is that it requires perseverance.
2. Suggest a formula for yogurt whitening mask
Yogurt and strawberry
This mask will help:
Smooth, smooth skin

Beat acne

Removes bacteria from skin

Moisturizing the skin
Mask ingredients:
2 ripe strawberries

1 teaspoon honey

1 cup yogurt
Doing: Puree the strawberry and mix with the remaining ingredients. Let the mask-maker wash your face with warm water (you can use a facial cleanser) to help pores expand.
Next, you apply this mixture all over your face, save for about 10 minutes and then use warm water to wash. We will wash the face with cool water to tighten pores.
Butter and yogurt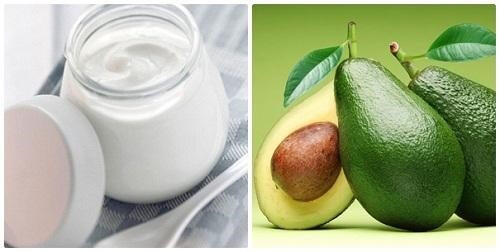 This side is a great combination with the following:
Nourishes skin deeply

Moisturizing the skin

Increase hydrate

Helps skin soft, smooth
Ingredient:
1 teaspoon olive oil

1 teaspoon yogurt

1/2 ripe avocado
Doing: Puree the butter and combine with fresh milk and olive oil to make a smooth mixture. Allow the person to clean up the face with warm water and wash a facial cleanser without makeup remover. Apply mask for about 15 minutes and then use warm water to wet the face to easily remove this layer of mask. Finally wash your face again with cool water.
Yogurt and rose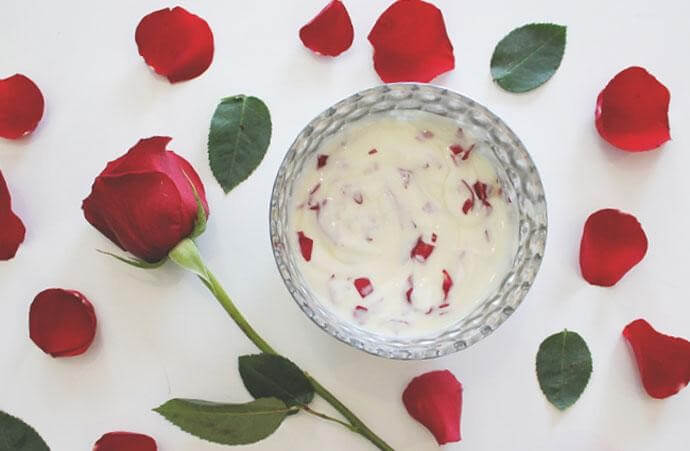 This combination will help:
Reduce inflammation

Reduce acne

Removes excess oil and dirt from skin

PH balance

Nourishes skin smooth and firm
Ingredient:
6-7 rose petals

2 tbsp rose water

1 teaspoon yogurt

1 teaspoon honey
Doing: Crush rose petals and add rose water and soak for about 2 minutes. When you soak in it helps minerals, vitamins are released. Then, we are going to pour in the yogurt and honey and stir it all up.
Wash your face clean and apply this mask on your skin for about 10 minutes. We also rinse off the mask with warm water, and rinse it off with cool water again.
Yogurt and green tea
This mask formula is especially suitable for skincare in the cold winter, because it has the ability to:
Moisturize the skin

Gentle exfoliating

Helps brighten skin, reduce inflammation

Improves skin structure, helps firm skin
Ingredient:
2 tablespoons yogurt

1 tbsp of apple cider vinegar

1 tbsp of oatmeal

1 teaspoon honey

3 teaspoons of green tea powder
Doing: Firstly, mix apple cider vinegar and oatmeal in a bowl, add yogurt and let stand about 2 minutes. Next we will add honey, green tea and mix well. This mask stays on the skin for about 15 minutes. Want to wash easily, use a soft cloth dampened with warm water to wipe, then use cool water to wash through to help tighten pores.
Above are some yogurt face mask formulas that you can apply. Note, yogurt contains lactic acid, so it does not eliminate the possibility of irritation to over sensitive skin. Common manifestations may be burning, stinging. If the client has this symptom, quickly wash your face with water.