Melasma is always a skin condition that many women fear. Because they are not only aesthetically pleasing, they are also very difficult to treat and take a lot of time. In particular, in recent years Miss Tram has received a lot of customers with hormonal melasma - a level of severe and difficult to remove a lot more than conventional melasma. Therefore, as a professional skincare specialist, in addition to mastering the treatment process, you need to distinguish the levels of melasma to advise and build the best treatment course for customers.
Within the scope of this article, Miss Tram Academy will help you understand more about endocrine pigmentation and the difference with ordinary melasma.
What Is Endocrine Melasma - Distinguishes Endocrine Skin Lightening & Normal Skin Lightening
1. What is endocrine melasma?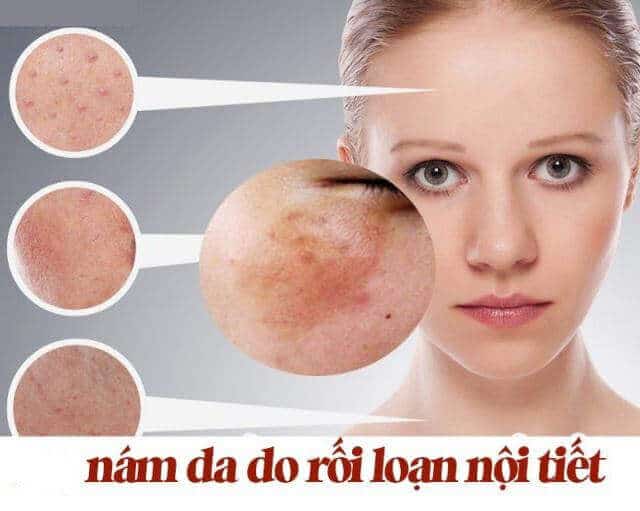 Manifest when skin pigmentation caused by hormones
Hormonal melasma is a condition in which melasma is caused by a disorder of female hormones estrogen. Not only is the body an important sex hormone, estrogen also functions to inhibit the production of the hormone MSH - a hormone that stimulates increased melanin production under the skin.
Due to changes in the physiological psychology of the body, estrogen levels decrease, lose the ability to inhibit MSH and cause uncontrolled melanin production. From there, melasma legs are formed and pushed up to the skin, causing the appearance of melasma.
Endocrine hyperpigmentation is a condition in which the skin appears as melasma due to the disruption of the female hormone estrogen. An increase or decrease in estrogen hormone causes hormonal imbalance in the body, stimulates the production of melanin and forms melasma.
Endocrine pigmentation is also known as deep melasma - this is a severe and difficult to treat without proper methods and procedures. The severity of this melasma may vary depending on the hormonal disorder inside the client's body.
2. Distinguish hormonal and conventional melasma
Melasma is divided into 3 main levels:
Melasma level 1:

Melasma - this is a common skin condition caused by negative environmental influences.

Melasma level 2:

Deep pigmentation level - this is a skin condition caused by internal factors (also known as endocrine pigmentation).

Melasma level 3:

Melasma mixture of the two levels above - this is the most difficult to treat melasma by severe melasma both outside and deep within the skin.
Each level of melasma will have its own characteristics. Therefore, to understand and identify the most accurate melasma, you need to distinguish between endocrine and ordinary melasma:
Features

Endocrine melasma

Common melasma

Cause of formation

Abnormal hormonal changes during pregnancy, postpartum period.

Due to stress, prolonged stress.

Due to the influence of oral contraceptives.

Due to ovarian pathologies or hormonal imbalances in premenopause.

Due to frequent and constant exposure to the sun.

Due to improper skin care, use of poor quality cosmetics or skin treatment with peeling methods.

The negative impacts from environmental pollution.

Expression

Morphology: Hormonal melasma often appears in the form of

dark brown spots

. If you look at the lights, you can see that the central points have more pigment and darker cells. The size of melasma is also small, irregular and lying together.

Melasma usually takes the form

array form

, because dark pigments are scattered on the skin and form large clumps. Melasma often has

light brown

, sometimes unclear boundaries with healthy skin.

Location: Endocrine pigmentation often appears symmetrically on both cheeks, temples and sometimes on the forehead, nose, or around the mouth. They do not appear in other skin areas on the body.

Melasma often has the appearance of a hormonal melasma. However, sometimes they even appear in the arm area.

Severe: Hormonal melasma often appears from deep inside the skin, making it very difficult to treat. In particular, melasma can spread if the hormonal disorder in the body does not improve.

Melasma is usually milder than melasma because the legs are not deep in the skin. However, if there is no timely treatment, melasma becomes deeper and more difficult to treat.

Symptoms may include: menstrual disorders, insomnia, fatigue, loss of appetite, acne skin ...

Melasma usually has no accompanying manifestations.

Treatments

Endocrine pigmentation should be coordinated to treat both causes and symptoms:

Use hormonal balance medicines in combination with a healthy diet to regulate hormones in the body.

Laser lightening treatment combines a rigorous home care cycle with specialized skin care products.

Limiting the use of skin peeling and peeling methods.

Moderation activities, avoid stress, stress.

Melasma plaque has a milder level, but for quick removal, it is also necessary to combine treatment and skin care thoroughly from the inside out:

Treatment of melasma by laser technology combined with special products, to increase the skin regeneration process and inhibit melanin production.

Use appropriate skin care products and especially pay close attention to skin protection.

Enhance skin resistance by establishing a diet - healthy living.
3. Instructions on how to receive melasma customers
In order to bring the fastest and safest melasma treatment results to customers, you need to receive, examine and treat according to the following procedure:
Step 1: Examining and examining the skin
Process of examination and skin examination for customers
This is the most important step to determine the customer's skin condition. Therefore, in addition to examining and examining the skin to understand the level of melasma, you need to collect information about customers such as: time of melasma, age of occupation, childbirth, skin care process, skin care products being used, ... This helps you accurately analyze the causes of melasma and have an effective remedy.
Step 2: Consulting the process for customers
From the customer's current skin condition, plan the most appropriate course of treatment (with the right route and technology, the right treatment).
In addition, you need to analyze how long the procedure will take, how much treatment is needed, which treatment methods are used and how much it costs for customers to understand and commit to treatment.
Step 3: Conduct appropriate treatments
Address prestige treatment
After agreeing on the treatment, proceed to treat melasma for customers. 
Note, in the next treatment route, you also need to re-examine the skin to determine whether the treatment process is progressing well or not. From there there is the direction of adjustment or not adjusting to the most appropriate.
Step 4: Instruct home skin care customers
Effective skin care after melasma treatment with Laser YAG technology
In order to support the fastest skin pigmentation treatment process, customers need to have a thorough skin care and protection regime at home. Therefore, you should always guide skincare steps properly and set a healthy diet for guests.
Hope the above share of Miss Tram Academy will give you an overview of the melasma. Good luck!