Academy Miss Tram Academy is one of the prestigious and quality skincare - Spa training systems, trusted by thousands of students. Not only teaching in-depth knowledge and modern beauty trends, Miss Tram Academy also brings many attractive career opportunities, enabling students to develop their capacity and build their own brand in future. 
Recently, Miss Tram often receives questions such as "What's included in Miss Tram spa courses?", "Does Miss Tram have a full-course Spa course?". So, Miss Tram Academy Please share the following articles to help you better understand the courses at Miss Tram.
Learn About The Complete Spa Package At Miss Tram Academy
1. Notes When Practicing Spa
Spa is one of the industry is rated as the most developed today. Because with the need to enjoy the increasing life of people, a lot of Spas - Beauty Salons are opened every day. Therefore, human resources of this industry are also highly appreciated. However, unlike previous years, you need to be well-trained and recognized to be able to become a spa professional. So before you get used to this industry, you need to pay attention to the following three points:
First,

You need to choose a reputable center to study. 
To know which centers have good teaching quality, you should not pay attention to the advertising or supporting policies such as tuition waivers, study-by-doing, how many jobs, etc. in fact students did, or teacher videos guide students to practice directly in the learning process. You will assess exactly where good teaching and where not.
Besides, please find out carefully the teaching staff at that center, because 90% experience and skills you learn from teachers. 
2nd,

Spa apprentices should choose a package course.
At any center, there are many different courses to meet the unique needs of students. However, for those who are new to spa careers, they should choose package courses rather than taking small courses. Because the package will give you the knowledge and skills needed to work, as well as higher job opportunities than in-depth intensive study.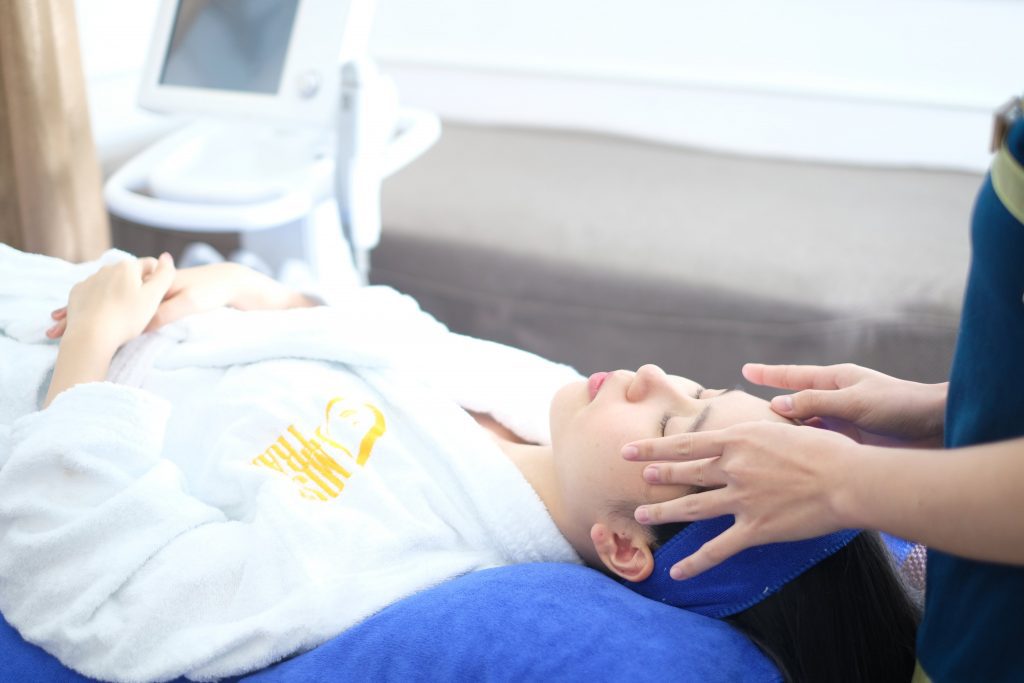 Once you have mastered or completed the package, you can take more advanced courses.
3rd,

Human factors determine everything.
In addition to choosing where to study, which course, the time and result of vocational training depends greatly on the attitude of the learner. Spa career is not difficult, not picky learners, no age limit but requires diligence, eager to learn, the will to strive and love for the job. 
This is a decisive factor in your future salary and promotion. So, if you have decided to go far with the spa then be prepared mentally and energy to achieve a lot of success.
+ Note: How long does spa take
2. What Is The Package Of Miss Tram Spa Courses Included?
Miss Tram Academy owns an experienced teaching staff and a well-trained curriculum, helping students learn in both theory and practice, so progress is clear through each day of study. For starters, Miss Tram always leads to a full-service spa course to ensure all the necessary skills are learned. A comprehensive package of intensive skin care treatments for spas at Miss Tram Academy include:
Knowledge as well as how to use all beauty tools and equipment.

Research on skin condition like all types of acne, melasma, freckles, aging skin.

Techniques to get acne correctly, avoid scarring.

The formula of white annealing, beauty.

Skin care techniques.

Techniques for massage of face, head - shoulder - neck.

The most modern skin care and beauty treatments today.
The content of this course has Meet all work needs after the job. However, if you want to learn more advanced skin care, you can study with a professional skin care and treatment course.
+ Note: What Does a Spa Certificate Need?
Take The Spa Package At Miss Tram Academy, What Did You Get?
Trained spa skills from basic to advanced under the process "Hand-held - practical applications".

Follow each student's ability and the time is not limited if the student has not reached the skill.

To practice and apply knowledge on real people.

The textbook is practical, practical and theoretical practice in parallel with practice time> 80%.

Have the opportunity to receive scholarships up to 30 million and high-paying jobs at Miss Tram. 

To take the certificate of regular practice and 100% commitment to solid skills. Make sure you have a job at a reputable spa or open your own spa right away.
+ Note: The Best Oily Skin Care Treatment
Not only offers spa courses ranging from package to advanced, Miss Tram Academy also ensure the conditions from facilities, equipment, tools and the most professional training environment, in order to bring the best quality of teaching for each student. Spa careers are easy to learn and have great development opportunities in the future, so let's Miss Tram prepare the best gear to conquer this interesting profession. 
Hope this article will help you. Wishing you every success on your chosen path!