With the continuous development of the cosmetics industry, the beauty trend from natural materials is still trusted by many women. Because they are safe, economical and still highly effective. Therefore, natural beauty formulas are still synthesized, prepared and improved by the spa every day to meet the beauty needs of customers.
Among the natural ingredients, saffron is considered as one of the high-class ingredients, has many uses for beauty and supports the treatment of skin conditions very well. So what is the use of this material? And how to use them? Do not skip the following article of Miss Tram Academy Please.
Share 04 Beauty Ways With Safron In Accordance With Spa
All Spas need beauty recipes from natural ingredients
It is undeniable that the effectiveness of technology, high-end cosmetic lines or essences to treat skin care. However, natural beauty formulas are still used by spas to meet the beauty needs of sensitive skin, pregnant skin and natural beauty followers.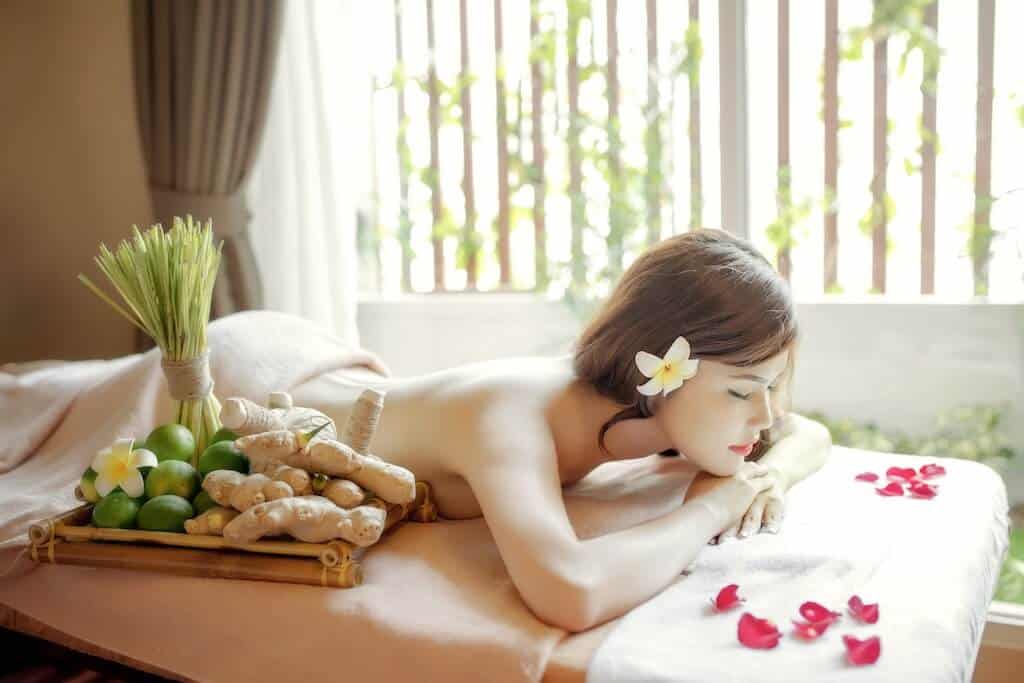 However, in order for these formulas to be always safe and effective, the Spas need to pay attention to ensure the following requirements:
Always use sources of clear origin, freshness and cleanliness.

Prioritize products with high and benign use with most skin types for flexible use.

Ensure the preparation and storage process of raw materials is always up to the standard to bring the safest for customers.

The mask formula is always used immediately to avoid oxidation, causing skin irritation for customers.

Choose and prepare formulas that are suitable for the skin condition as well as the skin care process that the customer has chosen.
Uses of Saffron saffron pistil
Saffron is considered a premium beauty ingredient and extremely good for the skin. Saffron contains abundant natural minerals such as copper, calcium, manganese, potassium, iron, selenium, zinc and magnesium - which are used to nourish beautiful skin, increase resistance and improve the The problem of darkening, melasma, acne, freckles is very good.
In addition, this material is also rich in vitamins A, C and antioxidant compounds such as folic acid, riboflavin, niacin, especially carotenoids (including crocin and crocetin). Thus, saffron is like a "panacea" of the skin, helps to prevent the aging of the skin extremely effectively.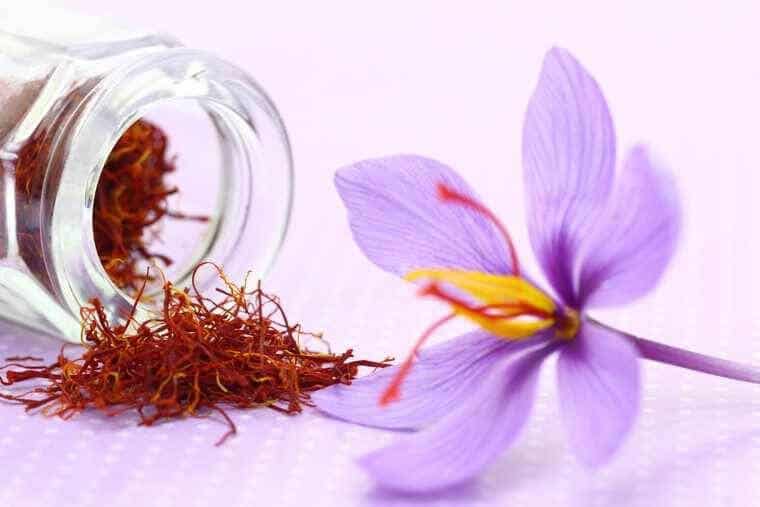 Specific uses of skin for this premium material:
Saffron is used to restore and regenerate the skin, especially sensitive skin, damaged by negative effects from the outside.

Saffron is used to promote blood circulation, improve fair skin and help bright white skin,

Saffron has the uses of cabbage

good

elasticity, prevent aging conditions and support effective acne treatment.

In particular, Saffron is extremely benign and suitable for almost all skin types. So just combining with the right ingredients will form the extremely effective skincare masks for each skin type.
Some mask formulas from Saffron:
1. Saffron, oatmeal and unsweetened yogurt
Oatmeal is a rich source of vitamins B, E and minerals such as sodium, calcium, potassium, iron, magnesium, zinc, copper, chromium, manganese, selenium, phosphorus, etc. Smooth white, prevent acne and repel bruises effectively.
Besides, the abundant nutrients in yogurt also help provide moisture and improve the problem of pigmentation, melasma on the skin very well. Therefore, the trio of Saffron, oatmeal and unsweetened yogurt are a promising whitening and anti-acne formula for your Spa.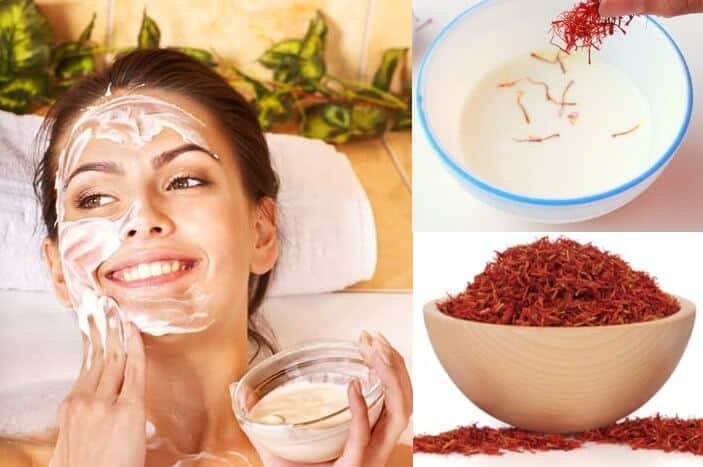 Doing:
Step 1: Crush 5 strands of Saffron, mix with 1 teaspoon of oatmeal, 1 spoon of unsweetened yogurt.
Step 2: Apply the mixture to the face, gently massage on the skin for 3 minutes.
Step 4: Let stand for 20 minutes and rinse with water.
2. Saffron, sandalwood powder, honey
Sandalwood powder is a natural ingredient that has antibacterial effects, gently cleanses the skin and tightens pores. And honey has the effect of moisturizing the skin, helping the skin firm and fight acne spots very well. This pair when combined with saffron pistil will work to prevent aging and support acne treatment for the skin very effectively.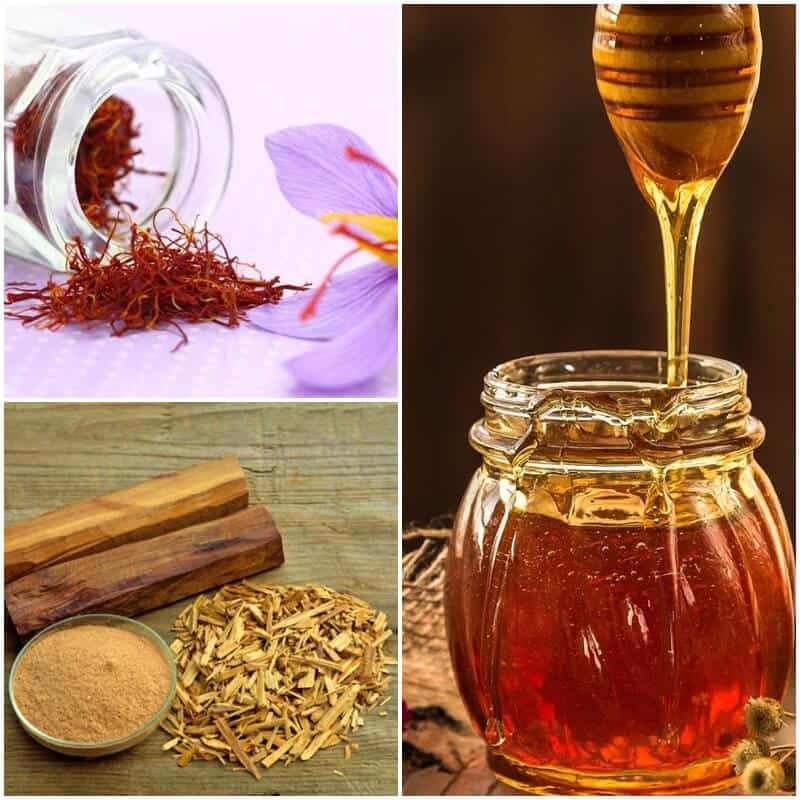 Doing:
Step 1: Crush 5 saffron fibers and mix with 1 tablespoon sandalwood powder and 2 tablespoons of pure honey.
Step 2: Apply the mixture to the skin, massage gently for 3 minutes.
Step 3: Leave for 20 minutes and wash your face clean with water.
3. Saffron, olive oil
Olive oil is one of the richest sources of Vitamin E, which moisturizes and prevents aging. In particular, the amount of natural fatty acids in this material also works to clean the skin, prevent acne and improve the problem of deep scars very well. Saffron and olive oil duo is rated as one of the best masks for customers with dry skin.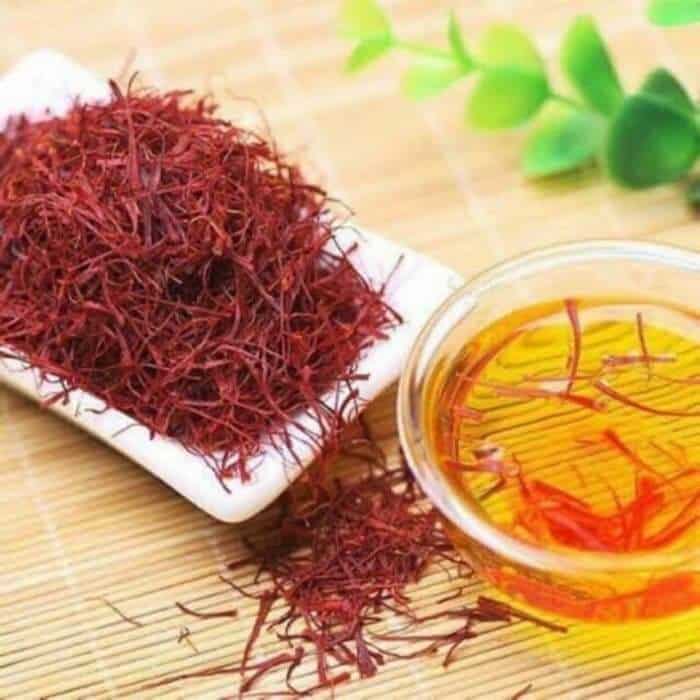 Doing:
Step 1: Crush 1 pinch of saffron and then soak overnight with 100ml of olive oil (this mixture is stored in the refrigerator usable for 1 week).
Step 2: Apply a sufficient amount of the mixture evenly on the skin and massage gently for 3 minutes.
Step 3: Let stand 20 minutes and wash your face clean with warm water.
4. Saffron, clay and fresh milk
Clay powder is a very rich mineral material, used to cleanse the skin, tighten pores, balance excess oil and support effective acne treatment. And fresh milk contains a lot of nutrients, helps provide moisture and skin whitening very well. These two ingredients when combined with saffron will form a mixture of skin masks, balancing excess oil and preventing acne effectively for oily skin customers.
Doing:
Step 1: Crush 5 saffron strands and mix with 1 spoon of clay powder and 2 spoons of fresh milk.
Step 2: Apply the mixture to the skin and massage for 3 minutes.
Step 3: Let stand 20 minutes and wash your face clean with warm water.
Saffron saffron when used should be pureed, soaked with water or with fresh milk for the micronutrient secretion. From there, the skin can absorb nutrients most effectively. This material is both high-class, benign, and has a very good use for the skin, so most Spas and Beauty Salons use it. Therefore, it is "flawed" when your Spa does not use this natural beauty.
Hope the above share of Miss Tram Academy Will complement your beauty establishment with new skin care formulas. Good luck!