Toner is one of the essential skincare steps that you should not ignore during your skin care cycle. In particular, those who own dry skin especially need a toner for themselves. It is for this reason that Miss Tram Academy Want to teach you how to make your own skin toner from natural skin with easy-to-find ingredients as well as easy to do in the article below. Invite you to consult.
How to Make DIY Toner For Dry Skin From Nature
What are toners?
Toner is commonly known as rose water (not a distilled rose form), a liquid skin care product. Because liquid texture, toner easily crept into each cell on the skin, deep into the pores to help clean up the remaining dirt, excess oil, thereby tightening pores as well as degree. pH on the skin. Helping the next skin care step be promoted to the best effect.
+ Experience Spraying Color Fast
Self-made toner for dry skin from nature
1. Rose toner
You probably already know the amazing uses of roses for our skin. Rose water has many uses that you can use for your skin, from cleansing, anti-aging to moisturizing. So why wait any longer without immediately starting to make me a great bottle of rose toner.
Doing: We will use water to distill pure rose water.
You get from 10 - 20 rose flower. Gently remove each petal and soak in salt water from 10 - 15 minutes and rinse to remove dirt and chemicals.

You have washed the rose petals into a pot of water. Then put a small bowl in the middle of the pot.

Turn upside down so that the recess is located right above that bowl (Be sure to clean your pot and clean it)

Turn on the fire to wait for boiling water, then pour cold ice on the top and let the condensation happen, after boiling the water, turn down the heat (Note only a few ice cubes to prevent the water from dripping down the bowl of the distilled water pink).

After the water in the pot is nearly empty, turn off the stove, the amount of water you get in the bowl is pure rose water. (Note not to let the pot run out of water)
You put the rose water into the bottle and store it in the refrigerator. So you have made yourself a lot of rose toner bottles already.
+ Specific Instructions Steps To The Stripped Sculpture
2. Cucumber toners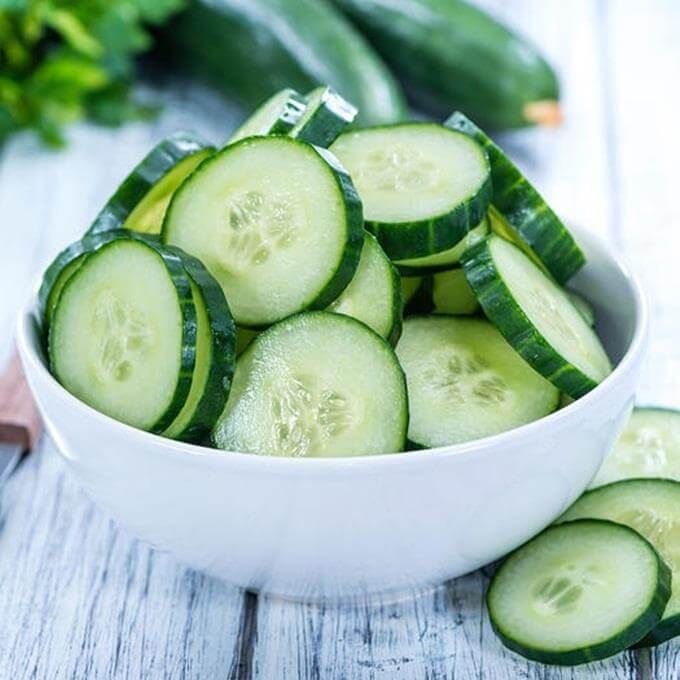 Cucumbers are known for their ability to provide moisture, tighten pores, prevent aging and effectively whiten. When combined with roses and fresh lemons will create a toner bottle for safe and effective dry skin.
Doing:
Use 1 to clean the cucumber then cut circle.
You get 5 - 10 rose flower then separate each wing. Soak roses in salt water about 15 minutes and rinse. Then soak rose petals in warm water from 2 - 3 minutes and then take out.

Puree mixed cucumber and rose petals. Use the clean filter net to collect water.

Half a lemon you squeeze water. Use filter net to clean seeds and lemon cloves.

Stir the lemon juice with the mixture of cucumber and rose water above.
You put the recently obtained mixture into a plastic bottle and store it in the refrigerator. So you have a bottle of cucumber toner with very simple steps.
+ Technical Guides Editing Lips - Lips Lips
3. Toner coconut water
Have you known the great uses of coconut water? Coconut water is a natural moisturizer for the skin, it also works in preventing and treating acne, anti-aging and is a very good sunburn. Having a bottle of coconut water toner in hand is far more beneficial than you think.
Doing:
You just need to mix coconut milk and lemon juice at the rate of 10: 1. So you already have coconut water toner.
Put the toner in the bottle and store it in the refrigerator. Very simple but very effective.
Chu ý:
For home-made toners, you should try a small area first to avoid skin irritation.

Using toner regularly every day for the morning and evening after cleansing, you will see the effect that these toners offer.

Add a sufficient amount of toner to the makeup remover and gently wipe the face. This way will help you clean the skin, remove all the dirt, makeup leftover on the skin in the best way.

Because these toners do not contain preservatives, you should only make a small amount for use in the range of 10 - 12 days. When you are finished, you can refresh it to continue using it, to keep your toner usage.
+ Discover The Beauty Uses From The Western Pistil
With simple ways of doing things at home, dry skinned people can make a bottle of natural toner that is both safe and benign. The above share of Miss Tram Academy just for reference, so if you have done and feel like it, don't hesitate to share with Miss Tram.
See more beauty experience other:
Current Trends in Trending for the End of Year
Top 20 Recipes Skin Care From Korean Girls For Radiant Skin
Oil Skin Acne Should Use This Clay Mask