| QUESTION - ANSWER || ✨ DO YOU HAVE BLUE RED SPACES WHEN DO I HAVE TO REPEAT COLOR STANDARD?
"Hello Miss Tram Spa, my eyebrows have been tattooed for about 3 years and now at a facility near my house and now I see a greenish color, I wonder if it is dangerous? I also want to spray the tattoo, but I still wonder whether the color up is standard and the color is changed as the first time. Ask Miss Tram to help me. Thank you"
Yes, that is the question that Miss Tram received last week from customers.
𝒙𝒂𝒏𝒉 𝒕𝒖̛𝒐̛̣𝒏𝒈 𝒕𝒓𝒐̂̉ 𝒙𝒂𝒏𝒉 𝒐̉ 𝒓𝒂 𝒌𝒉𝒐̂𝒏𝒈 𝒏𝒈𝒖𝒚 𝒉𝒊𝒆̂̉𝒎 𝒏𝒉𝒖̛ 𝒄𝒉𝒊̣ 𝒏𝒈𝒉𝒊̃, 𝒎𝒂̀ 𝒏𝒐́ 𝒄𝒐́ 𝒏𝒈𝒖𝒚𝒆̂𝒏 𝒏𝒉𝒂̂𝒏 𝒏𝒉𝒖̛ 𝒔𝒂𝒖:
➡️ Outdated tattoo spray technique deeply damages and affects the efficiency after spraying
➡️ Use low quality tattoo inks, so oxidize over time
➡️ Geography: oily skin, do not eat ink so the ink color fades and discoloration
➡️ Care regime after spraying: arbitrarily peeling scales, not keeping hygiene according to the instructions of the Expert ...
Please rest assured, because with modern technology like today, the new treatment and spraying for customers to get eyebrows STANDARD COLOR - NO COLOR CHANGE completely within the ability to ensure the following factors:
+ Thoroughly treating old tattoo ink colors
+ Choose new quality tattoo ink, so choose ink with ingredients from nature will not occur after the color bloom phenomenon
+ KTV sure, experienced
+ Prestige tattoo spraying facility, ensuring hygiene during the implementation process
+ After doing so, it is necessary to comply with the instructions and care instructions that the Instructor instructs.
In particular, when Miss Tram receives a case where the customer needs to fix the eyebrows to look like that, they will go through the standardization process as follows:
- Expert receive status, based on the level of old ink color, to treat by 1 of 2 ways:
+ Use liquid to remove tattoo ink from Europe. Ink color bleaching time ranges from 1-3 times depending on the depth of the depth of old tattoo ink.
+ Remove tattoo with new technology Laser Yag, safe - faster and does not hurt the old eyebrows.
- After the old color finishes processing, the eyebrows are stable, at this time proceed to spray ink that the customer has chosen.
Here, Miss Tram uses the Queen's ink line, which is completely natural, has undergone a rigorous testing process so it will NOT irritate the skin or bloom after some time.
- Finally, examine and carefully guide the steps to take care of your eyebrows BEAUTIFUL.
Have you been peace of mind with this process? If you still have any questions, please contact us immediately for a team of Consultants to support you always !!!
————————————-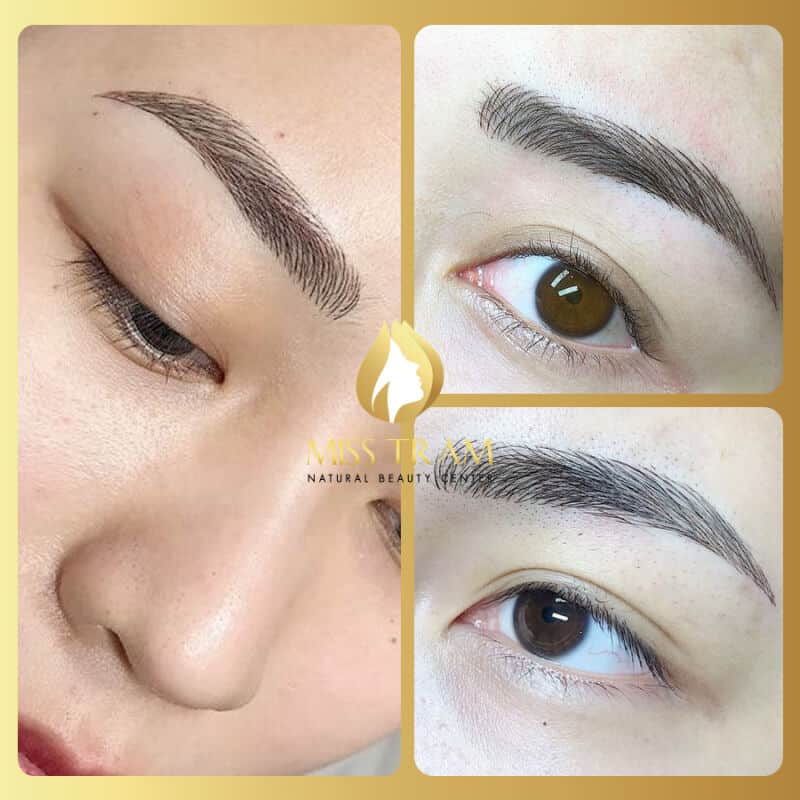 Do not hesitate to #Comment / Inbox or call #HOTLINE 1900 7018 for advice on all your questions about the service:
- 𝒊𝒆̂𝒖 𝒌𝒉𝒂̆́𝒄 𝒄𝒉𝒂̂𝒏 𝒎𝒂̀𝒚 𝒑𝒉𝒂̂̉𝒚 𝒔𝒐̛̣𝒊 𝒕𝒖̛̣ 𝒏𝒉𝒊𝒆̂𝒏 𝒌𝒚̃ 𝒕𝒉𝒖𝒂̣̂𝒕 6𝑫 - 9𝑫 𝒄𝒉𝒐 𝑵𝒂𝒎 𝒗𝒂̀ 𝑵𝒖̛̃
- 𝒊𝒆̂𝒖 𝒌𝒉𝒂̆́𝒄 𝒄𝒉𝒂̂𝒏 𝒎𝒂̀𝒚 𝒑𝒉𝒂̂̉𝒚 𝒔𝒐̛̣𝒊 𝒕𝒖̛̣ 𝒏𝒉𝒊𝒆̂𝒏 𝒌𝒆̂́𝒕 𝒉𝒐̛̣𝒑 𝒗𝒐̛́𝒊 𝑷𝒉𝒖𝒏 𝑶𝒎𝒃𝒓𝒆 / 𝑺𝒉𝒂𝒅𝒊𝒏𝒈 / 𝑺𝒂𝒏𝒅𝒚
- 𝒊𝒆̂𝒖 𝒌𝒉𝒂̆́𝒄 𝒄𝒉𝒂̂𝒏 𝒎𝒂̀𝒚 𝒅𝒂́𝒏𝒈 𝑪𝒉𝒂̂𝒖 𝑨̂𝒖
- 𝑷𝒉𝒖𝒏 𝒄𝒉𝒂̂𝒏 𝒎𝒂̀𝒚 𝑶𝒎𝒃𝒓𝒆
- 𝑷𝒉𝒖𝒏 𝒄𝒉𝒂̂𝒏 𝒎𝒂̀𝒚 𝑴𝒂𝒈𝒊𝒄 𝑺𝒉𝒂𝒅𝒊𝒏𝒈
- 𝑷𝒉𝒖𝒏 𝒎𝒂̀𝒚 𝒕𝒂̉𝒏 𝒃𝒐̣̂𝒕 / 𝑷𝒉𝒂 𝒍𝒆̂ 𝒎𝒖̛̣𝒄 𝑴𝒚̃ 𝒄𝒉𝒊𝒆̂́𝒕 𝒙𝒖𝒂̂́𝒕 𝒕𝒉𝒂̉𝒐 𝒅𝒖̛𝒐̛̣𝒄 100%
- 𝑷𝒉𝒖𝒏 𝒎𝒂̀𝒚 𝒕𝒂̉𝒏 𝒃𝒐̣̂𝒕 𝒎𝒖̛̣𝒄 𝑵𝒖̛̃ 𝑯𝒐𝒂̀𝒏𝒈
- 𝑿𝒐𝒂́, 𝒔𝒖̛̉𝒂, 𝒙𝒖̛̉ 𝒍𝒚́ 𝒉𝒊𝒆̣̂𝒏 𝒕𝒖̛𝒐̛̣𝒏𝒈 𝒄𝒉𝒂̂𝒏 𝒎𝒂̀𝒚 𝒕𝒓𝒐̂̉ 𝒙𝒂𝒏𝒉 đ𝒐̉
– …
========================
✨ MISS TRAM ACADEMY
🏣 Facility 1: 30 Dang Thi Nhu, P. Nguyen Thai Binh, District 1, Ho Chi Minh City
🏣 Facility 2: 126/6 Phan Xich Long, Ward 3, Bình Thạnh District, TP. HCM
📱 Mobile: 0909 783 289 - 093 718 6060
☎ Hotline: 1900 7018
⏱ Working time: 9:00 am - 8:00 pm (All days of the week)
✨ Website Miss Tram Natural Beauty Center: http://thammymisstram.vn/
✨ Website Miss Tram Academy: https://misstram.edu.vn/
#thammymisstram #phunxammay #dieukhacmay #xulychanmaycu #Misstrampxl