| FAQ ||

The procedure for eyelash extensions at Miss Tram Natural Beauty Center
If you want a long and curved eyelashes to create accents for the "window of the soul" and still retain the natural features, then Angel eyelashes can be considered the "No. 1 candidate" Miss Tram nominated. for you. Because the angel eyelashes will help the natural lashes can be thicker but not too thick and have a nice bath and very high durability.
Especially, process to have an angel mi like that only takes place in the 6-step standard at Miss Tram Natural Beauty Center:
Step 1: Examination and counseling
+ This step is quite important because it will determine the health of your eyelashes to restore or repair in case the eyelids are too weak. If the eyelids are normal, you can proceed with eyelash extensions right away.
+ Depending on the balance of each face as well as personal preferences, you can choose to overlap 1-2 layers of eyelashes to create eyes with more depth and sparkle
Step 2: Clean the eyelids
Specialists carry out cleaning of the eyelid area to remove dirt, avoiding unnecessary risks during eyelash extensions.
Step 3: Prepare eyelash extensions
Choose the right size of eyelashes and apply adhesive tape to ensure that the eyelashes will not cause any damage to the eye and surrounding areas.
Step 4: Conduct eyelash extensions
Mi will be connected with the right size and style you have chosen. In addition, Miss Tram Natural Beauty Center is committed to using good adhesive quality, along with skilled technicians to ensure the best eyelashes with the best quality.
Step 5: Complete eyelash stitching
Once completed, the Specialist will conduct another check to make sure the lashes are firmly connected, not crushed.
Step 6: Instruct and follow up
After the eyelash extensions are finished, the specialist will remove the adhesive tape and brush the lashes evenly, creating the most natural curl for the lashes.
Next is the eye care and eye drops that help brighten the most beautiful eyes.
And for every work created to make the customer most satisfied and satisfied, the specialist will not forget to tell you what you should and should not do in the care of your eyelashes.
So you try to follow what was instructed offline. And if you need more advice, don't hesitate to contact Miss Tram so our consultants can assist you right away!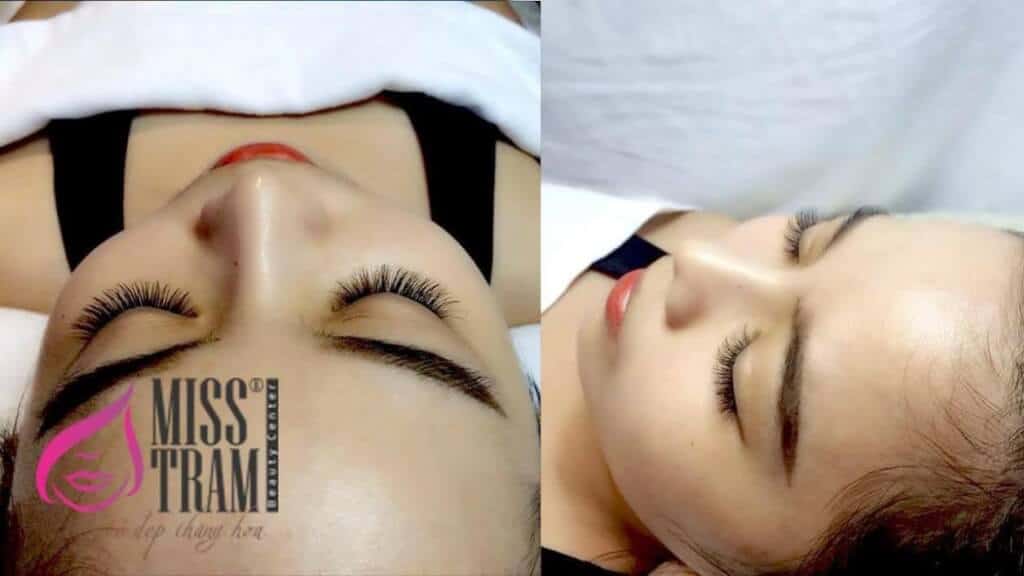 Do not hesitate, call the number HOTLINE 1900 7018 For advice on any questions you may have about the service.
Eyelash extensions Classic / Mi rose black / Mi Katun.

Eyelash Extensions 3D - 3D thick.

Eyelash extensions 3D - 5D.

Eyelash extensions.

Crib Natural stone.

Mi mi, remove mi connector.