Steps to becoming a quality melasma treatment address? In skin problems, melasma is one of the conditions that many women suffer from. In particular, with the development of quality of life, women are increasingly in need of care and removal of pigmentation on the skin. Therefore, in order to become a quality burnt treatment site as well as a place to "choose the gold deposit" of customers, beauty facilities need to meet the most basic evaluation requirements. 
This paragraph Miss Tram Academy Please share the criteria to evaluate reputable treatment address melasma.
How To Be A Quality Melasma Treatment Address
1. Being licensed to operate from the Ministry of Health
The license to operate from the Ministry of Health is the minimum criteria of a beauty facility. This is the most obvious evidence that you are eligible for facilities, equipment, human resources, beauty-treatment technology, sterilization-sterilization process, etc. Therefore, if any Intention to open a beauty salon, make sure to complete all the legal procedures.
2. Have long experience in melasma treatment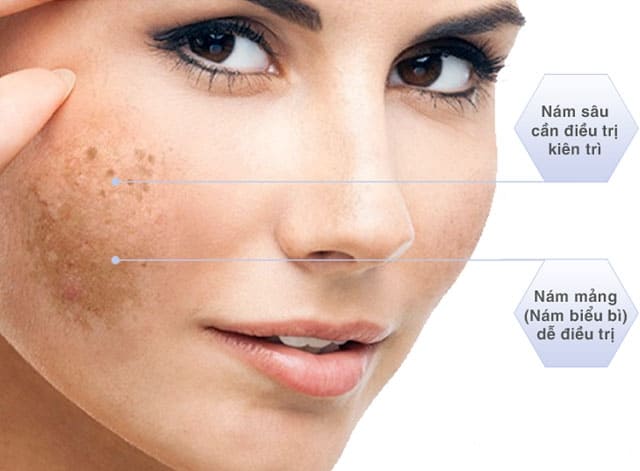 The experience of long-term pigmentation treatment is always a plus point of cosmetic establishments. Because of the in-depth experience, these addresses will easily understand the skin condition and provide the most effective treatment plan for customers.
If your spa or salon has been in operation for a long time, please regularly store customer information, especially before and after melasma to make data for customers to refer and review. and believe in more choices.
With the newly opened beauty salon or not yet experienced, it is still okay, focus on highlighting other criteria to bring trust to customers.
3. Has applied the best melasma treatment technology
For effective and quick melasma treatment, the key factor is technology. You need to learn and choose to invest in modern melasma treatment technologies, especially using machines with a clear origin and a clear technology transfer process.
On the market today, there are many modern melasma treatment technologies such as Laser YAG, Laser Picosure, Laser Melastar, Laser NewTech ... These are advanced laser technologies, FDA-tested for effectiveness - safety and safety. Many experts highly appreciate as well as large cosmetic facilities chosen.
4. A team of good and experienced dermatologists and technicians
Besides modern technology, human resources are also considered to be a decisive factor to the quality and reputation of a melasma treatment facility. Because each customer will have different skin conditions, only qualified and experienced dermatologists will come up with the most appropriate treatment regimen.
In addition, technicians also need to be trained in intensive skincare skills to perform the laser beam safely - most effectively.
Therefore, please make sure your human resources are always trained in the most basic way.
5. The process and roadmap of melasma treatment is clear and suitable for each melasma level
The process of receiving customers must be done in a professional manner. Customers should be welcomed and conduct a quick skin examination. From the results of dermatology, dermatologist will analyze the current melasma, re-examine and advise the treatment regimen appropriate to the melasma level for customers.
Clearly advising on the treatment processes, routes and technologies will help customers better understand the service and feel more secure when making treatment decisions.
6. Treatment of melasma treatment with clear warranty
After offering the appropriate treatment regimen for customers, beauty facilities also need to give specific quotes, treatment commitments between the two parties and after-sales regime for customers. This not only creates trust for customers, but also reflects the professionalism and reputation of your beauty establishment. Therefore, do not ignore this important criteria.
7. Good customer care regime
Normally, the process of treating melasma will take many routes, so beauty establishments need to know each guest's process and have a notice to remind guests of the treatment time according to the schedule.
Especially, after each laser procedure, customers need to have a thorough skin care and protection regime at home. Therefore, dermatologists / therapists should instruct customers on proper skin care steps to avoid counterproductive effects.
If the customer care work is good will create trust and sympathy for customers. From there, improve the reputation and quality of your beauty facility.
To become a quality melasma treatment site, your beauty salon needs to ensure the criteria of legal procedures, modern facilities and high quality human resources. In particular, always building a professional and thoughtful service style to bring the most trust to customers.
Hopefully, the above criteria will be to help your spa / salon gradually improve and always provide quality melasma treatment. Miss Tram Academy good luck!