[QUESTION - ANSWER] How To Handle If You Have Unknowingly Squeeze Acne Infected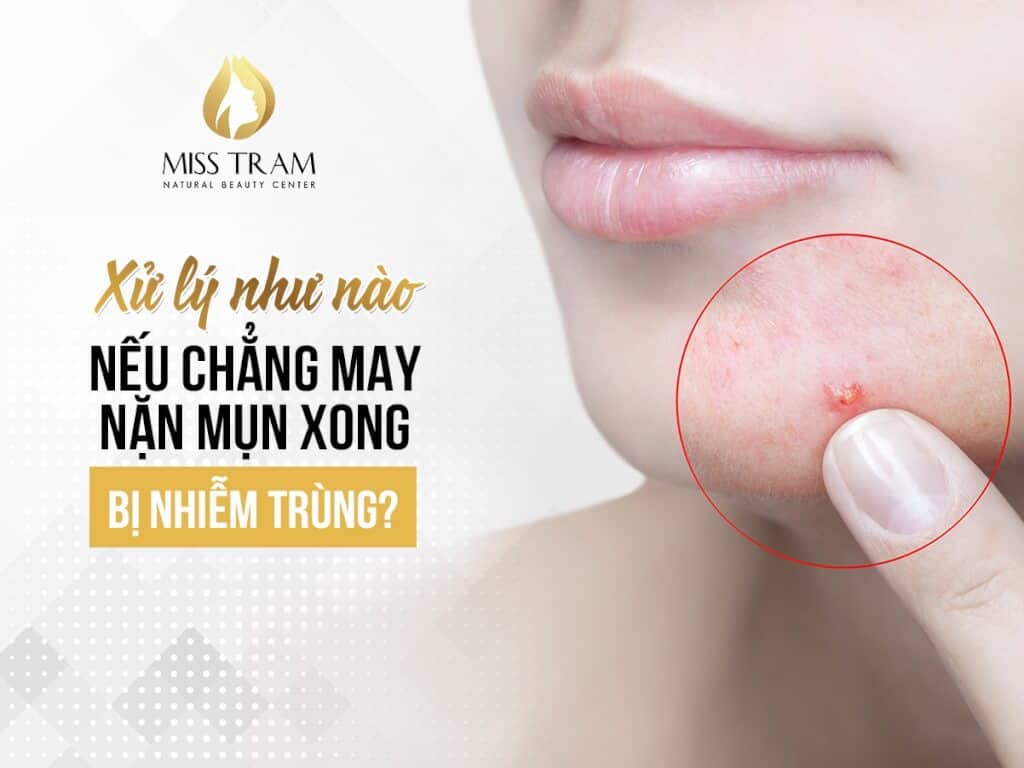 Picking acne is one of the forms of deep processing acne inside the pores, giving you a clean - healthy skin. But refraining from touching, squeezing or touching these pimples is actually a "harder thing than going to heaven" because by habit, only when something ungainly appears, affecting beauty is a must. move immediately.
This inadvertently causes acne lesions to become deeper, swollen, inflamed and cause infections (Usually occurs when dealing with acne at home, equipment is not hygienic ...)
So in case of unfortunate infection, what should our KTV or our customers do? Refer to the following article of Miss Tram Academy to be able to answer this question!
Signs of acne infection:
There was no sign of pain relief, swelling for 2-3 days after squeezing acne

There are signs of redness, swelling and edema around the spots that last for 4-6 days

More severe pus may appear, or have mild fever symptoms ...
When experiencing one of the above signs, should not be subjective treatment at home. Right now you need to do the following:
STOP NOW patting the skin or touching the pimples with your hands: This habit will cause the acne to become seriously infected and easily spread to the surrounding skin.

Conduct skin hygiene

If the infection is small and small, use a medical antiseptic solution to dab at the spot, reduce swelling and eliminate inflammation.

Use medical gauze or sterile soft gauze dipped in physiological saline or boiled water to cool and dab on the inflamed skin. Then gently clean the entire skin area.

Absolutely DO NOT use cosmetics or skin care products to avoid irritating or clogging more severe pores.

 Go to dermatological facilities, treatment centers specializing in acne skin

If the inflammation does not go away and gets bigger, go to a dermatology center, consult a dermatologist for an examination and make a safe, skin-friendly solution.

At that time, remember to follow instructions and procedures thoroughly to avoid possible risks.

In addition, it is also necessary to pay attention to diet and activities in a more scientific way to increase resistance, promote faster skin recovery.
Hopefully, with the above sharing, everyone knows how to handle infected acne. Better yet, customers should still be advised to go immediately to dermatological centers for medical care and molded acne, to avoid possible negative consequences.
Refer to the information of popular courses (depending on your preference) to get started with beauty:
– Cosmetology, Embroidery, Sculpting Course (eyebrows - eyelids - lips)
– Skincare Specialist Training Course
– Vocational Training Mi Eyelash Extensions - Professional Lashes
Please contact Miss Tram immediately for more advice on the study path and see if you are suitable for this career or not!