Questions and Answers | What To Do When Receiving Guest With Melasma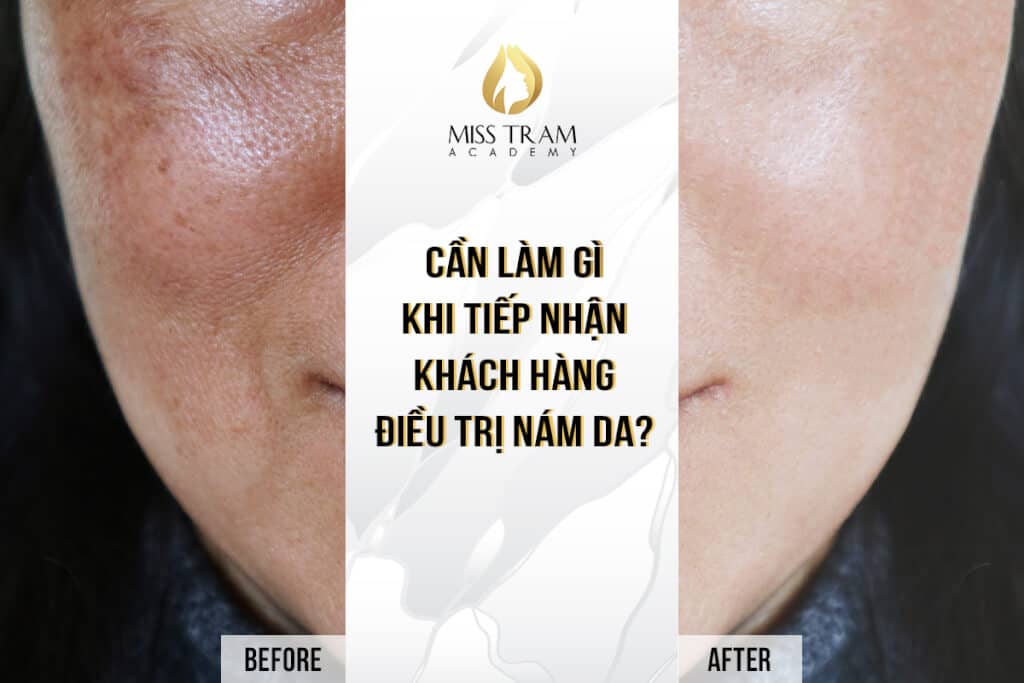 Skin pigmentation is one of the most serious problems on the skin, and there is a complex treatment and the effect time is longer. Therefore, not only Miss Tram's students but many of you have worked at times are "confused" in this case.
Today, Miss Tram takes time to share a few experiences to help you feel more confident when advising customers on melasma treatment!
With Miss Tram Academy, the core thing to note when consulting guests is a must "Identify the situation" Explain to help guests better understand the mechanism of formation of melasma so that treatment plans can be tailored accordingly.
Normally, students of Miss Tram will have to understand and do the following steps well:
- Step 1: Skin examination
It is necessary to check the skin to check the status of the client and collect information about customers, specifically: how long have you been burnt, have you used any strange cosmetics, have you given birth, etc.? This information will help you. assess the causes of melasma on guests' facial skin.
▪️Please be cautious if a guest has been treated with melasma with medication or laser, to avoid irritation problems that make the condition worse.
- Step 2: Consult the process for guests
+ After clearly identifying the skin condition, you will advise to help guests understand what to do, how long to treat and with what technology, ...
+ Can include the fastest, safest and most effective treatment method is laser projection. However, there are also cases where algae or specialized pharmaceuticals will bring satisfactory results. The main drugs nourish skin cells, fade dark pigments to return the original brightness to the skin.
- Step 3: Conduct appropriate treatments
- The final step in the process is to begin the procedure after reaching agreement with the course with the customer.
In addition, you should also pay attention to customers who have deep pigmentation, should add more oral medications to increase efficiency (Can appoint customers to use Oreful, Collagen ZO or ...)
Or in some cases, if the skin is too thin, the stem cell culture method must be applied to help the skin get stronger before applying a special cream or laser treatment.
- In parallel with treatment at the Spa, you should note that guests have a reasonable skin care method, drink enough water, supplement vitamin-rich foods and absolutely must apply sunscreen, protect skin thoroughly when going out.
Some of the above share of Miss Tram Academy hope to provide more useful experience for you. To fully grasp the skills, knowledge of care and treatment for skin problems, quickly register for attractive courses at Miss Tram Academy!
————————————————–
More information about:
- The program of recruiting trainees for Aesthetic Embroidery Beauty Salon at: https://bit.ly/2JA5bSa
- Details of the courses at Miss Tram Academy at: https://bit.ly/2L99UzV
Please contact Miss Tram immediately for more advice on the study path and see if you are suitable for this career or not!