Share | The Secret To Spray Lips On A Beautiful Color - Smooth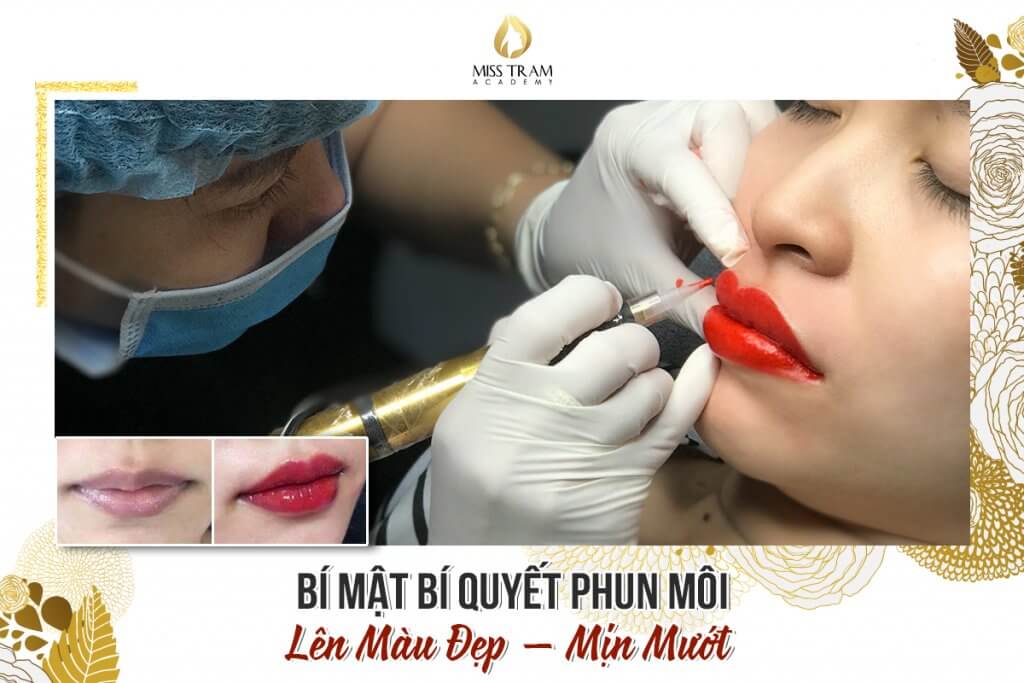 When spraying lips, if the color is up to the standard, the customer lips have a smooth and smooth tension with harmonious lines, it is considered that we have succeeded. Achieving satisfactory end results requires a rigorous learning and training process. Besides, you also have to know the secrets, the real job experience to turn into your own.
With more than 17 years of experience in beauty salon and tattoo art training, Miss Tram Academy will share with you the necessary notes if you want to spray lips on beautiful standard colors.
1. Coloring
Stitching phase is the stage that needs special attention, you need to measure the best ratio. Remember, beauty must be proportional to harmony and fit. This means that the colors applied to the lips must meet the following criteria:
- Aging age.
- Match face contours.
- Suitable for lips.
- Mix hair color, eyebrow color and skin color.
- You need to do a good job of consulting for customers with lip color in accordance with the overall criteria above, avoid the case because of following Trend, according to the latest, but ignore those criteria. So, the lips are really new.
- After agreeing on the colors, we are going to proceed with color mixing to achieve the desired ratio. This technique has specific instructions for what color ratio, how to blend. During the course of study, you should pay attention to the instructions of the instructor to be able to apply properly.
2. Needle walking technique
The needle move puts the ink into the lips deciding up to 50% final result. Therefore, this technique is extremely important, because you deviate from the needle line, too strong hand force will cause lips damage, non-standard color or dark lips.
Some notes in the needle technique:
Needle depth to the lips only from 0.3 to 0.4mm.

Take the needle from the front lip part to then the inner lip part.

The needle has an average speed, each lips go about 3 times.

The upper lip has a thinner structure so it will spray less layers than the lower lip.

The maximum time to complete a lip spray is only 45 minutes.
General notes:
- Need to fully perform the hygiene and anesthetic stages for customers. Absolutely not for profit but choosing poor quality Pangolin, unknown origin affecting lip color and health Customers
- If customers have dark lips, they must deal with dark circles before spraying
- Instruct guests to pay attention to how to protect lips and nutrition after completion
If you adhere well, surely customers will own beautiful lips as expected.
Refer to the information of popular courses (depending on your preference) to get started with beauty:
- Tattooing, Embroidery, Sculpting Courses (eyebrows - eyelids - lips)
- Skincare Specialist Training Course
- Vocational Training Mi Eyelash Extensions - Professional Lashes
Please contact Miss Tram immediately for more advice on the study path and see if you are suitable for this career or not!