How To Make Collagen Masks From Natural Ingredients
Collagen masks are generally easy to make from natural ingredients like avocado, kiwi, honey or eggs. These are masks that help smooth the skin, remove excess pores under the pores, and stimulate the skin to produce collagen, which effectively replenishes the skin to maintain youthful appearance. Down here, Miss Tram Academy will show you some of the simplest Collagen face modulation recipe.
Collagen is a protein found in the tissues of the body, like the glue that binds tissues, cartilage, muscles and tendons together. They play a role in keeping the skin texture healthy, fresh, youthful and wrinkle-free. Scientists even claim that if collagen is maintained in sufficient quantities, even at age 45 our skin will remain smooth and wrinkle-free.
Understanding the importance of collagen, you have to know where collagen comes from and what sources are the most effective for collagen supplementation. Thus, in the process of care or treatment of skin problems for customers brings the best effect.
1. Preparation of collagen supplement mask from eggs and cucumber
Egg whites and cucumbers are one of those masks that help replenish collagen effectively, leaving the skin looking bright and smooth.
To prepare this mask, you need to prepare the following ingredients:
Cucumber washed and sliced small

Egg white

A few drops of essential oil
Cucumbers can be thinly sliced or pureed and mixed with the rest. You let guests relax comfortably and apply this mixture on the skin for about 15 minutes. After applying cucumber mask, wash with warm water and massage gently to stimulate collagen synthesis tissue and do not forget to moisturize the skin.
2. Preparation of collagen supplement mask from butter and kiwi
Avocado is a high-protein fruit, vitamins of group B, vitamins group E, vitamins C and K. These are all necessary components for the synthesis and production of collagen on the skin. Kiwifruit, on the other hand, is loaded with powerful antioxidants, minerals that are useful for the body. When you combine these two fruits, you will have a safe and effective collagen supplement mask.
The preparation of this mask is as follows:
Cut the butter and kiwi in half, take the pulverized fruit meat and mix them well. You will apply the mixture to your skin using a brush, letting the guests lie down and relax for about 30 minutes. We also rinse the face with warm water and gently pat the face dry with your hands.
3. Preparation of collagen supplement mask from honey and baking soda
Honey or baking soda is applied a lot in beauty, facials. In addition to its antibacterial and anti-acne effects, these ingredients also have the ability to increase protein synthesis, promote collagen production.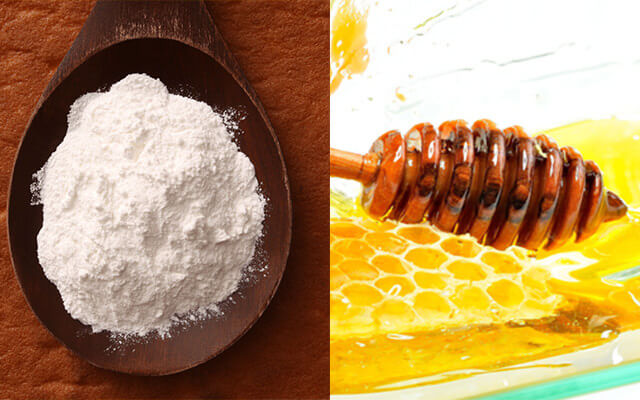 The mask is very simple, you just need to prepare pure honey, a little baking soda and milk cream.
SThen mix these ingredients into a smooth mixture, apply to the skin for about 20 minutes.
After covering the mask, use lukewarm water to wash, remove soft tissue through excess water or let skin dry naturally.
4. Preparing collagen supplement mask from pineapple, papaya, melon nets
Pineapple, papaya and melon together when combined will form a rich mixture of vitamins Group C, Group E and many other antioxidants. Apply this mask to your skin for about 20-30 minutes, you will notice that the skin is softer, brighter, and the skin will absorb nutrients beneficial for collagen synthesis.
Note when preparing collagen mask
Collagen masks made from natural ingredients are safe for the skin, but for sensitive skin, you have to be careful. Before applying the mask, you need to review the skin condition for the guest, ask the customer if they are allergic to any ingredients to have a suitable solution.
Applying a natural mask is good, but if you use it a lot and for a long time, it can still cause the opposite reaction. Therefore, note that you should only apply the mask within the time allowed, moisturize the skin completely after completion.
Besides, Miss Tram Academy Also absolutely note that you must perform well 2 stages is clean and clean the skin for guests before applying the mask and support equipment must also be carefully sterilized. Besides, choose fresh ingredients, quality assurance to bring the best effect to the skin of customers.