Whether or not the eyelash extensions process is convenient or not depends very much on the eyelash tweezers. It is very important that you choose to buy the right type as well as the necessary quantity. If you are just starting to study or practice, knowing how many tweezers you need will help the learning process and do better.
Here is the share of Miss Tram Academy About the number of tweezers needed for an eyelash extension technician you can refer to.
Revealing What Types of Tweezers That Technician Must Have To Practice
A stroll around the social networking sites, you will see, eyelash extensions is a very hot beauty service, many women choose. With the cost is not too expensive, customers already own a long, thick, curved eyelashes to make the eyes more attractive and attractive. Lashes can last from 3 weeks to more than 1 month without the cost of attaching false eyelashes, brushing mascara daily. Moreover, current eyelash extensions technology can make eyelashes look natural, not artificial.
If you are an eyelash extension technician, you probably know the importance of eyelash tweezers during the procedure. A suitable tweezers are tweezers that make you feel comfortable to hold, do not cause fatigue in the long run and at the same time meet your work requirements. 
Equipping yourself with the necessary number of tweezers will help you accelerate the eyelash extension process, produce quality results and bring satisfaction to customers. That is the main working goal of every technician.
How many tweezers are needed in eyelash extensions?
1. Tweezers for each type of eyelash extensions
Currently, there are many advanced, modern eyelash extensions technologies that are born to help meet the maximum needs of customers. However, the two popular methods of eyelash extensions are still eyelash extensions and classic eyelash extensions. With each compulsory method, you should have a dedicated tweezers, to help the process of eyelash extensions quickly, while giving the most beautiful, natural eyelashes.
+ Note: Is It Difficult to Learn Mi?
Method of connecting volume
Eyelash extensions are a method of joining multiple false eyelashes on the same true eyelash. That can be 3 strands, 5 false eyelashes, ... With this method, false eyelashes must be thin, absolute lightness, to avoid causing a sense of eye strain for customers. 
And because of this feature, the tweezers used for this method are shaped like an L-shaped nose, the tweezers must be very close together to help in getting the most fake lashes at once. If you are a skilled worker, you can choose tweezers with two rough cheeks inside to increase the grip between the tweezers and the eyelashes.
And if you are a student who is studying or just working, the workmanship is not stable, you should choose the type of tweezers with 2 smooth cheeks, because at this time the force of tweezers is uneven, the use of tweezers with rough cheeks has can cause damage to the tip of the tweezers, from which the use of tweezers is not long, will be very wasteful
Classic mi extension method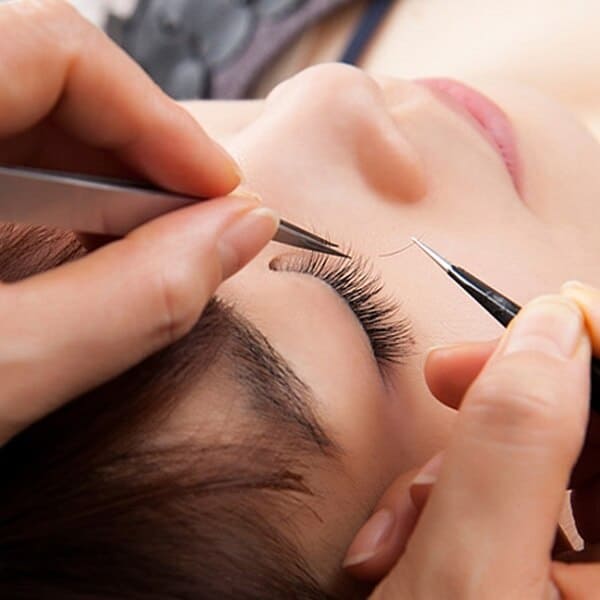 This is the method of attaching each false eyelash to each real eyelash, also known as the one-by-one eyelash extension method. This method will be suitable for customers who love the natural, gentle look of Korean and Japanese makeup.
Tweezers suitable for classic eyelash extensions have a pointed tip shape. With this structure, it will help you easily take each strand as well as the eyelash extensions more accurately and quickly. Although the requirements of the classic eyelash tweezers are not as strict as those used for connecting volume, but still make sure the tweezers provide a firm grip and light feel. You can choose the classic eyelash extensions that bend or straighten depending on your skill set.
+ Note: What Do School Supplies Need?
2. Tweezer separator
Although eyelash tweezers do not have a specific shape requirement. However, it still has the basic requirements such as need to ensure good elasticity, grip strength, pointed tip to help manipulate eyelashes quickly and finally tweezers must have good material, no rust.
On the market today there are many types of tweezers with different shapes, you should choose a type of tweezers that suit your skills to help the process be done quickly.
3. Tweezers remove eyelashes
Removing eyelashes does not require you to master a lot of techniques. However, you should also set aside a suitable eyelash tweezers. Avoid use with eyelash extensions. Because when removing eyelashes, tweezers will come into contact with the active substance that dissolves the glue and these substances will affect your tweezers. Meanwhile, eyelash tweezers require very high accuracy. Do you want to change tweezers often just because you are using the tweezers for both eyelash extensions and extensions?
+ Note: Are Mi Extensions Safe?
Above are the basic tweezers that a eyelash extensions technician needs. Depending on the method of major eyelash extensions you do to get the best pair of tweezers. However, you need to choose carefully to ensure that tweezers can accompany you in the process of working the longest. Hope this post will be really helpful for you.