Do you know what "cosmetology tattooing license" needs? Cosmetic tattooing is a method of "semi-permanent makeup" that many women choose. Because with the more advanced age, the more modern tattoo spray techniques, the eyebrows, lips and eyelids will be beautified quickly, safely and bring the most natural results.
In particular, cosmetic tattoo spray is not too expensive or risky as cosmetic surgery, greatly reducing the time to makeup every day. Therefore, more and more customers are looking for this method of beauty and therefore, cosmetic tattooing has gradually become a very future profession today. 
To become a professional cosmetologist, you need a license - this is a minimum requirement when working in the beauty industry. So how to get a cosmetic tattoo practice certificate? And Miss Tram Academy Find out in the following article!
What Does a Cosmetic Tattooing Practice License Need
1. What is a cosmetology tattoo practicing certificate?
Tattoo cosmetology practicing certificate is a certificate proving that the possessor has been trained, ensuring sufficient knowledge and skills necessary to practice tattoo spraying. 
A valid cosmetology tattoo practice certificate is when the owner has completed the training period and completed the examination of the training unit licensed by the Ministry of Labor, War Invalids and Social Affairs. This certificate is valid for a lifetime and can be used nationwide.
In addition to the standard tattoo spray certificate, technicians need to graduate and be granted a certificate for Prevention of biological blood contamination by a competent health facility.
When you have a cosmetology tattoo license, your employment opportunity is higher. You have the opportunity to work in prestigious esthetic facilities and centers. Or you can sign up to open your own business.
2. How to get a cosmetology tattoo practice certificate
To get a cosmetology tattooing license, you need to register for a training course at a standard tattoo training center (these centers have been licensed by the Ministry of Labor, Invalids & Social Affairs). active in the field of training).
+ Note: What Does a Spa Certificate Need?
At prestigious training centers, not only are you licensed, but also the skills, knowledge in the most complete and methodical manner about cosmetic tattoo spray. Therefore, after the course, you are completely confident that you can practice without depending on the degree.
Note: Before choosing a vocational training center, you need to thoroughly research the information, as well as refer to many different sources of information to make the best choice. Because besides the quality training centers accredited by the Ministry of Labor, Invalids and Social Affairs, there are many fraudulent and poor quality centers.
3. The most important thing when you follow the aesthetic tattoo spray industry
Although certification is a necessary condition for you to practice, the most important factor is the skills and knowledge you gain after each course. Because a certificate of practice only helps you enter the tattoo career, and your working attitude and ability really determines your future salary and future.
Therefore, it is important to choose how to study at the training center. A reputable tattoo spray training center not only ensures you have enough knowledge and skills in the profession, but also organizes a formal exam after the course. Therefore, after the course you are fully equipped with the necessary conditions to develop tattooing. 
So, how to identify a quality training center?
Is a prestigious training center, famous in the market today.

Taught by highly qualified, professional instructors.

There are clear and realistic curriculum and roadmap.

Be guided to practice on real people.

Ensure skill proficiency after completing the course.

Graduated diploma, practicing certificate under the supervision of the Ministry of Labor, Invalids & Social Affairs.
Before signing up for a course, carefully research the information on the website, fanpage, forums or consult with experienced people. This way you will understand the center you are about to study to make the best decision.
+ Note: Income From Cosmetic Tattooing
4. Benefits of attending courses at Miss Tram
Miss Tram Academy is a beauty training center with nearly 20 years of beauty industry experience, led by Master Dong Bao Tram - one of the pioneers, bringing the technique of embroidery embroidery sculpture to Vietnam.
Not only considered as one of the Masters with golden hands of the Vietnamese branch of spraying, embroidery sculpting, Master Dong Bao Tram is also a devoted teacher, thousands of students and experts highly appreciated for their competence. Expertise and dedication to the profession. Therefore, every course at Miss Tram Academy is meticulously elaborated to bring the highest quality of teaching to each student.
Benefits of participating in sculpture embroidery spray courses at Miss Tram Academy:
The curriculum is compiled and updated by leading experts. Ensuring high applicability and always keeping up with new technologies and trends in the industry.

Master Dong Bao Tram and a team of professional instructors closely with the ability and share know-how in the industry. 

Guided - hands-on practice (free sample sponsorship).

Guaranteed proficiency after the course.

Supported accommodation (KTX clean, comfortable and spacious) if students are far away.

Open classes on demand: Intensive learning, Group learning, Online learning, ...

Receive all equipment and tools throughout the course.

Awarded other beauty courses such as eyelash extensions, skin care techniques, breast spray, ...

Have the opportunity to receive scholarships up to 30 million and work officially at Miss Tram - Natural Beauty Center.
Naturally, after each course at Miss Tram Academy, students are graduating exams to get a regular practice certificate.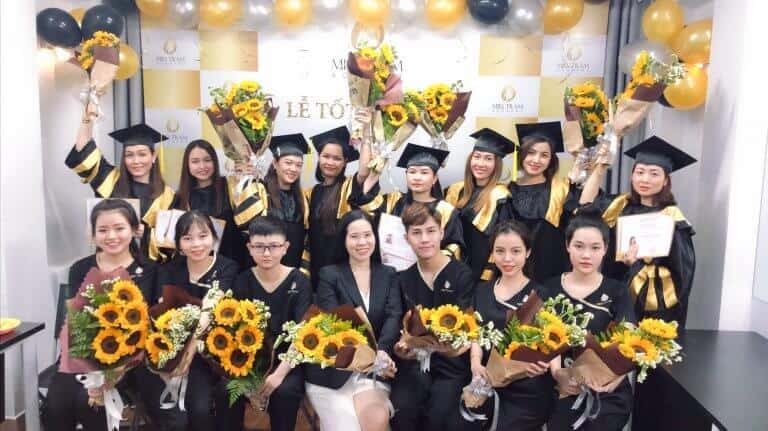 + Note: Cases Should Not Spray Cosmetic
In addition, you also have the right to graduate MEDICAL CERTIFICATE Hygiene and safety - prevention of blood-borne infections - biological fluids. In particular, students are supported to have a valuable practice certificate INTERNATIONAL if required.
With the share of Miss Tram Academy, hope you will understand more about the aesthetic tattoo practice certificate. A license is a necessary condition for entering the beauty industry, but to be successful with the profession, the most important attitude is the attitude and capacity of each person. So always be serious and choose a reputable vocational center to study!
Hope this article will be helpful to you. Wish you always have the best decisions to succeed on your chosen path!
See More Articles About News - Sharing Miss Tram Academy's:
Revealing How To Cover Ombre Eyebrow Powder