You've probably heard the sentence "Women in the streets can forget their wallets, but they can't forget their lipstick" is it? This shows the need for a ruddy, fresh lips. However, applying lipstick daily is too time-consuming when you only need to apply lip cosmetic methods to have a rosy, fresh lips all day.
In particular, lip spray is the method that many customers choose today. However, after each spray, the lips are swollen making customers feel scared. So how to solve this case? Refer to the article below.
How To Spray The Lip Doesn't Swell
1. Does spraying lips have swelling or not? The reason why?
Lip spray is a method of using a micro needle-attached sprayer to bring ink to lips with an optional color that suits the skin color as well as customers' preferences. This is a method to help you own ruddy lips without spending too much time on daily lipstick.
Because of the impact of the needle, so after lips spraying will more or less occur cases of swollen lips. However, during the procedure, the needle technique as well as the selection of the appropriate lip spray method that can minimize the level of swelling.
2. How to limit swelling when spraying lips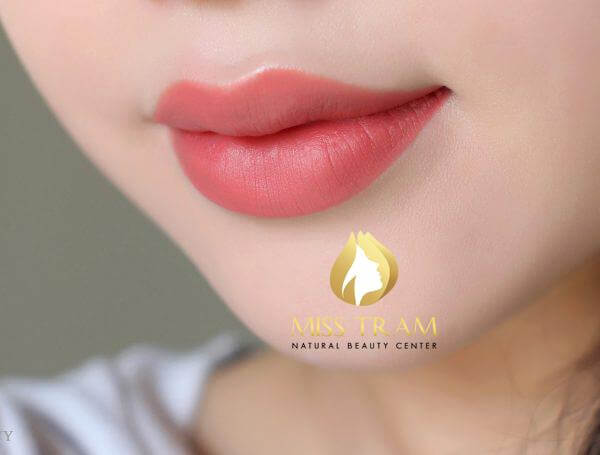 + Learn How To Spray Lips Quickly
As mentioned above, it is normal to have swollen lips after spraying. However, depending on the method of implementation, the skill of the technician as well as the post-lip care regimen, the swelling is more or less.
You should consult carefully, explain clearly the phenomenon as well as the cause of the lip swelling problem after spraying to prepare psychologically. In addition, guide customers to choose lip spray methods with new and modern technologies such as micro-spraying, sculpting of micro-lips. These are currently the two most modern methods of lip aesthetics to help fasten the color, do not invade deeply into the skin, reducing swelling of the lips and longer retention time than the old methods.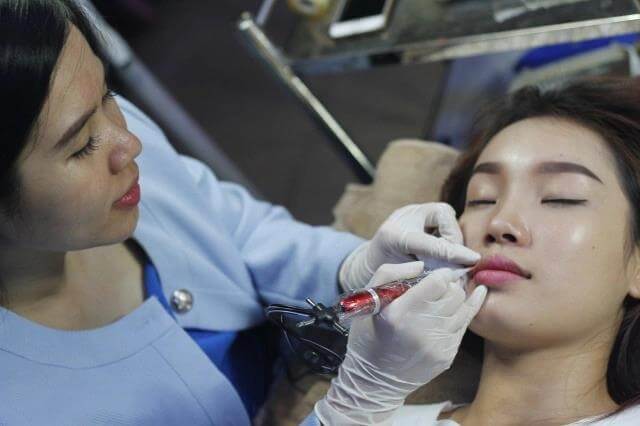 In addition, during the implementation process, you need to pay special attention to the following:
Clean tattoo spray tools before and after performing with a professional cleaning solution.

For each customer, only one needle is used and replaced every time. Absolutely do not share needles and ink bottles with many different customers.

Using quality ink, it is best to use organic inks, which do not contain chemical ingredients that cause allergies.

During needle walking, hand strength and depth of needle must be evenly distributed. Avoid going too deep needle causing swelling and bruising.
+ Recipes Relieve Pain For Customers When Spraying Lips
Ensuring safety and hygiene will help minimize lips swelling, while avoiding infections caused by infections as well as spreading infectious diseases from one customer to another.
CThe mode of care after performing lip spray is also quite important, some notes help reduce lip swelling effectively:
After doing this, you need to apply vaseline constantly to your lips to prevent dryness, making it easier for your lips to peel off.

Drink plenty of water to help the process of metabolism in the body take place stability, damaged areas quickly recover.

Supplement vitamin C to fight inflammation, help colors become more fresh. 

Limit foods like seafood, beef, etc. Do not eat spinach, dishes made from glutinous rice to avoid wound healing longer.

Limiting the use of stimulants such as alcohol, coffee, cigarettes, ... because it can cause unstable blood circulation, affecting wound healing as well as lip color.

Avoid contact with water to affect the ability to stick to color.
3. Lips are swollen in any case, the concern
Whether you use a new or old method, it takes a certain amount of time for your lips to recover and color as desired. Because the needle-forming process, bringing the color down to the skin has an impact on the lips, more or less the lips are also subject to certain effects. However, this is not a cause for concern, as the period of lip swelling will resolve within 2-3 days after spraying. In case of people with sensitive skin, this time will be longer from 5-7 days.
+ What Does Lips Spray For Fast Color Standard
If the time is longer than 7 days but the swelling does not go away, this time could be due to other causes such as inflammation, ... You should advise customers to come to the center to check and take appropriate measures to treat well suited.
*** Helping customers understand this is important. You need to give appropriate advice to customers to understand, avoid the confusion after implementation. 
Hope with the above sharing of Miss Tram Academy helped you somewhat understand the useful information on how to spray lips without swelling, thereby giving customers a fresh and smooth lips. 
See More About News - Sharing Other Of Miss Tram Academy:
Hard Limbs Can Work In Spa Or Not
Should You Study And Work In The Spa Industry?