What is the effect of chicken egg yolk mask for the skin?
When using eggs to make masks, we need to know the use of each part to apply suit each skin condition. Because in eggs, the whites and yolks are all in favor of certain functions. In this article, Miss Tram Academy will help you better understand egg yolks and some effective skin masks with this ingredient.
1. Nutrition component in chicken egg yolks
Chicken egg yolks are especially rich in healthy fats, water, multivitamins and minerals. This will be an excellent skin care ingredient, especially for dry skin because these ingredients help bind water molecules, lock moisture for skin cells. Thus, when using egg yolks to take care of our skin, our skin always feels soft and smooth.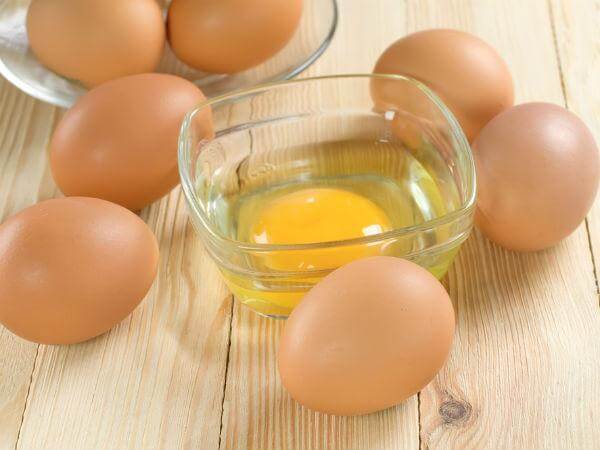 Here are the specific nutritional ingredients found in chicken egg yolks:
Protein: helps maintain skin elasticity, prevent sagging, premature aging on the skin effectively.

The amount of vitaminA in egg yolks also has the ability to soothe inflammation of the acne, nourishing healthy skin from within.

B vitamins help fight against free radicals - which cause skin damage, fight inflammation as well as enhance the hydration ability of skin cells. This B vitamin is also very effective in whitening, bringing youth to the skin.

The zinc in egg yolks helps kill acne-causing bacteria and helps control acne-causing inflammation.

The healthy group of fats in eggs is essential for maintaining the skin's softness, nourishing and restoring the flaky dry skin effectively.
When using egg yolk to whiten skin, we can use this material alone or in combination with ingredients containing dark pigment compound to help improve the current condition on the skin.
2. Skin whitening formula with chicken egg yolk
Combine egg yolk with lemon, and if you add fresh milk, honey we will have an effective skincare mask. These ingredients will help remove dead cells, fade dark areas, promote collagen proliferation. As a result, the face skin will be brighter, softer and more elastic.
Ingredient:
1 egg yolk

1 teaspoon honey

1/2 tsp lemon juice

1 teaspoon of unsweetened milk
Perform: Mix and whisk these ingredients together into a smooth, even mixture. Next, apply the mask to your face, leave it on for about 15 minutes, then rinse with warm water.
Egg yolk, yogurt and avocado
Avocado is an excellent moisturizing ingredient, while enhancing hydration with healthy fats, helping skin stay smooth. While yogurt contains many beneficial bacteria, both gentle antibacterial and light skin care.
Ingredient:
1 egg yolk

1/2 ripe avocado

1 teaspoon yogurt
Perform: Puree the butter (or use a blender), add the remaining ingredients and mix well. Apply the mask to the skin in a circular motion, allowing the person to lie still and relax completely for 15 minutes (or maybe leave until the mask is dry).
After this time, rinse your skin with moist water and you will see many different skin changes. The most noticeable is the soft, bright skin.
Egg yolks, honey and almond oil
This formula for skin lightening is quite suitable for people who have acne problems, because the natural minerals in honey will help antibacterial, clean pores. Almond oil works to heal dry skin, nourish and moisturize the skin.
Ingredient:
1 egg yolk

1 teaspoon honey

1 teaspoon almond oil
Perform: Mix these ingredients together and start beating until the bubbles rise. You apply the mask evenly over the face in a circular motion. After about 15 minutes, then use warm water to clean the skin.
Note with the mask recipe from chicken egg yolk:
When modulating the mask you should apply immediately to the skin. Although the mask can be stored in the refrigerator, it is best to use immediately because the nutritional components can vary.

Before applying a mask, proceed to cleanse the skin to help pores expand, skin absorbs nutrients better.

In the process of covering the mask, it should be noted that the person resting and relaxing, avoid moving facial muscles because the mask tightens the skin, if too much movement will cause wrinkles.