[QUESTION - ANSWERS] Advantages - Disadvantages Of Tattoo Sprayers Are Popular today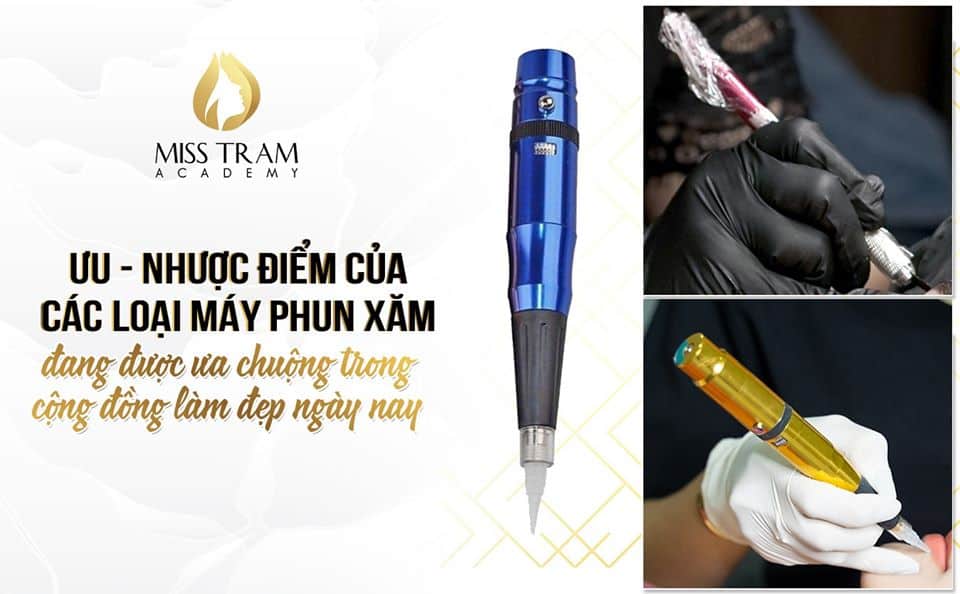 It can be said that "Tattoo spraying is an art, then the inkjet is an artist". For an artist, a tattoo machine is an indispensable item in the process of learning and practicing.
With that demand, the market appears diverse designs, colors, types of tattoo sprayers. However, in terms of economic factors, utility, durability, and convenience, there are a few prominent brands such as: Zenka machine, iDM machine, hunchback machine, god machine, dragon machine ...
In this sharing post, Miss Tram will look at a few advantages - disadvantages of the 3 most popular devices in the beauty community for everyone to refer to:
1. Japanese IDM tattoo machine
IDM is a famous brand for the product line of durable tattoo machines, running smoothly and very well. The machine is used most in beauty salons and beauty salon training centers
+ Advantages
Machine uses conventional needle nibs 1-3-5-7 flat, adjustable speed from 20,000 ~ 35,000 rpm, short needle adjustment from -2.5 - + 2.5mm.

Use a large foot charger to durable, not cut the wire in the spray due to more. Additional built-in removable battery (can use about 2-3 hours) to use in case of power failure.

Compact design, fit your hand with the body made of anti-rust alloy, anti-slip, durable.

Does not create unpleasant noise during use, suitable for both eyebrow tattoo - lip - eyelids.
– Defect:
Requires highly technical users.
2. Giantsun Taiwan tattoo spraying machine
This machine is very popular, has a low, light damage, so it is suitable for spraying lips with the European technology of spraying lips, the technique of non-numb lip spray and the most used by European countries to create. tattoo masterpieces.
– Advantages:
The machine has a length of 51 - 52mm, speed of 7000 - 7500 rpm, is equipped with a powerful engine but it is very quiet, slender strokes like pen strokes, easy to catch color and easy to use.

There are 3 steps to adjust the speed suitable for lip - eyebrow - eyelid surgery. Easily create strokes / granulate in Sanding spray technique.

The machine uses 4.5 volts of electricity output, but if you want the machine to run standard according to European technology, you should use 3vol power from the voltage regulator. Just helps the machine more durable and when doing less damage. After doing so, the guests' recovery will be very fast and beautiful color

The machine is also designed to be charged to use in the event of a power failure that does not interrupt the work.
– Defect:
This machine always requires users to be very meticulous in the process of tattooing. Therefore, it is necessary to have high technical expertise.
3. The sacred tattoo spraying machine
Is a machine manufactured by Vietnam, there are 3 types on the market today: normal machine, speed regulator and needle-adjustable type.
The machine is often used by technicians such as Ombre, pencil effect, powder spraying or granulation spraying ..
– Advantages:
The body design is plastic, light and convenient to operate.

The sacred machine uses a short tattoo needle or uses a common long needle and truncates. Types of tattoo needles 1-7 can be fitted using the corresponding nib tip.

The machine has a relatively slow speed, vibration and noise than other metal models but offset ink and stick fast.

In case of power failure, it is still possible to run on battery for 2-2.5 hours.
– Defect:
This divine machine has components imported from Taiwan. It is recommended that everyone use the charger so that the device has enough power and durability. When charging according to the broken device, please use the versatile charger, the voltage stabilizer. Adjust the current from 3 vol ~ 4,5 vol according to your specifications.
Although all of our tattoo artists rely on the most common technique to work, each will have different hands, different flexibility or have their own secrets to complete the product. his products.
Hopefully this article is useful for you to choose a "companion" that suits you best. I wish you every success!
Refer to the information of popular courses (depending on your preference) to get started with beauty:
– Tattooing, Embroidery, Sculpting Courses (eyebrows - eyelids - lips).
– Skincare Specialist Training Course.
– Vocational Training Mi Eyelash Extensions - Professional Lashes.
– Make-Up Class With Make-Up (Make-up).
Please contact Miss Tram immediately for more advice on the study path and see if you are suitable for this career or not!