Share | Learn How To Spray Lips Quickly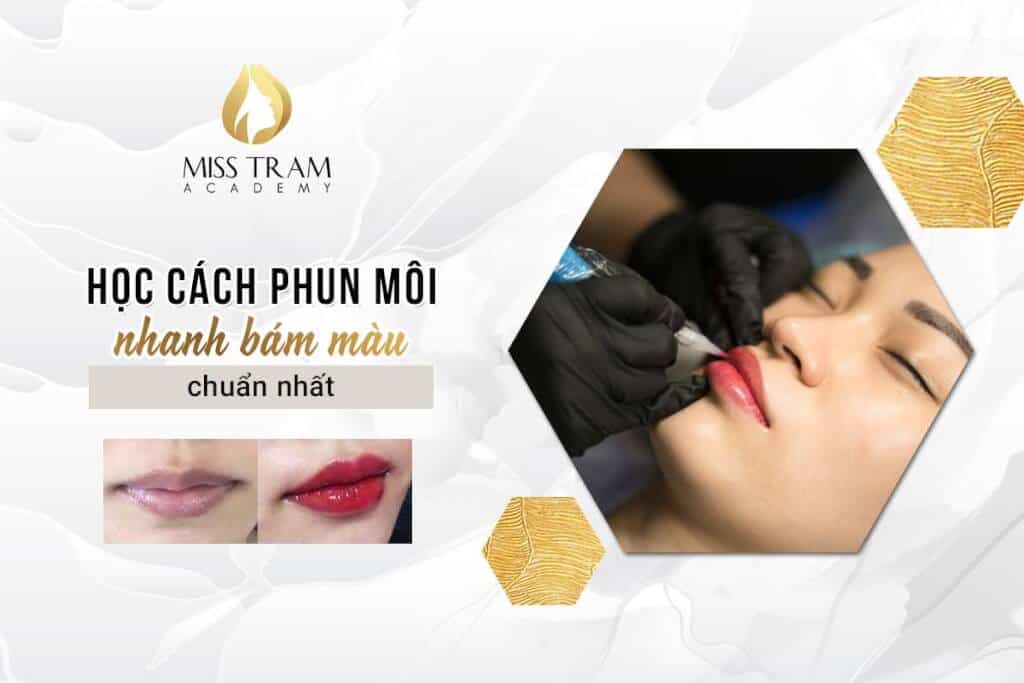 A standard lips lips color is harmonious, smooth, fast color sticking and peeling in time prescribed (2-3 days after spraying). To achieve these standards, in the process of implementation you must ensure that the technical operations, go needle, color mixing in the right proportion. Some of the shares below of Miss Tram Academy will help students gain more experience in the field of lip tattoo.
In the process of spraying lips, if you want the lips to stick to the color, the color up to the best, note some of the following:
How to mix ink colors
Advice on ink color matching with customers as well as current lip condition will help the final result more perfect. Moreover, pay attention to customer skin color, hair color to choose the most suitable color.
When mixing ink colors, you must also base on the status of the guest environment to choose the right ratio. Customers who undergo intensive treatment, if their lips are dry, pale lips or difficult to eat colors, have different color mixing ratios. According to the experience of Miss Tram Academy, young people should mix in favor of orange, pink or orange tones. And middle-aged people should increase the rate of orange red, more bright red.
Must thoroughly handle
If customers have dark lips (congenital conditions, cosmetic effects, old tattoo ink, ...), they must be handled with care before spraying ink. If you skip this step, when putting ink on the skin will lead to 2 cases: poor lip sticking color, non-standard ink looks very unsightly.
Hygiene of the lips
Before spraying, we need to clean the lips. This is one of the steps that must be taken to ensure rapid color spraying process, minimizing the risk of infection during implementation.
Needle technique
When spraying lips, if the factors of force, needle depth, speed, etc. are met, the result will be better. During the spraying process, you must align so that the needle penetrates into the skin only about 0.3mm, spiraling spray clockwise. Needle movement speed is moderate, one side glides about 3 times as the lips have to color up evenly.
Some share on here of Miss Tram Academy Hope to help you have more useful experience. Wish you quickly master the craft, create the most perfect beautiful lips!
More information about:
- The program of recruiting trainees for Aesthetic Embroidery Beauty Salon at: https://bit.ly/2JA5bSa
- Details of the courses at Miss Tram Academy at: https://bit.ly/2L99UzV
Please contact Miss Tram immediately for more advice on the study path and see if you are suitable for this career or not!