Share | Instructions on how to shape lips before spraying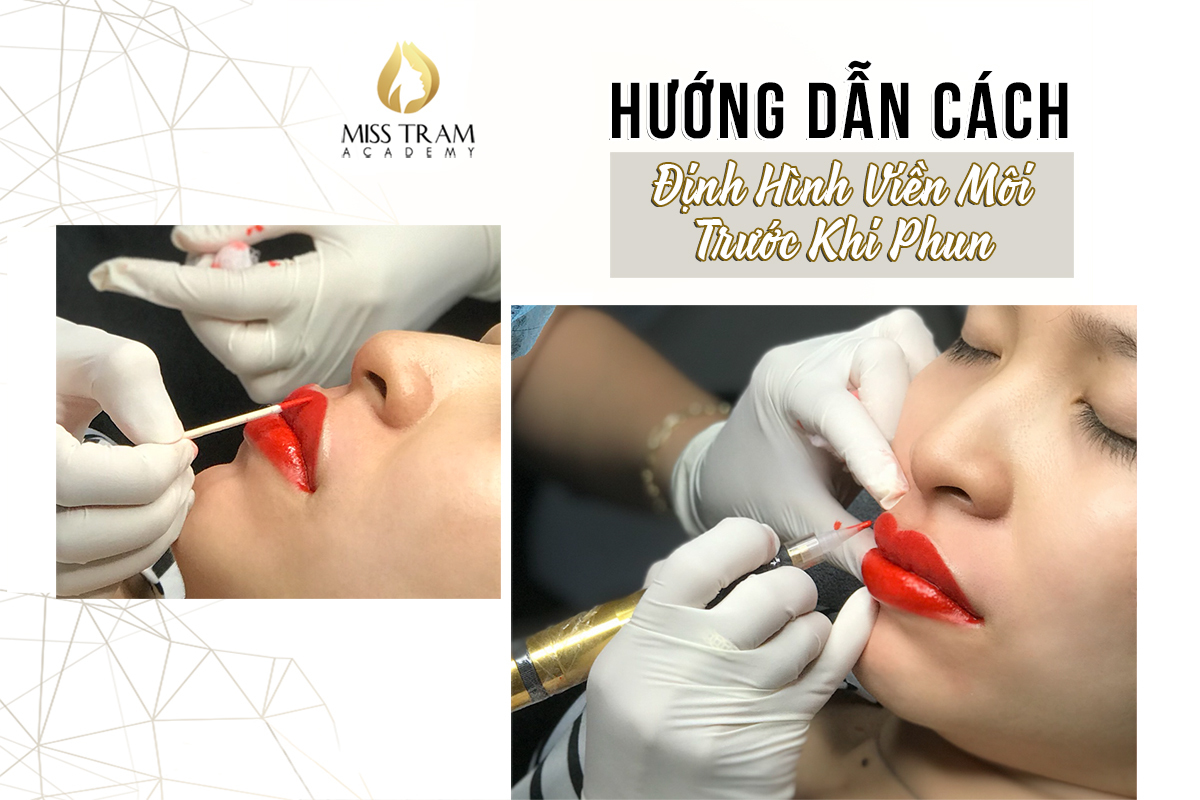 Not everyone owns a standard lip shape with harmonious lines. Therefore, before and during lip spraying, we must do well to shape the lip contour. Thus, lips after spraying to achieve the desired perfection.
Some of the lip shaping techniques shared by Miss Tram Academy below will definitely provide you with many useful experiences:
During the process of tattooing, we will encounter many different cases. Each lip shape needs to be applied a suitable shaping technique, which can be divided into the following typical cases:
1. Thin lips
- Use a red pen to "cheat" to make the border wider, creating a feeling of fuller and more sexy lips. Pay attention to adjust accordingly, avoid greed because it can make lips lose the natural.
- Use a border color that matches the color of the lips, otherwise it will cause the opposite effect, the thinner and more unbalanced lips.
- Spray the lips in this case, Miss Tram Academy tells you to use light colors, can combine with a layer of Collagen gloss to help lips look thicker.
2. Thick lips
Contrary to the thin lip shape, we will border the contour backwards in a bit. Then apply the ink in accordance with this fixed pattern, lips will be collected with more harmonious lines.
For the case of thick lips, lip lip spray should use light color and add Collagen layer will be more beautiful than you.
3. Lips uneven
Also many customers have lip deviations between the two sides (thick side and thin side). If this is the case, draw a slightly wider outline out of the corner of the thinner lip. Create a well-balanced pose to make the overall lips harmonious before putting the toner on the skin.
4. Lips do not have lip lines, or light borders
In this case, you have to look at the overall face and lips to adjust the shape of the lips to suit guests. Note, spray lips must spread evenly between the rim and the lips. Avoid darkening, differentiating the lip line because it can make the lips look dry, revealing aesthetic traces.
When spraying lips on customers, it is important that we know how to observe, apply standard techniques to measure lip shape, then perform the needle-stick technique to the skin. In addition, please consult customers with colors suitable for age, skin color to bring the most natural final results.
If you have any questions, do not hesitate to contact Miss Tram! Hope you are succesful.
Refer to the information of popular courses (depending on your preference) to get started with beauty:
- Tattooing, Embroidery, Sculpting Courses (eyebrows - eyelids - lips)
- Skincare Specialist Training Course
- Vocational Training Mi Eyelash Extensions - Professional Lashes
Please contact Miss Tram immediately for more advice on the study path and see if you are suitable for this career or not!